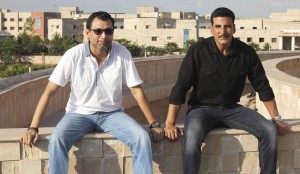 B-Town's fast emerging powerhouse duo, Neeraj Pandey and Akshay Kumar, unite once more to bring audiences a slick, action-packed thriller that redefines the genre in Indian cinema. Baby, a Neeraj Pandey film, a Crouching Tiger and Friday Filmworks production, produced by Bhushan Kumar, Krishan Kumar, Shital Bhatia, Cape of Good Films and Crouching Tiger releases on 23rd January, distributed in the UK by Filmonix.
Known to take risks and delve into subjects that are true in nature, Neeraj Pandey has carved a niche for himself as a director with strong vision and unconventional ideas. After Special 26, which garnered both critical acclaim and commercial success in 2013, the filmmaker once more directs action supremo, Akshay Kumar, alongside a stellar cast including Anupam Kher, Rana Daggubati, Danny Denzongpa, Kay Kay Menon, Rashid Naz, Taapsee Pannu, Sushant Singh, Madhurima Tulli, Mikaal Patras, Aziz Zulfiqar and Hasan Noman. Like Pandey's previous films, each character is vividly sketched to take this high-octane thriller into a gripping zone, bringing to the screen a dynamic ensemble of power performances.
Baby is set against the backdrop of international terrorism – a no-nonsense entertainer in which Kumar plays a top counter intelligence agent. It is a story of those unsung heroes who guard the common man fearlessly, under the radar. A Neeraj Pandey film is synonymous with meticulous research and attention to detail. Steeped in current events, Baby will resonate with audiences of all ages and segments and entertain in thrilling style. The teaser, which released in November 2014, has already made Baby count amongst the most-talked about films on social media platforms. Aptly titled Baby Sizzle, it went viral in just a few minutes of launching.
A signature characteristic of an Akshay Kumar film, audiences can be sure of real, raw action. The actor has pushed his limits in Baby, alongside Rana Daggubati, and executed real life stunts under the supervision and guidance of international action directors. Shooting of the film spanned far and wide, from Kathmandu, Oman and Istanbul to Abu Dhabi, Mumbai and Delhi, breathtakingly essayed on screen. Composers Meet Bros Anjjan have crafted an intense and atmospheric soundtrack to add a further dimension to the film.