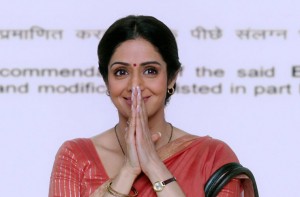 After a slow start, Sridevi's comeback film English Vinglish is now a massive hit at the box office, thanks to positive reviews from the critics. If that wasn't enough, the film has significantly inspired many Dalit girls from the Bihar region in India. Sridevi gave a very moving performance in the film as an Indian housewife determined to learn the English language whilst visiting America for her niece's wedding. As a result, this has motivated a number of college-going Dalit girls in Bihar to learn English also.
Suman Sinha, an exhibitor from the region's capital city of Patna, explained to a leading Indian newspaper why many Dalit girls are now keen to learn English: "It's not just housewives. Young unmarried college-going girls feel the same sense of inferiority that Sridevi experiences in English Vinglish because of a lack of fluency in English. They are coming forward in huge numbers to see the film and going back with a determination to join English-improvement classes." Clearly, English Vinglish has done more than just entertain people. The film's message has had a profound impact on vast numbers of Dalit girls and has encouraged them to fearlessly engage in personal development.
The film's producer, R. Balki, is elated with the degree to which the film has had an influence on people and had this to say to the same newspaper. "That our film has influenced a section of the audience to improve its language is awesome. English Vinglish is not just about learning English. It's about the determination that the lack of a familiarity will not stop people's aspirations and dreams from growing."
The film's star Sridevi, who plays the aspirational English learner Shashi Godbole, was also overwhelmed when hearing about this news and stated the following in sheer joy. "To see our film make such an impact makes me happier about its success. This is the real success of English Vinglish." Surely, Sridevi has chosen the perfect film to make her Bollywood comeback with. It is a film which has drastically reshaped the minds of many Dalit girls living in parts of India in a very positive way!
English Vinglish is now in cinemas.