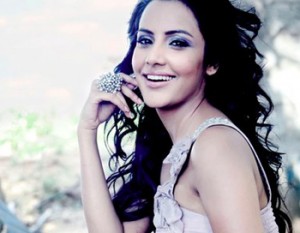 She's rushing around on the day of her release with a hectic schedule in hand however makes time for a Bollyspice exclusive just as she'd promised me. Priya Anand is a woman of her words and seems to have arrived on the Bollywood scene and how! Raving reviews, sold out shows and phones ringing off the hook, its all happening today! She takes a moment to reflect on what all is finally unfolding before her eyes and all that happened in the months preceding this iconic day.
So it's the day of the release, what's going on in your mind right now?
My mind was blank until now! Yesterday everyone was calling me and asking me how I'm feeling with a release in less than 12 hours and I just didn't have anything to say. But now I have this insane amount of energy around me with journalists from Mumbai to Bangalore wanting a word with me about the film. Its all still so overwhelming and unexpected but that is what is making it all the more special.
But unfortunately couldn't make it to any of the major premieres in Toronto or Mumbai?
Yes it's been a hectic time but a lovely feeling to be busy. Unfortunately I couldn't make it to TIFF or Mumbai premiere as I was shooting for Ko Ante Koti and Priyadarshan's movie.
Well my next question is obvious but an unavoidable question, working with THE Sridevi how was it?
It was amazing and such a major learning curve in my career. To be able to work with someone you've admired and been inspired by all your life is the biggest honour I could have possibly imagined. Apart from taking away so much knowledge about my craft I think it was an amazing opportunity for someone as new as me to be able to perform in front of such an actor. I walk away with a feeling that I can now perform in front of anyone now that I've held my own in front of THE Sridevi.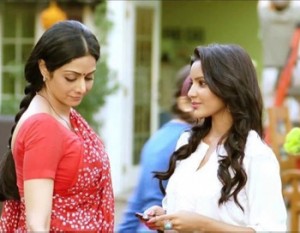 How were your interactions with her on the set?
Basically she's quite quiet but we had a lot of things in common as we come from the same Southern background and spoke the same languages. So we really had a connection. She seems to be able to notice something new about me each time and compliment me on new things every time we meet. Ofcourse any and every compliment coming from her is something else!
Being able to be part of Sridevi comeback film is reason enough to sign on the film but apart from that what drew you to this role?
I pretty much just read the script and fell in love with it! Every character was so well written and all the relationships Gauri shows in the film are so beautiful. From the niece and aunt relationship to that between a daughter and mother in law. Apart from that it was an opportunity to be associated with Mr Balki who is such an acclaimed maker himself. On a personal note, my character shares the same name as my mother, Radha, so I was quite excited to be playing Radha.
Tell us a bit about Radha.
She's an 18 year old NYU sister. She loves life, wants to have a good time and basically really loves her aunt! Radha is her aunt's biggest support system.
Its your Hindi debut so were you conscious of the fact that you need present yourself in a certain way?
I totally trusted that I was in good hands. The people I was working with know far more than I know and will ever know so I just went with what they required of me. Obviously when it came to the scenes I was given freedom to approach Radha as I wanted. I think I approached Radha in the same way as Gauri had it in her mind which is why I made the cut after the audition. Basically I was in the safest hands you could imagine so really had nothing to feel conscious about.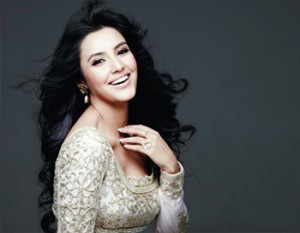 Female director, people say bring a new level of sensitivity to the set and Sridevi herself said that the heightened comfort level was there, was it the same for you?
Absolutely! Generally it was just a very young and fun team to be associated with. It is a very feel good film so the atmosphere was likewise. Gauri is extremely fun to work with and super cute! I can't wait to see what she does next. Really curious about her next film.
Since were are talking on the Friday of the release, reviews are creeping in by the hour, how important are what critics say to you today?
I really never paid much attention to critics but with this film I'm getting a lot of response from them in a very positive light. It makes me want to work harder and catch them off guard with something even more impressive the next time around. I think people went into the film with a general excitement to see Sridevi again but came out after getting a pleasant surprise from all the actors who were written so well into a beautiful film. More importantly its interesting to see what the critics in Bollywood see in me as critics all over are quite different in what they look at.
I'm told you had a special screening and were quite overwhelmed by the response, especially that from Mr Rajnikant?
Yes that's absolutely true! I saw the film for the first time with Mr Rajnikant which was so overwhelming. It was amazing sitting there watching him enjoy the film. We even have a little Rajnikant reference in the film and he really enjoyed it and laughed. I was really taken a back because he really liked me in the film and to have someone of his calibre think you're worthy of praise and think you're natural is quite a compliment!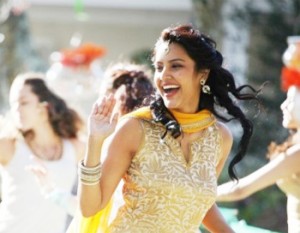 You say you've been working on your second Hindi film already and so basically you're here to stay?
Absolutely! I can proudly say that I am a pan India actor now and am really enjoying the fact that I can do movies in so many languages. It would be really amazing to do something like a trilingual eventually. In Hindi I've just wrapped for my next with Priyandarshan.
If you had to describe EV how would you?
This movie is a film everyone will connect to. Everyone is insecure about something in their life and I think everyone can relate to the fact that our families sometimes makes us realise our insecurities even more. I personally really related to it because when I first came to India my Tamil wasn't all that great but today I can confidently say I even dub for myself! So I think everyone has that one little thing that they wish they knew and that they felt handicapped without and this film is all about that!
English Vinglish is at a cinema near you NOW!