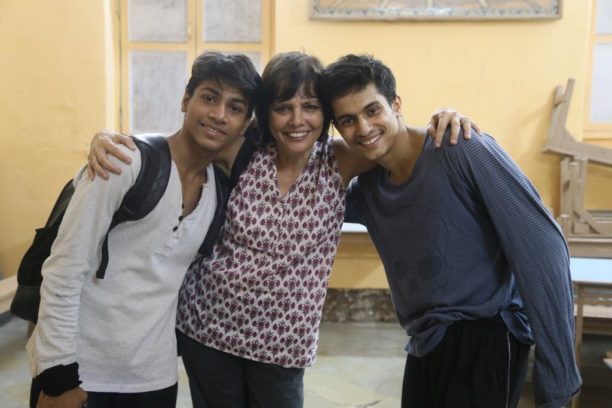 The incredible and inspiring journey of two boys from the slums of Mumbai to the world of international ballet, will be written and directed by Sooni Taraporevala.
Siddharth Roy Kapur's Roy Kapur Films (RKF) has signed on acclaimed filmmaker Sooni Taraporevala to bring to the screen the inspiring and hopeful journey of the two Mumbai boys, Amiruddin Shah and Manish Chauhan, their Israeli-American mentor Yehuda Maor and their families, who triumphed over their circumstances and achieved a feat no Indian ever has before – by making their way to prestigious global ballet institutes like London's Royal Ballet Academy and the Oregon Ballet Theatre.
Sooni, known for her award-winning writing on Salaam Bombay, Mississippi Masala and The Namesake, has previously directed a VR documentary on the same subject titled "Yeh Ballet", for Anand Gandhi's Memesys Lab.
When Siddharth read about the boys and saw this documentary, he was so moved by their story that he reached out to Sooni immediately and ask her to join him in telling it on the big screen. Siddharth and Sooni have worked together earlier on The Namesake, which was co-produced by UTV Motion Pictures, and had stayed in touch ever since to discuss potential ideas to collaborate on.
Siddharth said, "I am very excited about bringing this wonderful and inspiring story to the screen, and thrilled to have Sooni write and direct it. I have always admired her writing, and she has outdone herself with the superb script she has written on the "Ballet Boys". Having been involved creating an enduring dance and musical franchise like ABCD, we intend to bring the same unbridled energy, cinematic spectacle, spectacular dance and great music to this film. What makes this film even more special is that we will explore an unfamiliar western dance form like ballet and its impact on these boys, while staying firmly rooted in our own culture and our more familiar dance aesthetic. I do believe this will resonate in a big way with both Indian and international audiences."
Sooni expressed, "I have always admired Sid's filmography and his drive to tell stories that matter. I hope this collaboration will successfully bring to light the incredible and emotionally driven journey of the boys and their teacher and the fact that talent has no boundaries. We just need to recognise it as sometimes it's found in the most unlikely of places."
These two strong creative forces are thrilled to bring the exciting dance form of Ballet to Indian movie audiences for the first time. Siddharth and Sooni both share a passion for the performing arts and are excited about commencing their shoot for this unique and vibrant film that will encompass various dance forms like free-style, desi hip-hop and ballet. With dialogues by Mayur Puri (writer of ABCD/ABCD2), music by the hit duo Sachin-Jigar, choreography by phenomenal Shiamak Davar and ballet sequences by Yehuda Maor and Cindy Jourdain, this is set to be a musical and visual treat for audiences.
The film is currently in pre-production and will go on the floors in January 2019 and hit the screen later next year.