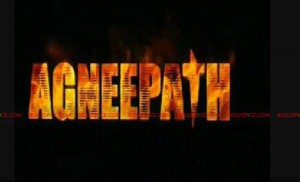 Amidst heightened excitement, the first 90-sec promo of Karan Johar's Dharma productions' next Agneepath was unveiled on Monday morning at a suburban hotel in Mumbai. Braving the heavy downpour, press turned up in full force to check out the trailer of the much talked about film. Along with producer Johar, debutant director Karan Malhotra, Hrithik Roshan, Priyanka Chopra, Rishi Kapoor and Sanjay Dutt attended the event. Select few from the media who were lucky to get a glimpse of the promo over the weekend were all praises which led to increased anticipation for the launch today, with thousands of viewers worldwide tuning in to the official youtube channel to catch the event live
Even as the media quizzed about the evident comparisons to the original 1990 Amitabh Bachchan starrer, the cast incessantly asserted that the film wasn't merely a straight remake but more of a reconstruction of the original film with its set of new tracks and plotlines.
"I'm not Vijay Dinanath Chauhan, I'm simply Vijay, and my Agneepath is the journey of one man on a mission" said Hrithik Roshan talking about his character and it's similarity to the Amitabh's iconic role.
Priyanka went on to add that it is an interesting role for her and is completely different from what was in the earlier film. "Agneepath according to me is not a remake. I think the plot, the soul of the film remains the same, but eventually it's the presentation on our behalf to the generation who missed out on the legacy of what Agneepath meant"
In a completely unique negative role, Rishi Kapoor reminisced how this was the first time in his 40 years career that he had done a look-test just to see if "kharab aadmi hoon" (if I can play a villain). Keeping it short, Rishi dissuaded questions saying it was too early to talk about but eventually adding that the film is an attempt to create old world charm and the team needed the audiences love and blessing.
Sanjay Dutt who reprises the villain menacing Kancha Cheena reiterated that this is the new Agneepath and Yash uncle will be proud of it.
The original Agneepath, produced by Yash Johar, directed by Mukul Anand, starred Amitabh Bachchan, Mithun Chakraborty, Madhavi, Rohini Hattangadi and Danny Denzongpa. Though the film didn't succeed commercially, Amitabh Bachchan's performance was applauded. Amitabh Bachchan and Mithun Chakraborty won National award for Best Actor and Filmfare Best Supporting Actor award respectively for their roles.
Check out the exclusive pictures from the event!