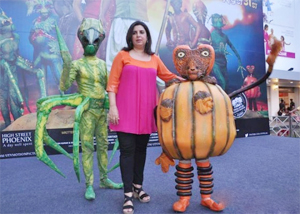 Opening today is Shirish Kunder's Joker starring Akshay Kumar, Sonakshi Sinha, Shreyas Talpade and Minissha Lamba among many other interesting cast mates. The film is a comedy mixed with drama, satire, music, dance and everything that makes up a full on fun commercial Bollywood film but with a twist.
The story: During the melee of partition, a village housing the largest mental asylum in the region broke loose, drove away the villagers and established their own republic in Paglapur. And for the next 60 years, while the world outside changed, Paglapur remained isolated, with no electricity, television or sanity. Now, decades after the world forgot this village, a NASA scientist of Indian origin, Agastya (Akshay Kumar) and his beautiful wife (Sonakshi Sinha) find themselves on the road to Paglapur. Agastya is working on a top-secret project for creating a device to communicate with aliens. So why is he in a village whose colourful inhabitants include a man who speaks in gibberish, another who thinks he is a lamp post and everyone else who think Mahatma Gandhi is still around, fighting for independence? And more importantly, what are they going to do that will soon turn the universe's spotlight on this forgotten village? We will find out the out of this world answer when the film opens on August 31st.
A joint production of UTV, Akshay's Hari Om Productions and Farah Khan and Shirish Kunder's Three's Company Production house, Joker, according to Farah Khan, promises to be an entertaining time at the movies. We were able to have a quick chat with the choreographer/producer about Joker! Read on to see what she told us you can expect when the aliens invade Bollywood.
What were your first thoughts when Shirish narrated the story to you?
You know, he told me the story about six years ago. He had just finished making Janne-E-Maan and he said I have this story for the next one. I was so excited with it. I don't know why he took so long to write the script because I kept telling him you should make this movie! You should write this script. Finally as luck would have it, it did turn out to be his second film.
How would you describe the film?
It is science fiction in a rural setting but it also is a satire about Indian politics and about the state of our villages. It is all done with a lot of humor and drama. The setting is very commercial, it is like a Bollywood film with songs, items songs, and a big star cast but the story is very, very different. It is not something you have seen before because it has UFOs and crop circles and aliens too! That is not something you normally see in a big commercial movie.
No, not all, in fact sci-fi is something pretty new to Hindi cinema…
Yes, yes absolutely. Everything is in a Tim Burton kind of zone. Whether it was production design and even a set was built for the forest where the aliens are. It is all a bit like, well actually, a little not normal. Even the village where it is set, it is called Pagalpur, which is run by the generations of the inmates of a mental hospital. Everyone is a bit loony in the village. When Akshay comes there he wants to put the village on the map literally…because it has not been on the map of India so it absolutely has not been getting any support from any of the states. Then it goes on to tell the story of how he and the villagers get together, so it also is a human underdog story laced with a lot of humor. I think the main USP is that it is a family and kids oriented film with the aliens. You can go see it with your entire family.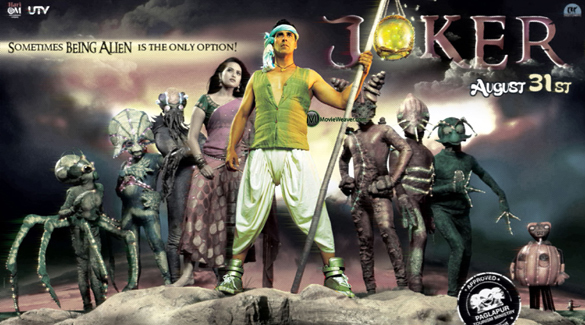 You did the choreography for many of the numbers. What inspired your dances for this film?
Yes! For every movie it is actually the tone of the film and the music that inspires me. And in this film Shirish was very clear that it had to look really different than normal Hindi movie songs. Even with the sets he put up like… for example for Chitrangda Singh's song the stage was completely made of bamboo and it is all very earthy. Also it is a place with no electricity so we had to light it up with fire and fire flies. Once you get a brief like that it makes your life more interesting creatively and you can think of different things to do.
The music is fabulous!
Yes! I really think the music is lovely too!
GV Prakash Kumar, AR Rahman's nephew, composed it…tell us how he came on board.
Yes and he is only 25 years old! When he was 19 years old, Shirish had given him a chance in Jann-E-Maan to arrange all the songs. In the sense that the tunes were Anu Malik but he had put them together with the musical arrangements and the orchestration. If you hear the Jaan-E-Maan songs they are all very Rahmanesque and even today people hear the songs of Jaane-E-Maan and talk about them. So Shirish has promised him that the next time he does a film he would give him a chance to compose the music.
Why the title Joker?
It is a joker in a pack of cards. It is a joker and so it does not belong to any suit, it is not hearts, spades, diamonds or clubs. So literally it is a village that does not belong anywhere but then when you get a joker in your hand he becomes a trump card. So when the village gets this image then everybody wants it because it becomes like a trump. It is a very symbolic title.
What do you admire most about Shirish the director?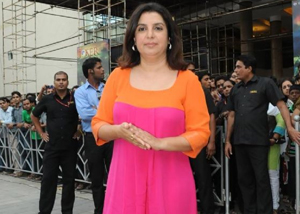 He has a clarity of vision and also a completely different vision from anything I have seen coming out of commercial Bollywood. Jaan-E-Maan, which was a love story and a rom-com, was shot so beautifully, almost like a Broadway musical with so much skill. Even in Joker, the amount of skill he gives, even in simple shots. I don't think anybody shoots quite like he does. He's a very visual director and that is what I really admire about him. He has a certain sense of style that is just his. You know whenever you see the shots in the promos you can see the shots are big. Also you know the movie is actually made on a very average budget. It is not a high budgeted film and to get this kind of visuals in this average budget. I mean I know what the budget is so that is why I am shocked. His editing is very tight really Stacey. This movie is only 1 hour and 45 minutes, which is half the length of a commercial Bollywood movie with four songs and everything so it is really fast paced and doesn't give you room to get bored or restless.
I saw that on Twitter that Shirish was tweaking even up until last week, is he and are you happy with the final result?
Yes, if he had his way he would still be in the theater tweaking it but the print did have to get ready at a particular time. I am actually going to see the final result in the theater on the opening day. We have kept a screening for school kids, so we are going to have a whole theater full of school kids on the first day and I will be going there to watch it with them. The way the kids have been reacting to the aliens that have been coming around in the cities is just very heartening to watch. My kids love the aliens. I think the kids are going to have a lot of fun
What do you think audiences are going to love about Joker?
It is something you have not seen before. It is very entertaining. It is commercial. It has great songs in it. It will have some really out of the world visual effects. I think that the last alien is one of the cutest aliens you'll have ever seen. And as I said it is a film, which you can watch with your entire family without worrying that there will be any excess violence, or will there be bad language or will there be sexual innuendo – it is a whole clean family film. It has been a long time since you have seen a feel good film like Joker.
Check out the trailer to see what is in store!
httpvh://youtu.be/hrbKp5N74zE