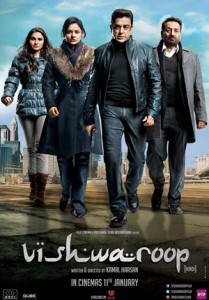 A number of figures from the Indian film industry have reacted angrily towards the Tamil Nadu government's decision to ban Kamal Hassan's latest Tamil film Vishwaroopam. Apparently, the spy thriller contains scenes which the government feels will offend the Muslim community. A number of Muslim groups situated in Tamil Nadu have also come forward and spoken out against the film for its supposedly insensitive content. A distraught Kamal Hassan eventually agreed to modify elements of the film but still believes that Vishwaroopam is "one of the most Muslim friendly films in recent times," in a statement to the media. Here is what some people from the industry had to say regarding the controversy which are affected the film.
Anupam Kher (via Twitter): "As former Censor Board Chief, I strongly CONDEMN Banning of Kamal Hassan's #Vishwaroopam. We are spineless."
R. Balki: "What if all the people, Muslims or Hindus, who have no issues with the film want a ban on the government? Will the courts hear that? We are scared of law and order issues because of the government."
Shyam Benegal: "What is happening to Kamal's film is very peculiar. It reeks of some kind of a vendetta. It doesn't make any sense. The fact is the hero of the film plays a patriotic Muslim doing good things for the country. They've simply gone against their own rules. Once the censorboard clears the film and if any section of the audience has any doubts or fears, the matter must be referred back to the censor board. You (the state) cannot do things entirely on your own. If you are doing things on your own then why have the censor board in the first place? A censor certificate is valid in the entire country, and should not be disregarded in one state. A censor certificate has semi-judicial status."
Manoj Bajpayee: "It is disappointing to hear that state government of Tamil Nadu banned 'Vishwaroopam' after the film is censored. That brings the importace of censor in question."
Madhur Bhandarkar: "I am appalled by the Tamil Nadu government's decision to ban Kamal Haasan's 'Vishwaroopam'. After the film has been passed by the censor board. Not done."
Prakash Raj: "Ban on 'Vishwaroopam'. Not fair. This cultural terrorism should stop. We should stand for the right to express. We are with you Kamal sir."
Vishwaroopam has released in certain cinemas today. The dubbed Hindi version of the film is scheduled to release on 1 February 2013.