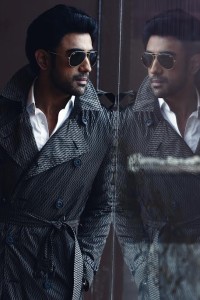 Amit Sadh, who made his big Bollywood debut with Abhishek Kapoor's Kai Po Che, has an interesting line up of films releasing soon including Subhash Kapoor's Guddu Rangeela, Tigmanshu Dhulia's Yaara, AR Murugadoss' Akira and Amit Roy's Runningshadi.com.
The actor, who several filmmakers are backing, plays a notorious brat in Guddu Rangeela, for which he had to learn the Haryanvi language for his role.
Besides that Amit is also looking forward to the rom-com, Runningshadi.com with Taapsee Pannu , where the two team up to play interesting characters that run a website , helping people elope and get married.
Interestingly his character in Yaara ranges from being a 25-year-old guy to eventually turning into a 45-year-old. The versatile actor had gone through a physical transformation and gained about 22 kgs for the role. What made the job tougher was that Amit, who loves getting under the skin of his characters, had to drastically lose weight to get a six-pack abdomen for Akira, where he's romantically paired opposite Sonakshi Sinha.
A source informs, "Amit is very particular when it comes to his characters. He will go to any length to get into the skin of his characters. While he learnt the Haryanvi language for Guddu Rangeela, he had undergone physical transformation for Akira and Yaara. As an actor Amit is very influenced with the kind of homework actors in the west undergo. "
Says Director Subhash Kapoor, "With child like energy, exuberance and 'willing to die for a character' dedication, Amit Guddu Sadh is among the best talents in the industry."
Tigmanshu Dhulia added, "Amit is an extremely palpable actor. He is a chameleon, adapting perfectly and bringing the character to life as if it was never fictional. Its very easy to communicate with him on set because he does not have any preoccupied notion, he listens, he interprets and he performs to his best of capabilities."