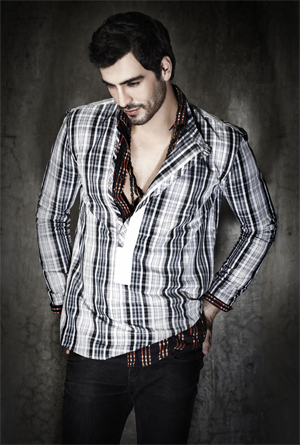 We introduce to you Moufid Aziz, the handsome, (okay hot) Brazilian model that has just made his debut in a Hindi film. How he got to Bollywood is a very interesting tale. After modelling all over Brazil, his career then took off internationally and he has worked all over the world including in Germany, Spain, Japan, Hong Kong, South Africa, India, Portugal, and Singapore. In high demand for Fashion Weeks, he has walked the ramp in Sao Paulo, Rio, Barcelona and India. Not only that, he has done print and television ads for major campaigns and his CV is filled with high end companies including Gucci, Chanel, Ermenegildo Zegna, Pepsi, Gatorade, Volkswagen, Blackberry, Fausen Haten, Samsung, LG, Hyundai, Lux, Xylys, and Maruti SX4, and many more. In fact, you might have seen him in ads for Slice with Katrina Kaif and Priyanka Chopra.
It seems that it was one of those ads that lead him to his first film and this interview. Apparently after seeing one of Moufid's television ads a casting agent for an Indian film came to call and the next thing he knew he was on an Imtiaz Ali set. Yes, Moufid Aziz is making his acting debut in Rockstar.
This is a bit of a spoiler but Aziz plays Nargis Fakhri's husband in the film. About the character he says, "I'm very focused guy. My character never loses control."
Working with Nargis, who is also a newcomer, he says was a good experience both in the workshops before the filming began and on set, "She is super nice." He thinks the fact that they are both newcomers, was a help instead of a hinderance, "I think both being newcomers helped us to work together. There was no attitude or games we just wanted to work."
Interestingly neither Nargis nor Moufid speak Hindi so they both had that as an extra challenge, "Yes, Hindi is not my language and so it was really hard to work with the dialogues." However, now that the film has wrapped he is continuing his Hindi lessons, "I am still studying because learning a new language is great."
Saying his first experience on a movie set was great, Aziz had nothing but praise for director Imtiaz Ali. "Imtiaz is super, fantastic, very kind guy. A very hard worker. He really helped me and we rehearsed a lot to make sure it looked good. I learnt so much from Imtiaz." Adding that he learnt not just about and for the film but for life.
We asked him when you started out modelling, did you ever imagine yourself in a Hindi film? "Not at all, I thought of modeling but never could imagine Bollywood." Adding acting in a film was not really on his radar, "I started to think about it in India because of Bollywood."
Has the acting bug bit him? That would be a resounding yes, because his answer to the question would he like to do other films was, "Of course, my friend."
He also told us he would love to have a career like Johnny Depp's and can you guess the star he would love to be in a film with? That would be Aamir Khan. However, it seems we will have to wait and watch to find out what his next project will be because he said, "Sorry, I'm not allowed to say."
Getting back to Rockstar, we have heard a lot about how the entire cast and crew immersed themselves in the process and put everything they have into making this film. Did he experience that on set? "Yes! Everyone was so into it.  It was so good to be part of this big project."
Now that he has seen the finished film, what does he think of Rockstar? "I really like the beautiful journey of this movie."
Rockstar is in theaters now!