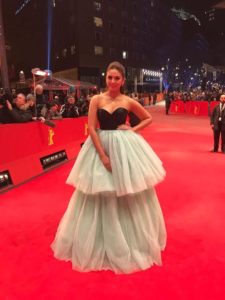 Aishwarya Rai Bachchan made her Hollywood debut in 2004 with the film Bride and Prejudice, directed by the acclaimed Gurinder Chadha. The filmmaker will now be launching Huma Qureshi on an international platform, as she takes on a large-canvas film of epic proportion in her upcoming The Viceroy's House.
While Gurinder Chadha has always been all praise for Aishwarya, referring to her as "a very sharp, intelligent woman who knows how to hold her own in a male-dominated industry" , the filmmaker has now found a favorite in Huma Qureshi, who makes her big Hollywood debut with The Viceroy's House.
The film headlined by Hugh Bonneville, Gillian Anderson, Huma Qureshi and Manish Dayal is all set to premiere at the Berlinale 2017. Huma is no stranger to international festivals and with Viceroy's House becoming an official selection at Berlinale 2017, the film becomes her third to be screened on a global platform – Her debut film Gangs of Wasseypur was screened at the Cannes Film Festival 2012 and Dedh Ishqiya, was also screened at Berlin in 2014.
Huma essays the role of Aalia, a Muslim interpreter to the last Viceroy of India played by Hugh Bonaville and his wife played by Gillian Anderson. The epic story also features in a strong love story with Huma and 100 Foot Journey star Manish Dayal as they find themselves caught up in the seismic end of the Empire.
The actress has never failed to deliver consistent performances and hence it comes as no surprise that Gurinder Chadha saved the meaty role for the powerhouse performer. Gurinder has nothing but praise for Huma, "Huma is a great actress. And with "Viceroy's House", she will get a great launch in global cinema. For the role, she had to ditch her Mumbaiya accent and get into the prim and proper British one".
If that wasn't all, after the trailer of The Viceroy's House came out Huma has been signed by international management agency, Troika, who also handles Hollywood star Michael Fassbender. The actress is already in talks for another interesting international project.