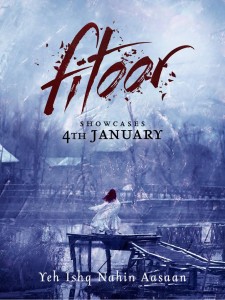 Haminastu is sung by Zeb Bangash who is a Pakistani folk singer who we all loved, every time we listened to her on Coke Studio. After lending her voice for few Bollywood songs for the film Highway and Madras Café, singer Zeb Bangash has sung another beautiful song for the film 'Fitoor'. She combines Turkish, Pashto lyrics and instruments in an beautiful synchronisation to the mainstream way. She starts this song with what sounds like Pashto lyrics and brings in strong Urdu lyrics in an urban mix of traditional instruments blended with a huge orchestra creating a mix of musical magic. Although the lyrics are deep and uncommon for a listener the melancholy of her voice of is so unforgettable in places that she can give one goose bumps. The ambience is really strong in this song with the use of Santoor and Rabaab and the Rabaab solo at the end is perhaps one of the best heard in Bollywood ever. The melody and music is so remarkable that it lingers with you long after you finish listening to the song. The highlight of the song is the famed Persian line that is often associated with the beauty of Kashmir – "Gar firdaus, ruhe zamin ast, hamin asto, hamin asto, hamin ast" which means Kashmir is heaven on earth. The song somehow has a soothing effect and feels like a cool breeze on a hot summer day. Based on traditional Kashmiri music this track is a lovely composition with Amit Trivedi's musical touch.
An adaptation of Charles Dickens' classic novel Great Expectations, Fitoor tells the story of young Kashmiri boy Noor, his muse Firdaus and a mercurial Begum, through love lost and realised over the course of two generations. Thirteen-year-old Noor, an impressionable shikara boy living by the piers of Kashmir's Dal Lake, is lured into the world of the Begum – the wealthiest woman in town.
Young Noor falls in love with the Begum's daughter, Firdaus – a beautiful child who has been raised to break hearts. Suffering from a broken heart herself, the Begum finds her mark in Noor. Noor begins to obsess over Firdaus, someone who belongs to a world completely different from his. Seasons change and Noor leaves his hometown to move to the city of Delhi to build his career as an artist. He strives to be accepted into the sophisticated social circles that Firdaus is a part of in a quest to win her love, while the Begum plots retribution on their young and innocent love.
Check out the Song Video below.

Fitoor releases in cinemas through UTV Motion Pictures on 12th February 2016.