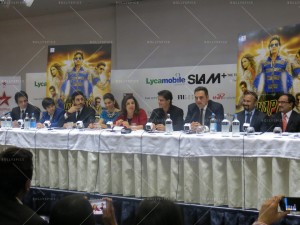 On Sunday the 5th of October the star studded SLAM TOUR hit London.
Performing on stage at the O2 Arena were some of Bollywood's dream team including Shah Rukh Khan, Deepika Padukone and Abhishek Bachchan.
The tour revolved around Farah Khan's heavily anticipated Diwali release Happy New Year and reflected the spirit of the film, a dance competition.
BollySpice were at a spectacularly special press conference with the Happy New Year team through which we got to know the emotion amidst the film and the tour as well as the personal journey the stars have made.
It was clear to see the genuine chemistry between the star cast.
In fact not just chemistry but a genuine feeling of team spirit resonated.
SRK, Farah Khan, Abhishek Bachchan and Boman Irani especially charmed with their cheeky sense of humour – as you will read!
Bringing you the highlights of the press conference, get to know why London is profoundly special to Boman Irani, how the emotion of Indian nationalism is entwined with the tour, what challenges the team faced with bringing forth 135 cast and crew members to put on the show and more!
The press conference was hosted by British Indian actor Ameet Channa (Bend it like Beckham).
In attendance were Farah Khan, Deepika Padukone, Shah Rukh Khan, Vivaan Shah, Abhishek Bachchan, Sonu Sood and Boman Irani.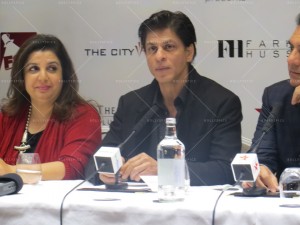 Ameet Chana: Farah Ji, how has the lead up to the film taken over your life?
Farah Khan: Let's say that I have not seen my husband in two weeks! I still make time for my children but it's completely a world with the lead up. In between I keep telling Shah Rukh, we keep forgetting that our movie is still to come. Right now it's in post production. But the tour has been amazing. SLAM – I think we have slammed every city! I think we have saved the best for the last. We are hoping to SLAM London tonight.
Ameet Chana: Absolutely. We are looking forward to that. Shah Rukh Sir if I could come to you – how was touring America?
SRK: Good afternoon everyone here. It's been really, really nice. It's been a long time since I think any of us have performed live on such a big scale –
Farah Khan: 25 years for me!
SRK: It's been great fun. When you make a film like this and you have a team like this. And the other people who have joined the tour- Madhuri and Malaika and everyone. I think it's just a good excuse really to go out there with the whole team and enjoy ourselves. The film is about dancing so it all seems to fit in. We've been hanging around together for the last one year making this film. So it was easy to be with a set of people who are friends now like family. And I think that when you do a live show the most important part is how everyone gets along together. And I think this is one of the finest experiences… like Farah said London is the most important city for coming and performing live. Normally we start with London. Initially I remember when we used to do world tours we used to come to London. So if we would screw up a little, London used to forgive us… London will be great fun. I've never performed at the O2 so that will be the first time. Inshallah it will be a great experience for everyone who comes and watches.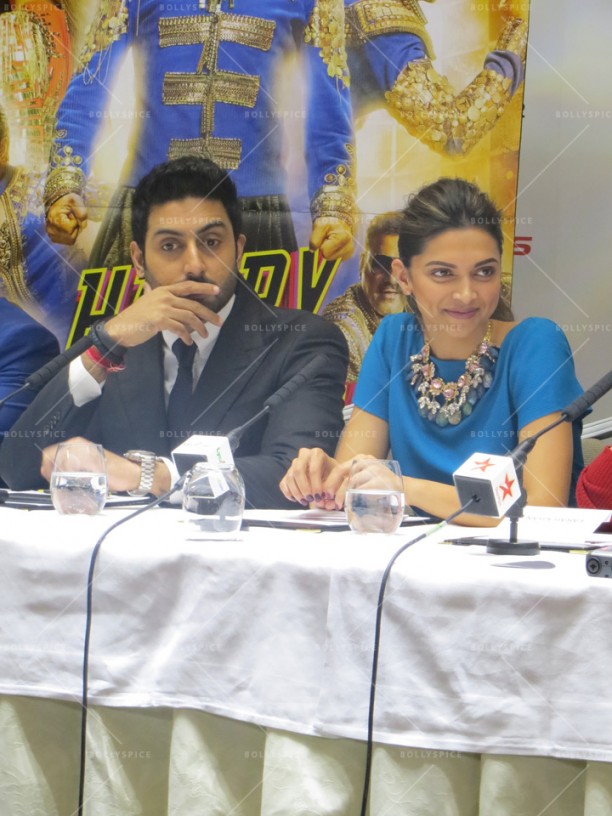 Ameet Chana: Boman Ji- If I'm not wrong, this is probably one of the first big concerts you've hosted?
Boman Irani: Yeah I've hosted a few shows. And some people haven't performed a world tour in 10 years or 15 years. I haven't done a world tour in 55 years! This is the first time. And I'm not hosting – I thought I would be hosting. I was told – you will have to dance!
Ameet Chana: Abhi ji – How has this show been different in terms of incorporating it with the release of a film? Has the approach been different?
Not really. The last time I was at the O2 was with family. Now I've come with a bigger family. That's the only difference. It's a lot of fun you know. We've had a wonderful time with the film and we have a lot of fun on stage. You know. Everyone's become very comfortable with performing on stage now. But first and foremost congratulations to Shah Rukh on the wonderful honour yesterday! He continues to make us very proud as it is.
So yes – we are going to have a lot of fun. The O2 is a wonderful arena. I performed there before. So when they asked me what it's like I said it is very cold. The AC is very cold. But I promise you after you get into it we will heat you up you know.
Ameet Chana: Vivaan – this is your first major film on such a big canvas. How has the experience been working with a stellar cast like this but also touring the world with some phenomenal people, living legends as we stand?
You know working on the film has been an absolutely life changing experience. And the tour is definitely another level. Touring with them has just taken it to another level. You know because to stand on stage and to perform with all of them is just electrifying! It's exhilarating! I don't have words to describe it. It's really the most amazing experience ever. To be in a way, ambassadors to our country and represent our country is a huge, huge honour. It's also keeping it to the spirit of the film because that's what we are kind of doing in the film- we are representing India. So it's a really big honour to be here.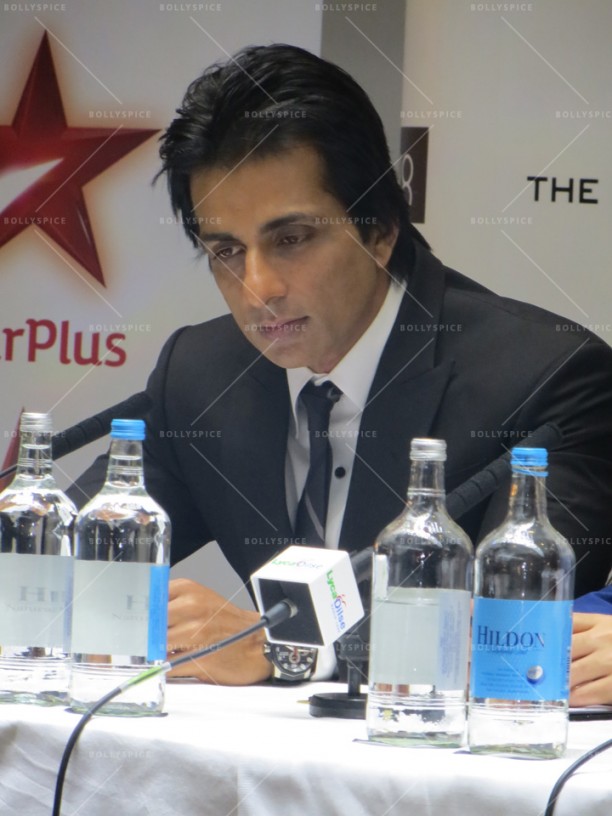 Ameet Chana: Sonu Sood- it's a very interesting change for you. Because in the past we have seen you playing dark villainous roles – this is very different for you. How has it been firstly working with Farrah as a Director? And to change from being a villain to something less dark? How was that?
Sonu Sood: It's been a real life changing experience for me working with Farah. I've done films in all the languages – but I can say that she's the most talented Director I've worked with. And there is no other Director other than Farah you know the way she presents her actors and I can really feel blessed to be a part of Happy New Year. Thanks to Shah Rukh Sir for giving us such a big platform. I would say Happy New Year is the biggest film ever made in Indian history. I would say every actor in his entire career has to do a film like Happy New Year and I'm blessed I did so early in my career.
Ameet Chana: Deepika you've worked with Shah Rukh Sir a number of times now. How overly comfortable do you get when you work with an actor that you've worked with a number of times? Do you still have to find yourself and challenge yourself?
Deepika Padukone: I think it actually makes it easier because every time you work you work on a film with a new co-star you have to go through the process of getting to know them, their process and how they work on set. But when you've worked with someone – and I think we have done some special films together – it makes that process much easier. So you get that part of it out of the way. He tells me if we are doing a particular scene and if I can do it better. I think we have that kind of equation- very, very comfortable. And someone who I trust a lot. If he says something to me I will never question it.
Ameet Chana: And how is the show going? What can we expect from you tonight? Are there going to be team ups?
Abhishek Bachchan: We have a habit of gate crashing! It's a bit of a stage tradition back home. Once you are comfortable with your first show then you go and ruin the other shows! So if you happen to see us pop up onto somebody else's act then trust us, we are not meant to be there. We just showed up on will and trying to have fun!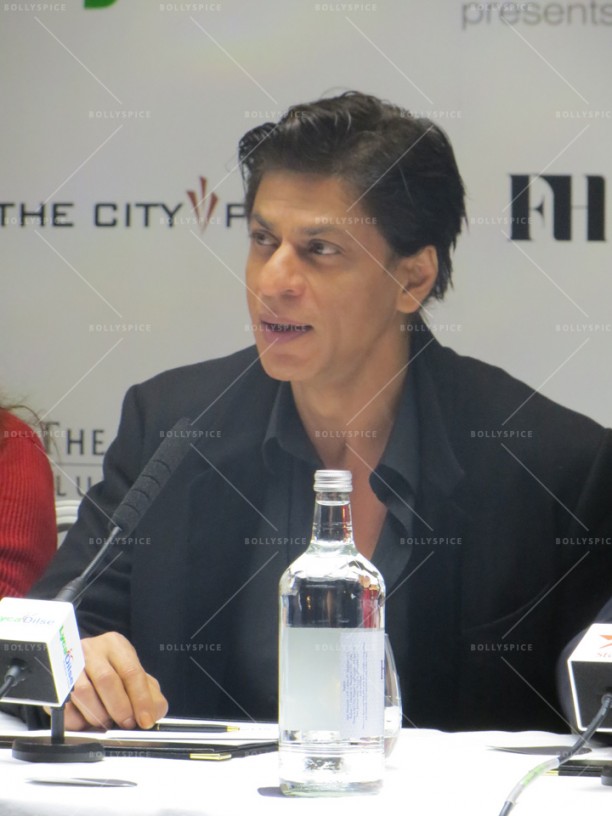 PRESS: To bring 135 cast and crew together is hard work. How difficult is it to arrange, co- ordinate and be patient?
In America we almost didn't make it to a show in Vancouver because Chicago airport shut down- and let me tell you only CineYug could have flown 135 people in various airlines. Get them on time for the show. Get the props, costumes, everything. I mean that was a show which we really thought would get cancelled. And it didn't. I think 90% of the credit goes to CineYug for that.
PRESS: And Shah Rukh it's taken you ten years to come back to the UK on the live stage here on such a big scale-
SRK: Yes. I did a world tour, we started with Temptations some time back and I've always maintained that when you do a world tour of this magnitude. One, I'm very conscious of the fact that it should be bigger and better production wise. It should just be a very happy moment for all the South Asians – everyone. They should feel wow it's a show that's come down! And you need to have a team. You need to spend a couple of months together to do it. You know it's not just two days of rehearsal and let's just go out and do our bit and go. You know it doesn't work like that. It's taken me ten years yes. I was waiting for Abhishek and Deepika to grow up. And Vivaan to be born.
Seriously speaking you really need a team. At different times I've spoken to Abhishek and Deepika and different people who have said let's do a world tour, let's do a world tour. But the first day we went to Dubai to shoot the film I just felt so happy to be with everyone. Each one of them – jokes apart – I'm not being patronising here because perhaps I've done more film work, but when I saw them, they are the most hard working actors I have ever worked with. And with fun. They were happy doing the work – the ten hours, the fourteen hours, the eighteen hours – without sleep. Everyone was cheerful and pushing each other. I think that was the most important ingredient you need in a world tour. The ten years is so that we could put on a show that was better than before.
PRESS: Madhuri Dixit will be part of this SLAM Tour only in the UK. That's a bonus for the London audience –
SRK: It's a bonus for all of us! To be honest, she must be the most loved actor on this table and everywhere else. When I suggested that we call Madhuri and tell her to join the show – she is fabulous on stage! Otherwise also she is a fabulous person, a great actress, very close to us. You know the first thing everybody said was, listen- her entry we are all going to stand and watch from the wings. She is a star for all of us. It was very nice that she could take out time and so sweetly she has joined the team.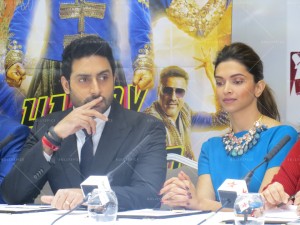 PRESS: Within the trailer of Happy New Year there is a message that life will give each of us a chance. So I want to put the question to you and ask you which was the biggest life changing experience that life gave you?
Abhishek: Boman- since you have the most experience. You've seen more of life that's all. In black and white era, colour…
Boman Irani: When I was 35 years old I did my first play as an actor- a theatre actor- ofcourse I became a cinema actor at 44. It required for me to travel for the first time in my life abroad at the age of 35. And I did not own a passport until I was 35 years old. Within a week somehow we pulled some strings and managed to get a passport because I had to come to London to audition for something. And the first city that I visited outside of my country was London. And I think it kind of opened my eyes to a completely new world, completely new place and opportunity. That I feel it was a life changing moment for me.
Vivaan Shah: This film!
Farrah Khan: Yes well done Vivaan. Good answer!
Sonu Sood: I would say one of the most special moments of my career was when Farrah told me over the phone that you are a part of Happy New Year. So report, come to Dubai. That was one of the most special moments.
Abhishek Bachchan: I think for most actors it is when they get their first job. It certainly was for me when Mr Dutta called me and offered me my first film. That would be the most life changing.
Farah Khan: I think life changing moments happen regularly if you know. But I think for me, there are a couple of them. The first time Shah Rukh told me he is going to make Main Ho Na with me. That was completely life changing because from being a choreographer instantly I became a film maker. I think when I had my three kids at the age of 43. I think that was life changing and now when you have children and have so many children (points to the star cast) life keeps changing couple of weeks regularly. I'm hoping Happy New Year will also be a life changing experience. And a life changing film for me as a Director.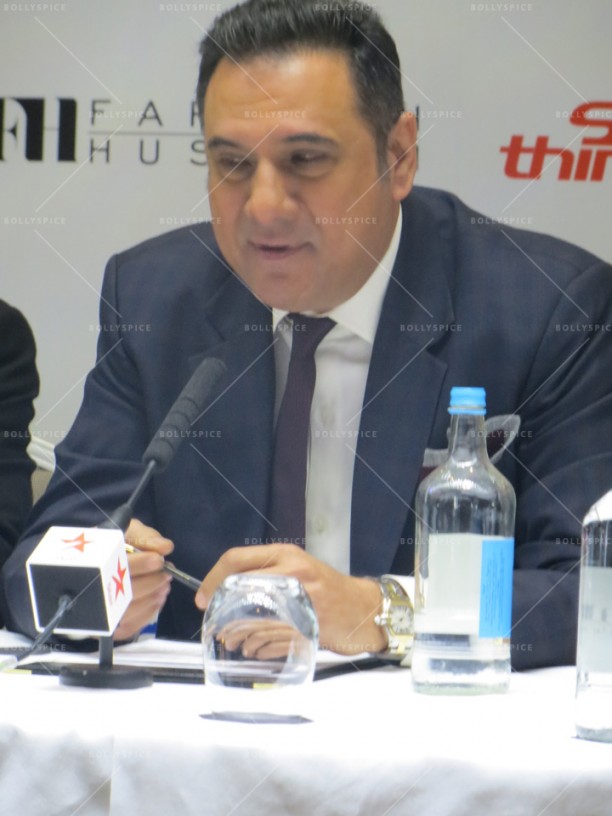 Boman Irani: What about last night Farah?
Abhishek Bachchan: Too much information guys. Those kind of visuals we don't need…
Deepika Padukone: A boring life… I think for me it's a given. The day Farah called me up and said: if you are good then I will cast you opposite Shah Rukh otherwise I will cast you opposite somebody else- I can't take that somebody else's name. I think it happens to be my first film. It changed my life completely. In fact it changed overnight. We were here for the premiere. Farah couldn't come because she was heavily pregnant at that time. Shah Rukh and I were here for the premiere and the day I went back my life had changed because suddenly everyone was greeting me differently. When I landed in Mumbai my life had changed overnight.
Farah Khan: Overnight? Or last night it changed?
There we have it! Judging by the chemistry and camaraderie of the HNY team, we simply cannot wait to see them shine on screen!
Happy New Year is to be released on the 24th of October 2014 and is produced by Red Chillies Entertainment Pvt Ltd, distributed worldwide by Yash Raj Films.
(Photo credit: Bodrul Chaudhury)