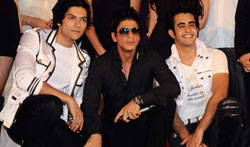 The new film, Always Kabhi Kabhi by debut director, Roshan Abbas promises fresh faces and a youthful spirit. However, the publicity for the film, as of late, centers around its famous producer. In fact the trailer for the movie features King Khan prominently and introduces the characters through his narration.
Perhaps intimidated by other big name films, the new director is taking full advantage of this angle of promotion. At a recent shoot of the song 'Antenna' a nearby crowd could hardly help noticing Shahrukh's presence. "This is his popularity and you need that kind of promotion and support for a film like this," Abbas tells sources.
While AKK introduces such young stars (the youngest of which is only 20-years-old) Shahrukh's presence in the promotion boosts the maturity level of the film. He himself has acted in teen, school dramas from Kuch Kuch Hota Hai to Main Hoon Na to Mohabbatein. Whether or not he makes a cameo in this film, SRK's influence may just invest a teen drama with a greater amount of wisdom and depth.
The film, which released Friday has been given mixed reviews and Abbas said, "Hey to all who love it we love you! AKK is an attempt to capture some parts of your life…TO all who don't respect…films are an attempt we got somethings right n some wrong but well the journey continues."