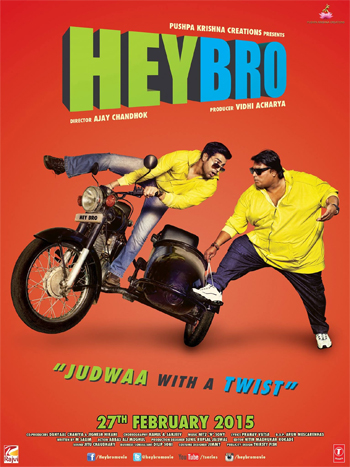 Hey Bro is a forthcoming film that has been directed by Ajay Chandok and features choreographer Ganesh Acharya as the main 'hero' of the film. A story about judwaa (twin) brothers with a twist, this is the first time that the audience will see Ganesh as an leading actor and not just a choreographer.
There are five songs in the soundtrack of Hey Bro and upon first hearing, one can instantly tell that they are situational songs and will make a lot more sense once seen with their respective promo video or within the film. The music of the film has been composed by music directors Nitz n Sony (Nitin Arora & Sony Chandy) who have very bravely experimented with the sound of their music and have not stuck purely to one music genre in this album.
First up is Mera Gaana Bajade DJ which has vocals by Sunidhi Chauhan and Ali Zafar. This song has a typical club feel to it and you know it has a mission to make the listener dance. Sunidhi's singing elevates the song especially with her inflection. This is also the first time we are hearing Sunidhi sing with Ali Zafar and this new pairing does work well. A catchy number, it definitely stays with you after you have heard it!
Naach Meri Bulbul, has to be my favourite track of the album (for obvious reasons!) as it is always a pleasure to hear the great combination of Himesh Reshammiya and Shreya Ghoshal. This duo have sung many a hit song together, and music directors Nitz n Sony have done extremely well by bringing out a different side in Himesh's voice and giving Shreya's voice a new and almost husky effect. Himesh has also proved once again, that he is very comfortable with singing songs outside of his own compositions. The song not only has a strong melody but has some excellent music portions which make it sound a whole lot more than just an 'item number'. The lyrics Naach Meri Bulbul, do remind us of a song from the 1970s film Roti, but the similarity stops there. You most certainly want to sing along with the chorus lines 'Naach Meri Bulbul Ke Paisa Milega, Khaali Phogat Betegi Toh Kaisa Milega? Aisa Sharmayegi Toh Dil Ye Jalega…' This version is definitely one to give a play and then if you are like me put it on repeat!
Birju is already proving to be one of the most popular songs from the album. The song features vocals of Udit Narayan and Mika Singh, with rap by the versatile rapper Arya Acharya and Naezy. The song video for Birju features cameos from Bollywood greats such as Amitabh Bachchan, Prabhu Deva, Akshay Kumar, Ajay Devgn, Hrithik Roshan and Ranveer Singh. The highly situational song has one strong lyric hookline throughout which is 'Meri Maa Ka Kangan Wapas Karde…Lala'. It is a treat to hear Udit Narayan's melodious vocals and it is even more nicer that we are hearing his voice in such a youth orientated number. Birju is a song that will make you sing a long and definitely check out that video.
Line Laga is the next track on the album and it has been sung by Mika Singh with additional vocals from Anu Malik. The introduction of the song has a very gospel-like feel to it. Mika Singh almost rap-sings this song which is different to his usual style. It is a cool number but may not become as popular as the others due to its unusual style and groove.
Hu Tu Tu has been sung by everyones favourite, Sonu Nigam. Sonu has displayed a side of his singing that closely resembles that of Kishore Kumar in 'Ek Chatur Naar' from Padosan. This song is pure comedy and expression all rolled into one. This is a very brave song from Nitz n Sony and kudos to them for experimenting with this genre (a genre we are hearing after a very long time). However, this one does not play as well to the ear, it should work better within the context of the film.
Overall the music of Hey Bro is a must listen, especially if you love listening to different flavours of Bollywood music!