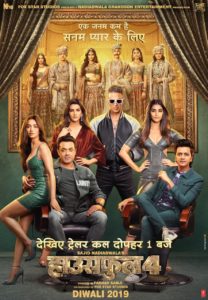 HouseFull 4
Starring Akshay Kumar, Bobby Deol, Riteish Deshmukh, Kriti Sanon, Kriti Kharbanda, Pooja Hegde
Directed by Farhad Samji
Roar of approval from the audience accompanied every exaggerated antic in this amalgamation of the modern and the antique. So any critical response is redundant.
Anyway, take a deep breath and dive.
First things first. House Full 4 is a very ambitious film, ambitious in scale (it moves across two eras 600 years apart, past and present), in treatment (the cinematography and art design would be considered exquisite if only there was room for refinement in this 7-'coarse' meal) and in the sheer grandiosity that the film exudes. Comedy here is serious business. It is woven around sets and costumes borrowed from Bhansali or Rajamouli's warehouse.
In trying to be a funny giggly hee-hawing version of Baahubali and Bajirao Mastani, House Full 4 ends up looking like a dish that got overbaked while the chef was reading funny WhatsApp messages in his work-time. Though a bustling comedy filled to the brim with banter, the camaraderie among the three heroes never rings true. Every so often they seem to be talking in rapid fire motions to themselves instead of each other. It's like the boys (all above 40) have forgotten to have fun while aiming for just that.
Although the lengthy film (too too long and over-ripe for a comedy) boasts of six screenwriters (including Tushar Hiranandani who has directed this week's other fine film Saandh Ki Aankh) most of the prankish escapades seem to have been thought out on the sets. The dialogues seem improvised and do not shy away from taking digs at various venerated institutions. But the mood of defiance smacks of immaturity.
The sense of defiant rowdyism is only skin deep. Scratch the surface, and we get a fiercely traditional comedy about three heroes, their three love interests, two lives and several misadventures. While Akshay Kumar in spite of the multi-starrer format, hogs most of the limelight, and pigs on the cheap shots involving a born-again discombobulation, it is Riteish Deshmukh who makes the strongest impact. His 'Bandgu Maharaj' is one of the funniest characters cultivated in Bollywood's farce factory. If you need a solid reason to see this film (why would you need a reason to laugh at retarded antics of men who forgot to grow up?) Deshmukh is it.
Bobby Deol's takeoff on his father Dharmendra's Dharamveer never takes off. He looks distracted and bored. As for the girls, Kriti Sanon being paired with Mr Kumar, gets more footage than the other two leading ladies who are mere specks in the comic cosmos.
House Full 4 is packaged like a Diwali mithai ka dabba layer after layer of temptation that you can't help binging on. But it finally leaves you sick at the pit of your stomach.
While its obsession with raising laughter in every frame does get the better of its finer judgment you finally feel everyone is trying to remain relentlessly funny even as many talented actors like Boman Irani, Johnny Lever , Rana Daggubatti and Sharad Kelkar hardly get room to register in the large-screen comedy circus.
More like a droll reincarnation of Bhansali's Bajirao Mastani with an identical look and colour palate, House Full 4 is definitely an improvement on the first three films of this fatuous franchise. It would have you chuckling unwillingly, though the laughter is more for a bunch of brave upbeat actors trying to keep us engaged like school kids at a parents' day event. Everyone given two lifetimes to fool around with. And hell, they do know how to whip up a frenzy even if the costumes don't quite fit them.