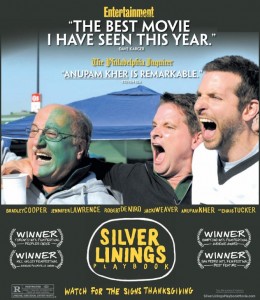 Anupam Kher is on top of the world! Why you may ask… well because Silver Linings Playbook has been garnering rave reviews, won awards and recently received nominations at some very prestigious award events. It won the People's Choice Award at the Toronto International Film Festival and now has received nominations at both the Screen Actors Guild awards and the Golden Globes! In the Hollywood film, directed by David O Russell, Mr. Kher plays therapist to Bradley Cooper's character in a dramatic story that also stars Robert De Niro and Jennifer Lawrence. Earlier we talked with Mr. Kher about his experience working on the film and you can read all about that here. Now check out what the esteemed actor had to say about the film's new nominations and the fact this soon may also be an Oscar nominated film!
You are nominated with the cast of Silver Linings Playbook for Best Ensemble Cast at the SAG awards. What are your thoughts on that?
It is, I can say without getting the award, the best ensemble cast. What can one ask more for to have a film which has Jennifer Lawrence, Bradley Cooper, Robert DeNiro, Chris Tucker, Jackie Weaver, Julia Stiles, John Ortiz, Dash Mihok, and Shea Whigham and more. This is an amazing cast. To be part of this cast sometimes it has a dreamlike quality. I don't think this combination will come again in a film like this, with a director like that and producer like that. You know, I always say all dreams come true. I am honeslty an end product of my hard work, honesty and optimism. To be on the same table as these people and God willing to be on the stage with these people will be a moment I would like to click for the rest of my life.
The film also got a Golden Globe nomination…
Yes! It is amazing and for Best Film! I am very happy and proud to be a part of this film. It is an amazing feeling. It can't go higher than that. It's like being high on a film. This film has given me so many highs that I can be drunk for the rest of my life. (Laughs)
When you first read the script and then began shooting did you imagine it would lead to this?
I had a very strong feeling that this would be a very important film of 2012 when I read the script. The first thing I said to my agent was, 'Ruth, this is an important film'. When I reached the set and I started shooting with the director David I was 100% sure that this was it. Now where it could have gone I had no idea, but I was certainly very sure when I was shooting for the film that it is going to go places.
It certainly looks like this is also leading up to an Oscar nomination
Yes, I hope so. This is just fantastic and amazing. I am on top of the world.
When you are in a film like this you are also unknowingly representing your country. I am what I am today thanks to Indian cinema. It makes me humbled because I come from a cinema, which is a people oriented cinema because we entertain more than a billion people, and we become part of their lives. It is for them… and it sounds like an Oscar speech already but since I have not yet had the opportunity to go on stage I will give the speech to Stacey (Laughs). I always believe that we need to make people believe stronger by being an example. It has also given me a certain sense of added responsibility and also gives me an incentive to do better work for all the films I do here.
We will keep an eye on the awards and be sure to bring you the results and more from Mr. Kher so watch this space!