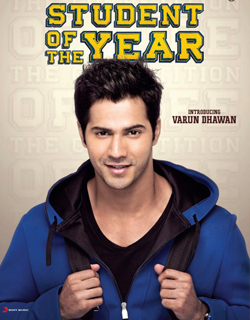 The first thing you notice about Varun Dhawan is his friendly banter. As he meets, greets, and casually acknowledges his gathered audience of press, fans and well-wishers, you can't ignore the strong resemblance in conduct that he's inherited from father David Dhawan. Chip off the old block? I wonder. Varun is nonchalant about tags, as easily as he plays down his good-looks. "I love the recognition, fame that the profession brings, but what I love most is to act. There's nothing more adrenaline-pumping than being in front of the camera" "Although I am quite anxious when I've to do emotional scenes, I can't cry easily", he shares. A five-minute conversation with Varun Dhawan and I'm surprised at how effortlessly he articulates, and how talkative and humorous he is as contrary to my first perceptions about him being flamboyant and casual.
Varun plays Rohit Nanda aka Ro, son of a business tycoon, from Delhi's privileged high-society, brat, pampered and used to having his way around. "It is a relatable character" he begins to explain adding that though the character has shades of grey, he is pure-hearted, "his emotions are simple and real", he asserts. Quite like yourself? I probe. He grins all-knowingly and nods lazily in half-hearted acknowledgement. 'I enjoyed my share of parties and fun when we were younger. Ghar pe hamesha celebrations hota tha (There were always celebrations at home). Dad loved having people over. Relatives, friends used to gather all the time". "The years that I spent on the sets of MNIK helped me grow as an actor. Shahrukh has that effect on people. He inspires and is always full of anecdotes to share, good things to learn", he candidly confesses.
Did his father expect him to walk in his cinematic footsteps? 'Did you know dad wanted to be an actor before turning director?' he shares. "He gave us all the freedom. All he told was to choose the film carefully and be careful not to spoil his name" Would there be a Papa directed comic caper in Varun's filmography? "Why not! Not just because he's my father, but who wouldn't want to work with the king of comedy" In the same tone, he doesn't dismiss that he does share his dad's tickle bone although in a different intensity. "I was the secret prankster on the sets, but prided myself on being a hard-worker as well. After every scene, I'd think if I could've done it better. I've done some scenes in five ways much to Karan's eye-rolls", he chuckles.
Talking about Karan, Varun says that he has been a big influence on his life. "He has been a friend, guide, anchor, everything. He is very amiable and approachable and you can talk to him about almost everything. Even on the sets, he'd be very patient, listening to what we had to say" For someone who talks a dime to a dozen, he's very shy about talking about himself. "I'm not very good at taking compliments. I'm an introvert unless I'm with people I have known and am comfortable with".
Of course no star-kid gets away without answering the quintessential question about people assuming he has it easy being David Dhawan's son. Thankfully Varun doesn't make any attempts to pass the question or respond with clichéd rehearsed answers. Instead he shrugs and counter-questions "Isn't that expected?" He continues in the same breadth, 'In fact it's tougher this way. Firstly one has to overcome the shadow of being someone's son, show that he has reached his place on his own and then survive the competition purely on hardwork and talent" Quite a perspective, I reason. "Rohit (elder brother, director of Akshay-John starrer Desi Boyz) carved his own niche and now it's my turn. Our parents have always told us that they will support but my dad will never influence. I'm glad that he didn't because I like the struggle; paving my own path, my own identity". Point taken.