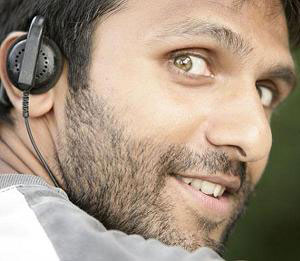 We have been giving you glimpses into the funny world of Shawn Arranha's second film Tukkaa Fitt through our first fabulous interview with Shawn before filming began and then also the Tukkaa Fitt Diaries from the set. As a little reminder, AAP Entertainment and Premal Goragandhi production's Tukkaa Fit, is a crazy comic caper comedy with a twist that stars the eclectic and cool cast of Mahaakshay Chakraborty, Vaishali Desai, Hiten Paintal, and Rajpal Yadav along with Mukul Dev, Satish Shah, Mukesh Tiwari, Muku Deol, Sunil Pal, Amit Mistry, Vivek Vaswani, and Mahesh Manjrekar. Shawn is now at the post-production phase and planning the exact right time to release his take on comedy to the world. We caught up with the director and got even more exclusive scoop on the film, the characters, the music and what we can expect when we see Tukkaa Fitt! Enjoy, I know I did when I talked to him!
What made you pick this story?
The biggest thing that inspired me was because for my first film I had done a horror flick, Hide & Seek, I wanted to change my genre. I was getting a lot of scripts, which were only thriller based and I wanted to jump genres. I didn't want to do the same thing again. Someone came and asked, 'Do you want to ever do a comedy? I have film which is a comedy film.' I heard the story and said, 'It's a fantastic story. It's what I want. It's totally a different genre'. Plus it had a lot of people who I'd always wanted to work with like Rajpal Yadav, Mukesh Tiwari. I really wanted to work with these guys. I got a chance. I got a script I loved and I said, 'Yes, this is the film I want to do'.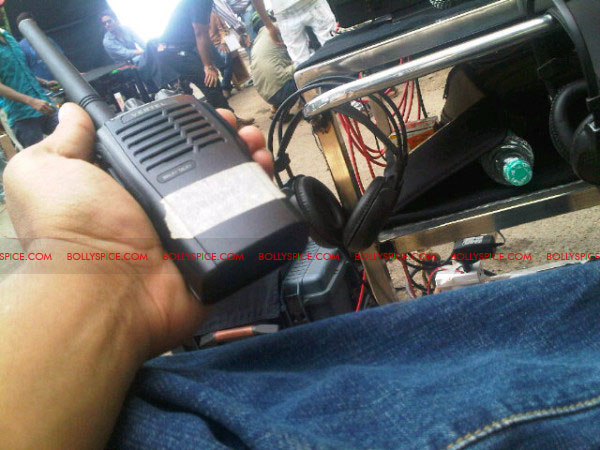 Can you tell us a little bit about the story?
The story is basically is a mad rush for money. It's money that has been misplaced by mistake and gone into the wrong person's hand. These guys Rajpal Yadav, Mahaakshay and Hiten, they get the money by mistake and it is about how they go around spending that money, not knowing that there is a history behind it and whose money it is. People are of course trying to catch them. Then there is the heroine Vaishali, who has been thrown into the whole story. There is this whole suspense arc of who is she in the film and why is she after the money. The whole film is not an out and out comedy. It's actually a very layered film. There are four parallel stories going on and it is about how they interconnect each other and how it all surrounds these bags of money that is roaming around in everyone's hands. That's how it made it very interesting for me. It wasn't an out and out comedy, which we usually have. It's something different. It's something I can play around with, it's something I can try new techniques through styling and stuff like that.
Was it difficult to fit all those layers together and to work?
At the beginning you have to sit down and think how to match all the dots and connect everything so that it's a fun film. Also it's a film that's ticking the whole time so it's not something that you get bored or it's dragging. Nor is it fun comedy where all you are doing is the laughing your head off, it's nothing like that. It's actually a pacey film, a youth oriented comedy that people are having fun. It's not slapstick – it's very situational. It's very, very stylishly cut. I did a very Brit style cut so it's fast and it's moving. It's not where you pause at certain comic timing and everyone is laughing their head out or nothing like that. The comedy comes while the film flows.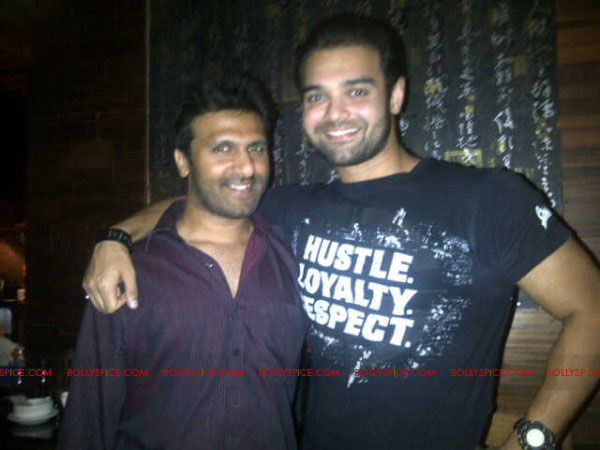 When you think of Indian comedy films, slapstick does come to mind…
Yeah, every time people say is your film another comedy slapstick I say no, it's not. It's a comedy film, yes, the genre is comic, but basically it's a drama plus it has thrills, plus it has suspense, plus it has romance, it has everything in it. It's nothing something where they say usually in Bollywood throw your brains back and go watch the film. You need to take your brains because you have to think why is this happening, who are these people, why have they come into the situation. It's a fun film; it's a 1-hour 45-minute film so you cannot even get off your seat. It's like that. It's like you have to sit and you have to keep thinking.
I've never done a comedy in my life. People have already looked at it and said it's very fresh; it's a very new style comedy, which is a good thing. Because if I had been doing comedy before, it would be nothing different that the other comedy films. This is a new take because I have never done it in my life. So I am showing comedy through my eyes, the way I understand comedy. The audience will get to see a new style of comedy.
Was it harder to direct the comedy of this film, than the suspense and drama of Hide & Seek?
Actually I don't think it's harder. It's basically a director's job to make the script come into visuals. At the scripting stage, your script has to be really strong enough to take the whole visual picture. So for me it wasn't tough because again I am putting the visual into the script. I had all my actors do their workshops, sit down with the readings and so I knew each actor and how high can they go, how low can they go, and how is their comic timing. So I played around a lot in their characters, you see, to make the characters themselves comfortable for them and for me. It became very easy to shoot the film. My pre-prod was very strong.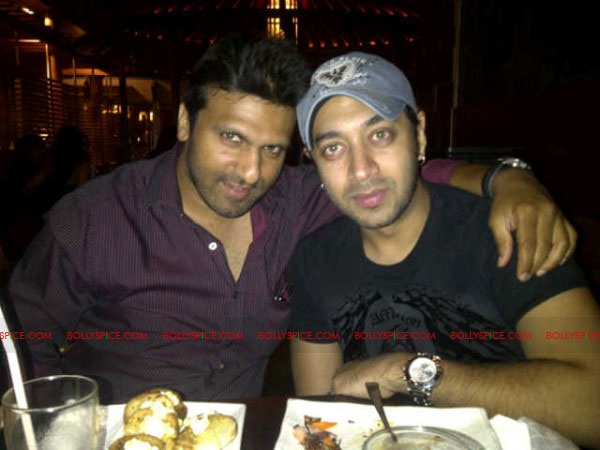 Talk to us about working with the actors.
It's the first time I've worked with all my actors.
With Mahaakshay, he had also done a horror film called Haunted and he came straight on to comedy. I had to make him understand the way I would like my characters to be and not just to laugh and make him do something stupid on screen. I sat with him and it was fun, because he was young, he was energetic and he was totally for the director. It was very easy for me to mold him. See I always believed that if an actor gives himself fully, it's easy for a director to mold. He gave himself over to the film and we sat down and we understood each other and so then he acted out all the scenes properly. It was a good thing for him because he's the next big up and coming actor. He's Mithun Chakraborty's son so he has to prove a point that he has acting in his blood, which he has. It just has to be molded the right way, he just has to be shown a right direction that this is the way you should go and he takes on from that.
With Vaishali, well she had done a film Kal Kisne Dekha and basically it went off fairly ok. She did not get much footage out of that film. So for me, when I cast her, it was like casting a totally new face. And because Mahaakshay is a young face, I wanted somebody equally younger to him to match him. He has a fair skin so I wanted a fair skinned girl, who is very now, stylish. You know I wanted her with a split style which is Indian and also the now youth style. With her, I also had to sit down and mold her because she had also just done one film. So it's easier to work with people were the director gets to mold them.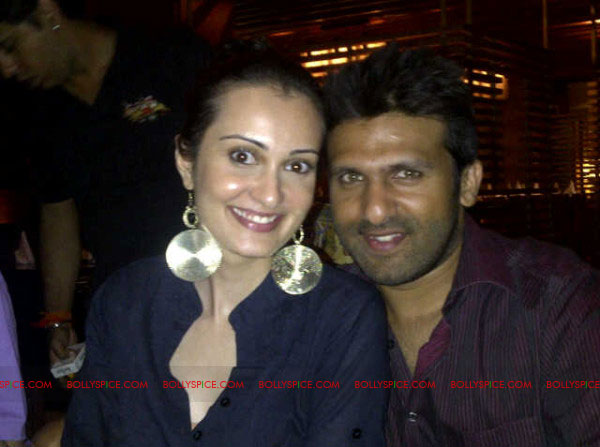 Whereas when you work with actors who've been doing it for years it's not easy to change their style because people accept them for their style. Like Rajpal Yadav, with him he's been doing comedy for so long so people know his style. So I cannot play around too much with his style because if I change him then people will not accept it. So with him I had to make sure that he has that certain character, but make sure that his character does not go beyond the character of my film in which he's playing the municipal sweeper. I cannot make him go overboard. He is the comic timing of the film; he is the engine for the comic timing.
I am balancing the whole film. I have used various ingredients, like when you cook the food you use a lot of ingredients, so people are tasting lots of flavors while they eat. That's what I've done with the film. It's a fun family entertainer for everyone.
Is it harder to cut and edit a comedy film?
I was basically surrounded with very good technicians, which helped me also because editing a comedy film is not easy. For me, I created another new thing because I got an action editor to cut a comedy film. That's what I am trying to explain, it's not an out an out comedy. It's very different style comedy, because I wanted to experiment with the whole film. I like experimenting because people when they know it's a Shawn Arranha film it has to be something different. It will never be what you expect it to be. That is the sort of films I want to make. I want to keep jumping genres because after this I will jump off to something else.
Now that you are at the end stage, looking back over the whole experience, what are your thoughts?
Well looking back at the whole thing, I really had a good time working with 12 actors. I had to change different acts to suit their characters, because a director always has to get into the actor's character to make them perform the right style. So I had to actually change my mind 12 times, you know, to get into everyone's character. So it was really fun and I was enjoying it. We were shooing in Bombay, we were shooting in the dirt of Bombay, which is the stinkiest place called Varsova Fish Market area. We set up a whole set over there and the whole place was smelling, but still I said it has to be real because I cannot shoot on a clean road and say, 'Oh this is beautiful'. So I had to get real locations to make sure the film is also in the right budget and we don't go overboard. So for me it was a very big learning experience because I was learning the whole budgetary part and how you do the whole filming from the producer's point of view. I was helping out with that because my producer is also new. They had done one film before which was called Knockout, but they were just the financiers. So they also put on a new cap on as the producers. So I was going hand in hand with them, explaining them how do we do it, how we control it, how we make it. So it was a good experience for me throughout until the end because I was getting a chance to learn how to be a producer and how to do a comedy and to work with these new actors which was great. I was having a ball of a time.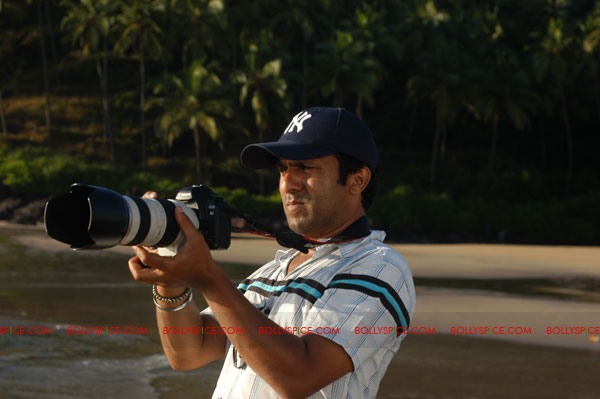 How do you keep the actors in the zone?
When you work as an assistant director for big films like Shootout at Lokhandwala you know how to control a whole set of so many actors, and junior actors, and fighters and everybody. So no big thing for me since I have always been on a big set. At the end, the climax scene for that film had almost 100 people. So for this one I would always make everyone laugh, have fun and shoot and then again start laughing, have fun and shoot. It was great. It had all of my 12 actors in a single frame in the climax and it was like a full 5-minute shot, so it was great fun. Everyone was interacting with each other, having fun, and sitting down chatting about their previous films and giving stories and stuff like that. Great fun!
Seems like everyone on the cast, from what I read on Twitter, had a great time filming this movie…
Yeah, everybody was. Everybody went crazy on set and was loving it because they had a really good time. So every time people say, 'Did anything wrong happen?' I say no, because my film was so smooth. People were just enjoying themselves. We were just drinking and having fun and going out for dinner and all that. I think we just had a good happy family on set. I like shooting with a family and that's what we did.
Talk to us about the music.
The music for the film is basically done by Gaurav Dasgupta and I've worked with him, he did my previous film called Hide & Seek. So I knew what Gaurav is all about. I know he's a rocker boy. He always uses rock and grunge and stuff in the film. But for this, the whole film had to be soft because it's a comedy film. So Gaurav and me, we sat down with the producer and we sort of brought out rhythm and melody into the film, which, for me, showed another face of Gaurav that I never knew, was there. It brought out the soft side of Gaurav. This is the first time that you'll be seeing Gaurav, which is totally not Gaurav, he's done something totally different. People are loving the songs like crazy. Anytime I tell someone this is Gaurav Dasgupta, they say, 'Are you serious, this is Gaurav Dasgupta?!!' It's shocking. I tell Gaurav, 'you need to wake that inner composer so that you bring out the love into your songs. It's always rock, rock, rock. Get out the love' and it's come out very well. When I heard it I said, 'Why didn't you give such beautiful melody in my other film also?' When you hear Hide & Seek and then suddenly you put on the Tukkaa Fitt album you'll see the difference in Gaurav. You will actually see the rocker boy turn romantic lover boy. You have to hear that. So we have a good hip-hop number song in the film, a beautiful love song in the film, a club song in the film, a travel song, so it's a various mix of songs. There's not one type of song. There's no certain theme. When we were shaping up the film we were thinking ok since it's a youth film this is a nice spot to put a hip-hop song, the nice romance part of the film you have a beautiful melody song, towards the end we have a club song. It's a mix of songs, because it helped the mood of the film. I love all the songs that he's done. It's fantastic!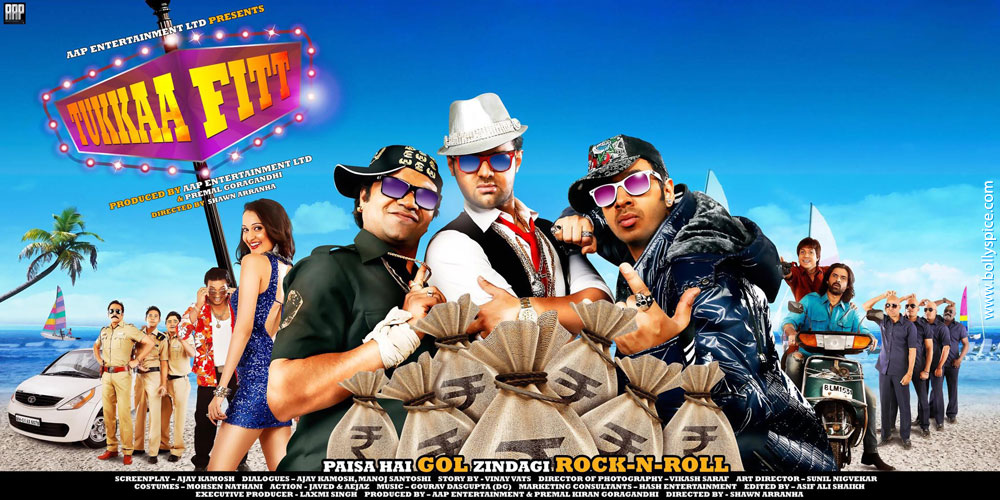 What will audiences see when they come see Tukkaa Fitt?
Audiences are going to see again a different style of comedy, which I guess they have never seen in their life, because I've cut it very differently. They are going to see Goa in a way which they've never seen in their lives, because actually in my film it's Laguna, which is a fictitious place. For me, Laguna is some part of Goa, which nobody in the history of Bollywood has ever shot. So when people saw the visuals of the place they asked me 'where have you shot this? Looks like Malaysia, like Mauritius, looks like some exotic Caribbean island'. There are places where nobody has ever gone to and I have seen and scouted it all. So people are going to see new beautiful location, which is actually in India. People are going to see different style of comedy. People are going to see Mahaakshay, Vaishali, Hiten, and all of them doing a very type of acting, which they have never done before. So it's going to be something very different. I want to keep shocking people in every film I do. I want people to say this guy gets better and better through his films as he goes. It has to be like that, because if you don't get better every time you go to your next film then you are not growing. And I want to keep growing. I want to push the envelope as far as my directorial, visual sense can take me. So let's see how far it can keep on going. It's just the beginning. I don't even know what all films I am going to do ahead. It's going to be totally different every time I keep moving on. I am not going to do the same thing. I think I want to be called the most shocking director ever. Yeah, the most shocking director who will shock you in every film that he's doing. So be ready for it!
What are your thoughts on Indian Cinema today?
Indian cinema today, actually Bollywood is breaking into two parts right now. There is the commercial Bollywood, which has the Bollywood standard stories, and then there is the one part which is going international. Like when I was at Cannes last year, there were only four films that were from India. But this time there are 12 to 15 films. So you know that Indian cinema is going to world cinema and people are actually accepting it all over the world. Other than seeing Bollywood is all about dancing and family, now they are expecting more realism, more style, which is a good thing. So today if I make something which is not commercial and goes totally across, I have an audience even in the world cinema saying yes, I like the film. Movies like Slumdog Millionaire opened a portal to the whole Indian world. So everyone is now accepting our Indian style of cinema, our look, our style, our locations. So it's a big thing for the future for our Indian cinema. It's growing and it's going to become really big, almost a big as Hollywood. It's going to head there definitely.
Stay tuned we will be bringing you more about Tukkaa Fitt!