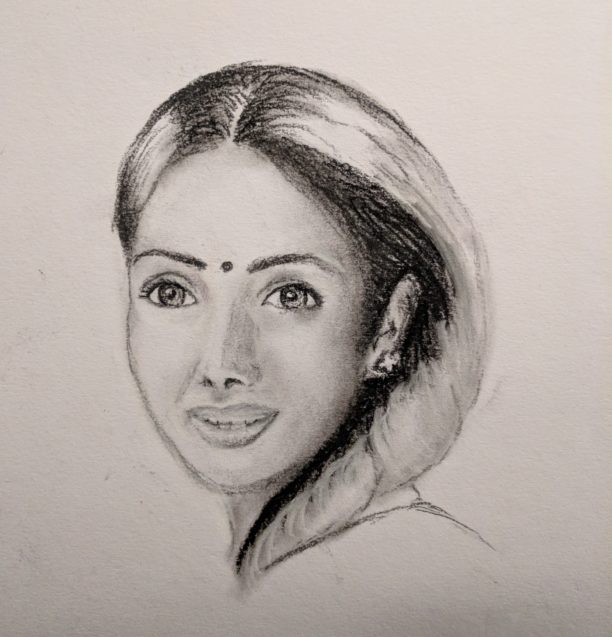 As the morning of 24th February 2018 broke, I like many other started our day as any other day. With no regard to what was about to break on our social media feed. Our first reaction; denial. There is no way this is true. It's a hoax. However, it was not to be. One by one, official accounts confirmed the Sri Devi had passed away. Wherever you were, whatever language you spoke. It was time to say goodbye to a heroine.
The north-south divide within the Indian film and music scene has not made it easy to find examples of people who succeed in being a force in both. However, there is no doubt that Shree Amma Yanger Ayyapan, better known to audiences as Sridevi Kapoor has been one of, if not the most, prominent. Her work spanned nearly 40 years of Indian cinema as both actress and producer, starting as a child artist to her most recent work in Mom. Throughout her illustirious career she starred in 300 films. As Salman Khan has been quoted saying… her work is incomparable.
The journey began for Sridevi at the tender age of 4 (or to be more precise 3.5) as she played Lord Muruga in the Tamil film Thunaivan. Even though a cameo, it would be the first of many in her early years that she played a boy and/or Lord Muruga. Her smile had audiences falling hook, line and sinker. But the talent behind that smile became the reason Superstar is the term she is remembered as. By 1971, Sridevi had acted in 19 films in 3 languages and had won the Kerela State Award for Best Child Artist for the Malayalam film Poompatta.
K Balachander cast her in the 1977 Tamil cult classic Moondru Mudichu. A film that pushed the envelope in society and had a strong author backed role for its leading lady at a time when most were running around trees for duets. Keep in mind she was still only 13 years old at this stage. She shone so bright in her role despite being paired with a young Rajnikanth and Kamal Hassan. In 1977 when she did 16 Vayathinile with the same actors under a different director, she had completed 40 films in 4 languages.
This didn't go unnoticed in the north of India and thus she forayed into Hindi films and recognised as pan-Indian. She started in the 1975 Bollywood film Julie as a child artist but quickly found acclaim as a lead actress in Solva Sawan (1978) a remakee of 16 Vayathinile. Yet her first hit film was 1983's Himmatwala alongside superstar of the time Jitendra. The combination superb music with moves by Sridevi and rib-tickling comedy scenes had audiences enraptured. She leaped and landed yards ahead of her rivals while becoming everyone's favourite glamour girl.
Her films took home as many awards as they could and were commercial successes to boot. During this phase of jungling languages, rarely did she take her foot off the gas. Thulavarsham (Malayalam), Bhakta Kumbara (Kannada), Sigappu Rojakkal (Tamil) and Karthika Deepam (Telugu) just to name a few memorable movies she dazzled in. From Telugu industry kingpins Akkineni Nageswara Rao and Nandamuri Taraka Ramarao Sr to Tamil industry icons M.G.Ramachandran and Sivaji Ganesan, she worked with them all and stood her ground, staking her claim on the audience's hearts along the way.
Of course, once she had a few more hits under her belt it was no surprise to have Yash Raj Films come knocking on the door. This meant that she starred in two of the biggest films of the 80s, Chandni (alongside Rishi Kapoor) and Lamhe (with Anil Kapoor). Then came Mr. India where Sridevi once again starred alongside Anil Kapoor and we got one of the most famous villan's lines "Mugambo Khush Hua". An entire article could alone be dedicated to the comedy, drama, action, poise, finesse and beauty of Sridevi's performance in this movie. This would lead to many more films as she became rivals with Madhuri Dixit for the biggest Anil Kapoor hits through the 90s. Those cinemagoers of the time are also unlikely to forget Heer Ranjha, Roop Ki Rani Choron Ka Raja, Laadla, Mr. Bechara or Judaai.
This is not to say that there wasn't plenty of other works in her Bollywood career. For the Amitabh Bachchan fans there was Khuda Gawah, for Salman Khan's fans there was Chandra Mukhi and a return to Chandni for Rishi Kapoor fans, Kaun Sachcha Kaun Jhoota. It seemed she really could do any role asked of her, whether comedy, drama or romantic. She was a major draw in all these films not just for her acting but for her fashion and her superb dancing ability. She simply was the complete package.
A superstar in every way, Sridevi continue to deliver stellar performance and blockbusters in the south too. 1981's Meendum Kokila (Tamil), 1982's Moondram Pirai (Tamil) and Bobbili Puli (Telugu) all the way up to Kshana Kshanam (1990), Govinda Govinda (1994), Jagadeka Veerudu Atiloka Sundari (1990) (all Telugu) and Devaragam (1996 Malayalam) are names to only scratch the surface of her discography during this period. No doubt can be had that cinemagoers in the South could easily rattle of many more, one hit seemingly greater than the next.
Numerous nominations, 5 Filmfare Awards, Tamil Nadu State Award for Moondram Pirai and India's forth highest civilian award of Padmasri gathered like feather to her crown.
Still eventually she put on a new cap and took a break on her own terms to enjoy the most important role she played. A wife and mother. It seemed this grand lady had finally decided it was time to retire. Or at least take it a little slower.
Nevertheless, many newer watchers of Bollywood cinema will remember her from English Vinglish or Mom. Dominant roles as a mother figure were still masterpieces where Sridevi reminded us of why she is beloved by all of India. While the dancing were not as vivacious, she still portrayed these characters with the necessary humanity and grace that audiences yearned for. The glamour actress of the 80s and 90s had been replaced by the matured actress playing mother but nothing else had changed at all. Audiences still flocked to see her once again much like the great Bollywood actors of old who all seemed to go out on a great high after a quiet period where they developed their masterwork.
So how do you begin to express the emotions felt for Sridevi? A mother, an artist, a fashion icon, a leader in the industry and the role she is known best for; an extraordinary human being. The sorrows of real life tragedies tucked away off screen, while she pushed the bar and broke the norms of an Indian heroine. Her talent is one that anyone would be hard-pressed to find. Natural and captivating, Sridevi will always be an example to those striving on the path towards a successful career. But her humanity is also a model for those striving on the path towards finding inner peace. All of India together shares its love and sorrow in her passing; the world knows how much it has lost.
Artwork by Violet Shades Art