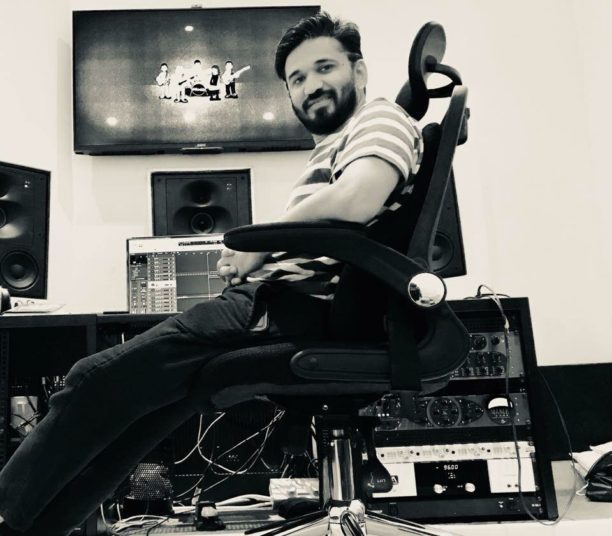 Directed by Anurag Kashyap, Manmarziyaan, which recently premiered at the prestigious Toronto International Film Festival and is in theaters now, stars Abhishek Bachchan, Tapsee Pannu and Vicky Kaushal. The dramatic love story has received tremendous reviews especially for the performances. Not only that, the soundtrack by Amit Trivedi has gotten overwhelming praise from fans and critics. In fact, recently the full album hit number one on a chart of movie soundtracks. At a massive 14 songs, the music is the movie in many ways and according to Amit Trivedi, Manmarziyaan is a musical love story.
I was very lucky to be able to go inside the music with Amit Trivedi. With so many tracks we could not discuss every one (sadly), but he did give some insight into what he first thought when he heard the narration from Anurag Kashyap, the creation of the tracks, and even which song is his favorite.
Talking about how the music fits within the film, Amit said, "It is a musical love story. The way the story has been told, it is musically told actually. In total we have 14 songs in the film. And they are all in the film and they are in the full form, nothing is cut. It is wonderful."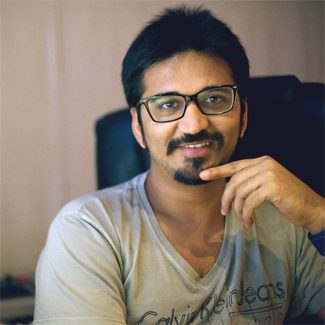 Apparently when he first met Anurag Kashyap and the writer of the film for the narration it was very exciting but also a bit shocking, "I remember the first narration was in my studio. I was there, the lyric writer was there, and Kanika Dhillon the writer of the film was there. He [Anurag Kashyap] actually gave a very fast, quick narration when he first started and I was recording it on my phone. But then he kept going and going and then after a point he was saying here comes song number 7. So, when I heard song number 7 I looked at the lyric writer and asked him, Hey, kitne gaane yaar – I told him… how many more songs? Then after song number 7, he said this is the interval point! I said, WHAT?!?! (Laughs) I thought the film is over at song number 7. That's too many songs – 7 songs! I thought the narration was over at song number 7, but it was only the interval. I was like Oh my God, are you serious? He said, Haan this is the first half I am narrating, the second half will come after two months once you are done with these 7 songs!" (Laughs)
He revealed, "It took me around 2-3 days to digest the fact that this is what it is, this is what we have to do, to believe that we have a giant thing here."
Going on to say, "I told Shellee, who is the lyric writer, let's not panic, let's not panic, let's go easy, slowly, one by one. Let's start with the first song; let's go linear because the song is there in the narration. As I said, I recorded the narration so I kept hearing it."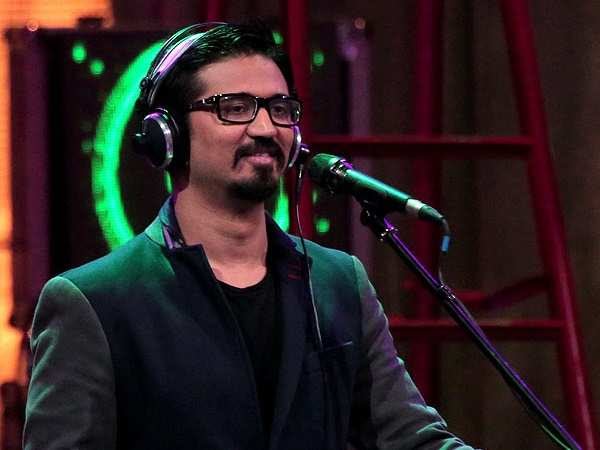 To create the incredible soundtrack he had to take each song and compose them one by one. "I had to take one at a time. Finish one song at a time and then keep moving on to the next. I think the first 6-7 songs it took me about 4-5 months, I think maybe even more to complete. So I went song by song, slowly, steadily. So after 2 and half years we reached 14!"
Adding, "See there was so much. There was a lot of thinking as per the brief. And also as to where the film is set. It is set in Punjab and so keeping that Punjab milieu in mind, all those factors, the love story – there was a lot of brainstorming and thought that went into this. It was just some empty space from which I was trying to create. I was just going with the brief of what Anurag sir wanted, playing around with the ideas and jamming. It is all inspired by the story and the script."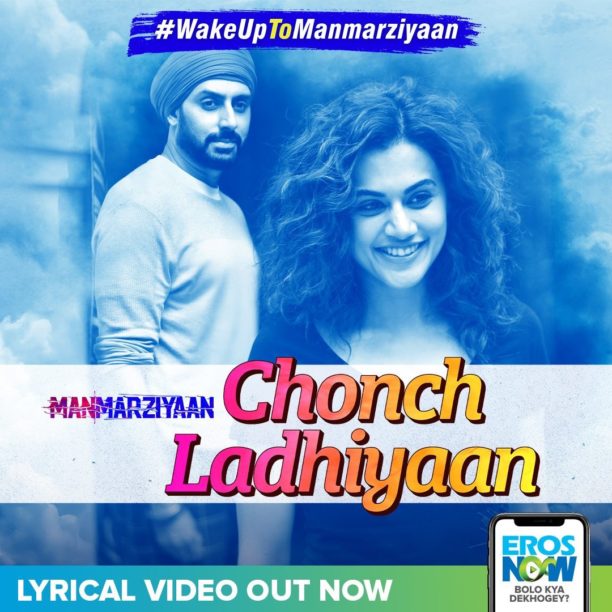 His favorite song? "Aiyyo! That is a tough one. That is a very tough one. I would say it is 'Chonch Ladhiyaan'. It is a really pretty romantic song. It has got a very earthy, Desi, very Indian vibe to it. It is very rooted and earthy."
One of the coolest things was that the album was filled with new voices and it is very interesting that while composing he hears in his mind what singer he wants for each track on every song he does. "See when I create a song I have a voice that plays in my head, which is difficult to explain. But there is a particular voice that plays in my head so I put a search on to find that voice: whether we have this kind of voice in the market who is already doing work, or if not, I go for the new voices. For something like this, I said to my people in the studio, my manager, Okay I am looking for a voice like this. Just put a search in and wherever you find it whether it is in Punjab, or email, or YouTube or whatever, just keep your ears and eyes open and if you come across someone just let me know. He gives like 10 options so I select out of that."
Another great thing is that Amit, the singers, and the cast took the music on a concert tour all over India, which is something that has never been done before. It was something they all were excited about but also nervous about, "It was beautiful. This is new. This has never happened. To play brand 10 new songs in concert to an audience of 5000-6000 it is very risky. You never know which way it will go."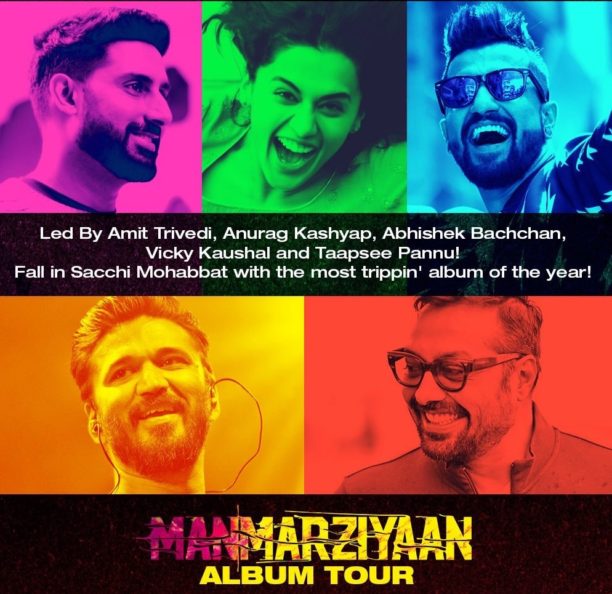 As we said, the film premiered at the Toronto International Film Festival, so how did that feel to him? "Awesome! Awesome and empowered."
Amit has nothing but praise for the final cut of the Manmarziyaan, "The film has turned out so good. I love the film. It has shaped up really, really well, not only the music, but also the performances by Abhishek Bachchan, Tapsee Pannu and Vicky Kaushal. It is fantastic. They have done a fabulous job! And so has Anurag Kashyap by the way he has directed it."
We also discussed his thoughts about the fact that people the world over love Hindi songs. Even without understanding the lyrics the music still speaks to them. "You know music speaks a universal language. Like we have tripped a lot on 'Gangam Style', the whole world did, without understanding anything. I still don't know what that man is singing about but we enjoy it. Music has no barrier. It is very cool."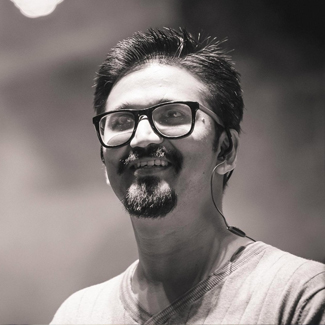 So how does he keep the passion for creating music? In a very interesting answer he said, "That is tough because sometimes you feel bored, sometimes you feel like yaar chodo yeh sab band karo – let's not do all this, but then the fire is always on. I am always on the lookout for something exciting. Something more progressive. One that I feel yeah this one excites me, and will challenge me, and push me to another level, and maybe I get to learn a lot on this. Those kinds of projects kind of help a lot to regain the passion that I have. Otherwise sometimes it can get monotonous."
I think his music is full of such interesting sounds, layers and ranges, so I wondered what is it like to be in his musical mind? Laughing at first, he replied, "Superb… I am looking for how to answer this. That is a good question. It is interesting. I have never been asked this before in my career. I don't know how to answer this. It is superb. A little quirky. A little mad. An introvert outside to the world but in my mind I am like extremely extrovert. Free. See there are so many things! I am going to have to think about this. It is a wonderful question."
From his first soundtrack Dev D until now what would he say about his journey making music? "A wonderful, exciting rollercoaster! Going up, going down, both were great. There have been superhits where the music has worked brilliantly at times, and there have been times where nothing has worked – so the journey has been super. It has been amazing. It is actually exciting to see both the ends – up and down."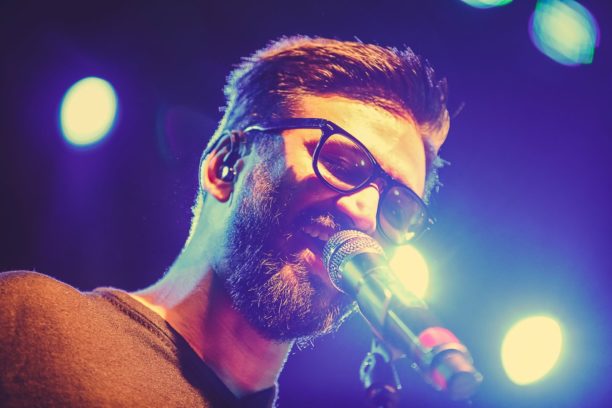 The composer says it means so much that fans love his music. "I make music for the cinema, for the brief, for the directors that come to me and I try to do justice to the situation that is given to me, but at the same time the aim is that it also should be loved by one and all. Each one is different, it has a different joy, a different taste but at least it should be love by everyone and that is a big, big challenge. It always is a big challenge."
Be sure to get lost in the incredible music of Manmarziyaan, we highly recommend it!

Up next for the composer is The Extraordinary Journey of Fakir, which releases on the 24th of September. Then Helicopter Eela releases later in October, we have a cool chat about that sound track too so watch this space. The composer also has worked on the music for the world of Andhadhun and the Telugu film Sye Raa Narasimha Reddy. We can't wait to hear what he brings next!
I would like to thank him for the wonderful interview; it is always fun and fascinating to talk with him.