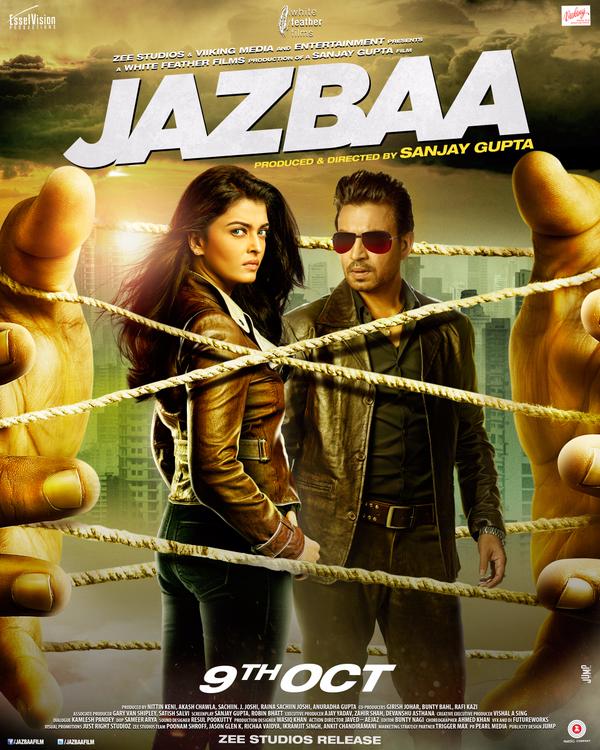 In a film that works both on a physical and emotional level, Aishwarya Rai Bachchan returns as a working mother, working to balance career with domestic responsibilities. When hotshot lawyer Anuradha Varma's only daughter is kidnapped during school sports day. Anuradha is stricken with guilt for not spending more time with her child. It's a prevalent dilemma for working women, and Sanjay Gupta who has so far focused attention on sexy item bombs and sexier guns opens up a debate on the travails of the working woman with flair and gusto, never allowing the thrills to override the somber underbelly of the plot.
Gupta brings flamboyance flourish and a restless energy to Aishwarya Rai Bachchan's agile yet feminine role of a mother desperately seeking her daughter. In some ways I was reminded of Anurag Kashyap's Ugly where a daughter is kidnapped. Kashyap's film was much darker and ominous.
Jazbaa exudes the power and strength of pre-ordained Hero-vs-Villain sagas, except for the fact that the hero is a woman, and a very attractive woman at that. This time around Aishwarya is not afraid to pull out all stops and let the emotions flow. She is specially raw and unadorned in a pre-interval climax sequence where her daughter's kidnappers drive off with the girl leaving the mother screaming in anguished helplessness.
Goosebumps.
It's a moment of reckoning in the plot and Aishwarya rises to the occasion. It's spectacular tailormade comeback for the actress, buoyed bolstered and pinned down by a powerful supporting cast that knows its job.
Irrfan as Anuradha's trusted friend companion with a secret crush gives yet another outstandingly understated performance, his second in two consecutive weeks. Is there no end to what Irrfan can do? Here he is that jaded stereotype of Hindi cinema known as the Suspended Cop…remember Amitabh Bachchan in Zanjeer and all the spinoffs over the years? Irrfan gives a completely new spin to the character.
Sanjay Gupta packages and presents Irrfan as the epitome of filmy hero-giri. Almost every line that Irrfan throws at his adversaries secretes a bumper-sticker gyan. In fact we can make a whole lengthy list of Kamlesh Pandey's quotable quotes for Irrfan in this film.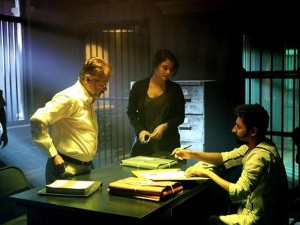 Mention must also be made of Chandan Roy Sanyal as a psychotic unapologetic criminal, and Siddhant Kapoor as an institutionalized drug addict. Both contribute to the film's throbbing mood of edgy crisis. But talented actors like Atul Kulkarni, Jackie Shroff and Abhimanyu Singh are wasted in under-written parts.
In a surprising swerve into mellowness Sanjay Gupta keeps the Aishwarya-Irrfan relationship subtle,unspoken and incomplete. They embrace only once and look so magnificent together that I look forward to a no-holds-barred passionate love story featuring the two.
That maybe later. In Jazbaa the passion is bridled, pruned down to a bare essential. On the smooth shiny glistening surface Jabzaa is a thriller about a mother's frantic efforts to save her daughter. Scratch the surface, and we get a far darker and deeper tale about two women two mothers grieving for their respective daughters.
The shared moments between Aishwarya and Shabana Azmi are a marvel to behold. In every scene that features her, Shabana's legendary emotional velocity blows the screen apart. For giving Shabana, arguably the best dramatic actress the country has ever produced, a meaty yet profoundly relevant role in a massy film, I want to thank director Sanjay Gupta on behalf of all her fans.
Finally, Jazbaa is a lot of things all coming together in a combustive clasp. Most of all it is a very powerful statement on violence against and the safety of women. Gupta doesn't just thrust the message into the plot to make it seem more seriously designed than it actually is. He works his way wisely and deftly into the statements on female foeticide, rape and a woman's right to occupy her private space the way she wants. And anyone, male or female,who violates that space deserves to be expunged ruthlessly.
It's a hard hitting unconstitutional message, packaged and projected with a precarious panache peculiar to Sanjay Gupta's cinema. His endeavour to put together his most emotional film to date is heftily aided by Samir Arya's moody semi-trance-like cinematography, Bunty Negi's unsparing editing that leaves not an ounce of flab on the film's lithe physique, and the edgy narrative style that takes the characters kicking dragging and screaming to their nemesis.
If you've ever wondered what edge-of-the-seat thriller meant, here's your chance to find out.
Edgy, sunte ho?