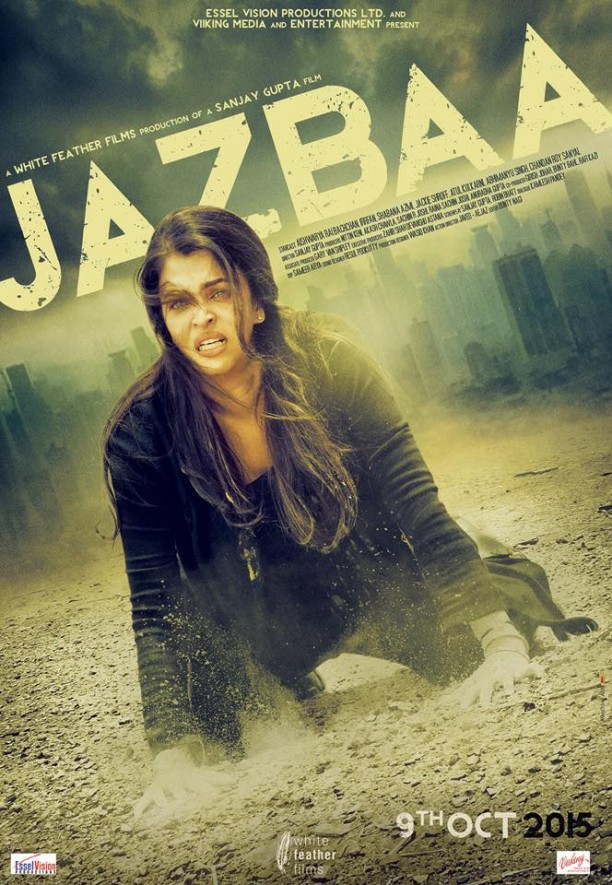 She does not not call it a come back but we cinema enthusiasts probably will continue to mark Jazbaa as a comeback of sorts as it is the return of Aishwarya Rai Bachchan to the silver screen after a five year hiatus. (Yes we know she's been busy brand-ambassador-ing her way to glory in this hiatus period but we still did not get a movie!)
So apart from stunning us in various elegant gowns at Cannes 2015 and performing her Loreal brand ambassador duties, Aishwarya's attendance at the festival had more to it. She also unveiled the Jazbaa first look. Unless you have been living under a rock you're probably already aware that Jazbaa is a Sanjay Gupta (Kaante) directorial which also stars Irrfan Khan, Jackie Shroff and Atul Kulkarni in title roles. There is some buzz that Shabana Azmi is also part of the project and that John Abraham has a cameo role in the film. From whatever little unconfirmed leaks of the film's plot we have we know that Aishwarya plays a lawyer in the film and Irrfan Khan plays a suspended cop. There's also word that this is a remake of a Koren film.
So are we excited that this will go onto being her big come back rather than the KJO project? Hell yeah! Whilst the KJO project may be exciting in its own way, this is perhaps the more crucial film to re-affirm her acting prowess, given we have an audience with an extremely short term memory.
No doubt the first look gets you to sit up and take notice. An unexpected first look maybe for an Aishwarya film but definitely not from a Sanjay Gupta movie. The director is known for his sleek and high powered action/drama films which although may not get the cash registered ringing with ultra joy, do excite the curious cinegoer. It is also to be noted that Gupta has also not returned to the screen with a project since Shootout at Wadala, the silently successful sequel to Shootout at Lokhandwala.
For now Jazbaa has our full attention and justifies its Twitter trending reputation. The first look is simple yet extremely impactful. We hope they follow it up with as an impressive trailer.