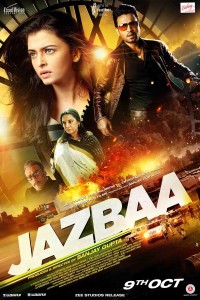 It would be interesting to find out why a particular title is given to a film. Jazbaa can be translated to mean 'emotions' and on paper the story behind Jazbaa is to do with emotions. The protagonist's relationship with her friend, her daughter and the kidnapper bring out emotions that drive the story. However, it also drives our emotions from bored to depressing to fed-up.
Aishwarya Rai Bachchan plays successful female criminal lawyer Anuradha Verma. Life is perfect as she has just won her latest case by using her intelligence and a little bit of bribery. Even though she is a single mother, she is without guilt of repercussions due to her ambitions. That is until her daughter gets kidnapped right before her eyes. The kidnapper wants to utilise her ambition and fame to release a known rapist and murderer, Miyaaz Sheikh.
On the other side of town, Irrfan Khan plays corrupt and 'under investigation' police officer Yohan. While we are told he is highly decorated, this does not rely on the number of medals he has received. The bribery allegations against him give him a dark façade but his friendship with Anuradha (which is a strong relationship of many years) depict him the good guy, stepping up when he is needed.
What is supposed to ensue is a cat-and-mouse game where the successful lawyer becomes a pawn as she thwarts all attempts to hang Miyaaz Sheikh in exchange for the release of her daughter. Yohan provides the veneer of hired muscle to supplement Anuradha's crafty investigative technique even though he was the investigating officer in the original case. Do they find the evidence that they need? Does he really get set free? These questions are supposed to be answered over the 2 hrs of the film but for any crime-loving, suspense-thriller fanatic the story and its twists are obvious from the 35th minute of the film where Sanaya (played by Sara Arjun) gets kidnapped. The only peak of interest you will gain after this point is when the case details against Miyaaz Sheikh unfold. After this once again we are subjected to melodramatic performances and uninspired writing.
The disappointments don't stop there. Background score by Aman Mohile may have been on point but music by Sachin-Jigar, Abhishek-Ramya and Arko leave a lot to be desired. Aaj Raat ka Scene is most likely to be used in the club scene a little longer. The song was perhaps intended to be a relief in the nail biting screenplay. It truly is a relief to the boredom of that screenplay. On top of this the logic has taken not even a back seat but has been left behind altogether. One would assume that since the investigating officer is under corruption charges, a top notch lawyer would be able to use this to get her client off quite easily. Yet we go through episodes of investigation to give the premise that the killer is actually innocent.
Aishwarya Rai Bachchan hams her way through the court scenes where she is half decent. Irrfan Khan needs no introduction but sometimes the weak writing even makes him look bland. Shabana Azmi who plays the mother of rape victim Sia is competent in the role but proves to be lacking in the final summation. Atul Kulkarni as public prosecutor is dignified but lacks screen space. Watch out for Jackie Shroff in what could be considered a cameo due to the length of time he is allotted. The remaining cast including Abhimanyu Singh, Chandan Roy Sanyal, Priya Banerjee and Sidhanth Kapoor give their two bits reluctantly.
Remakes are not something new in our industry and this too is a remake of a Korean film. Yet Sanjay Gupta's everlasting love to extenuate and exacerbate the melodrama is once again at the forefront of this movie. The end result is watching for the sake of watching but not actually connecting with anyone. Jazbaa proves to be emotionless.