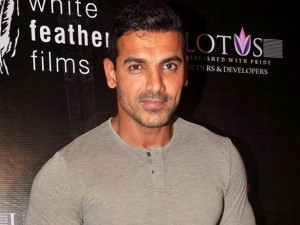 Stunt scenes are always the best part of movies however little do we know what the cast and crew go through jumping off buildings, through fires and getting shot. John Abraham had a first class scare when he was shot, with a blank bullet of course, but never the less quite a strong shot, by co-star Anil Kapoor while on set for the upcoming Shootout at Wadala.
Anil Kapoor's shoot was supposed to be from a distance of 15 feet but was shot from a very close 1.5 feet. The bullet burst into flames as planned but because of the distance it did hit John with a very forceful impact and was a very close call. Luckily the bullet grazed the side of John's neck and collarbone. John said, "It would have been all over for me on September 23. I still can't believe that I am alive." Director Sanjay Gupta told Mirror "When I think of it, it sends shivers down my spine".
"My neck was burnt and the wound is still there on my collar bone. It hurts. But I am carrying out my day-to-day work pretending as if nothing has happened. I shall definitely take a long time to forget what happened at Haffkine Institute. If you ask me whose fault it is, I would only say that everything happened in the heat of the moment. Nobody expected the intensity and the velocity of those blank bullets. I think I should have checked Mr Kapoor's gun. I always check and double-check my guns if I am doing any firing scene. I am agnostic but I now feel that there is God up there," Abraham said.