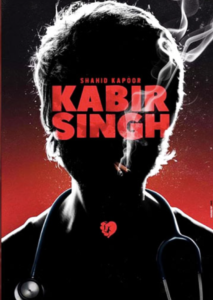 >Kabir Singh is a remake of phenomenally successful Telegu movie Arjun Reddy… a very angry love story starring Vijay Deverkonda and Shalini Pandey. Often with a film remake, cinemagoers are given a stylised version of the original… whether that be a thematic shift or just a language shift for the new audience. It's always useful to look back at the first film to get a feel for what was originally intended and thus understand whether the remake got the same message across. Music is, of course, a vital part of this… the original done by Radhan was a heart rending, but perplexing mix of light hearted and thumping rhythms. The new version is the new standard in Bollywood of a mix of sounds from different music directors.
Unlike a lot of other albums, the first song is the album's main song Bekhayali. This comes in 2 flavours, one sung by Sachet Tandon, one by Arijit Singh and its not hard to tell which one made the trailers and teasers. Sachet Tandon is not a bad singer in any form but Arijit is Arijit. The song itself is an interesting controlled combination between angry and sadness to the point of weeping with lyrics like "Kyun bichadna hai zaroori, yeh sawaal aaye" really hitting the heartstrings. Instrumentation is appropriate in both flavours for these two moods with electric guitar changing to soft acoustic guitar and back as necessary. This is in both versions a western song, with Bollywood lyrics.
Vishal Mishra continues his run in Bollywood with Kaise Hua. Everything about this song except for it's message is middle of the road. An acoustic bass and drum give a heartbeat opening, shifting to a classic slow rock feel. This all behind a singer not straining for notes but to convey the necessary emotion of the moment. The problem with this song is more not that audiences should be worried by how this song happened, but rather why this song happened as this is not clear in any of the lyrics.
Tujhe Kitna Chahne Lage is the next in line and comes with a powerful reversion Tujhe Kitna Chahein Aur (Film Version) as a sort of before and after look into the story. Synth acoustic guitar and keyboard provide background rhythms to what is essentially in both cases a love song… a love song of pain and desperation; obsessive natures "Tere saath ho jaayenge khatam" and feelings not quite requited. This should be a centrepiece to the whole film as it seems to wrap the film in opening and ending sequences once the film makes it past the introductions. However, when bringing in Arijit to sing the first part, the music director has run up directly against Arijit's other recent hits e.g. Kalank and this song doesn't match up to that in any way. Jubin Nautiyal is perfect for the end note and the subtle change in lyric is most apt for purpose.
A film called Kabir Singh couldn't do without a proper Punjabi tune and so next is Mere Sohneya. Parampara Thakur and Sachet Tandon come together to give this duet with a happy vibe a sweet voice. Punjabi lyrics all the way through, this does have a bunch of possible uses: dream song, song at wedding/reception, generic duet love song. The song itself isn't just the same standard bhangra that so many Punjabi songs in Bollywood become, so that's a plus for it but it really doesn't have much to talk it up otherwise.
A lot of what has come before is male-based and this has led to some people labelling this album as chauvinistic. Tera Ban Jaunga doesn't help alleviate that criticism as while Tulsi Kumar is listed first she is a bit part player to Akhil Sachdeva turning it from female perspective piece to Kabir handing over his heart. This could be a dream sequence song as there really isn't much from the female side of things and mixing of languages between Hindi and Punjabi makes it a little harder to crack.
It would be easy to assume that the next song, however would assuage this issue with Yeh Aaina being sung by Shreya Ghosal very much as a look into the female heart. Nevertheless, this is so soft both in instrumentation with strings, piano and cymbals all playing softly behind an almost whispering Shreya, but its unchanging dream like state that is the atmosphere it creates makes this song very dull to the ears.
Taking out reversions, the album ends with Pehla Pyar by Armaan Malik. Armaan has proven himself to be a good singer of the male perspective love song and this is more examples of the same for his discography. This is 'what you see is what you get' music with 'Pehla Pyar' being a love song about the first love and since it's Kabir Singh, about his obsessive desperation to be with her and hold her tightly but gently forever.
The problem that has come up recently in a lot of multi-music director albums is finding a consistent voice across the album. Possibly due to the fact that Kabir Singh is a remake of a superhit movie or that Radhan and scoremaster Harshavardhan Rameshwar both guest-directed on this album, Kabir Singh's album maintains the even mix of instrumentation, obsession and desperation that made Arjun Reddy such a great hit. However, not one song has strength to stand out as the song of this album that will keep listeners humming for weeks, nor does the album as a whole provide cover for the story, instead focusing in on particular elements. Where Arjun Reddy's album matched light with shade to bring relief to audiences and make its sad point when required, Kabir Singh is not able to deliver this and falls down in important moments.