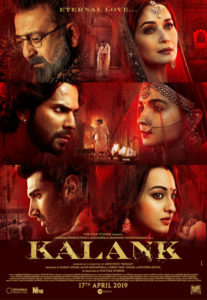 Kalank is probably the biggest film of 2019 so far taking that title from some strong movies already released. As the title suggests, its main prerogative is to deal with one mistake and its consequences. To this end a superstar cast led by Madhuri Dixit with Sanjay Dutt in tow, Aditya Roy Kapoor and Sonakshi Sinha and finally young lovers Alia Bhatt and Varun Dhawan will show from different perspectives the meanings behind and around Kalank. Since budget is of no consequence Pritam has been asked to deliver 10 strong pieces to create a soundtrack that will rival the story, giving plenty of chance for all to dance.
Ghar More Pardesiya is the first song of this album and in itself is easily a contender for song of the year. From the Youtube clip, Madhuri sings for dancers she seems to be training and then is taken over by a stunning performance from Alia who gracefully takes centre stage. The song itself is bliss, with drum and tabla, sitar and santoor providing a taste of the age. The only odd point is Shreya singing for both Madhuri and Alia, a counterpoint which is starker in Ghar More Pardesiya (Radio Edit) which features Vaishali Mhade-Bhaisane. Vaishali has done this role before for Shreya in Bajirao Mastani and is obviously a good foil for her bringing a softer, higher pitch voice to give balance to this tune. Still, listen out for the point where Shreya overlaps herself and the genius of the editing to make it sound seamless.
Arijit Singh comes together with Neeti Mohan for the first of a couple of fun songs in First Class. This also on Youtube shows off Varun Dhawan at some of his finest, with a tune that feels like its straight out of a David Dhawan 90s superhit. Lines like "Mere Jeevan mein hai rang Rangoli, Jaise, jaise ho eid mein holi" are a supreme mashing of the fun and ridiculous. A dholak and janglestick provide limited beat and rhythm but credit goes to the singers for carrying this song backed only by a flute. Ironically, the lyrics still manage to find a downside thus allowing for the chorus tagline "Baaki sab first class hai!", which is where the flute takes over drowning out any bad ideas.
Pass out the tissues when listening to any of the 3 versions of the next song Kalank(Title Track). Lyrics like "Jo tera na hue to, kisi ke na rahenge" are straight out of the classic tales of Laila-Majnu or Heer-Ranjha but still manage to break hearts all around thanks to Arijit, dual acoustic guitars (like Shankar, Ehsaan and Loy use for a lot of the great Karan Johar – Shah Rukh Khan hits) and a soft drum in background to hold down a steady beat. Violins back a sad, even to the point of angry, but determined Arijit singing with all his heart "Kalank nahin, ishq hai kajal piya". There is no fault to be found here, even when Shilpa Rao is added for a female perspective in Kalank (Duet) and Kalank (Bonus Track). Shilpa brings her smooth baritone as a complete contrast to the harsh alto of Arijit and thus mellows his anger into a simmering, bubbling, lava-like rage.
Shreya comes back in for the next song Tabaah Ho Gaye. Once again, the clip on Youtube is very much worth a watch. This is very much the saddest song, but in the time-honoured style of 'Kaahe Ched Mohe' from 2008's Devdas, Madhuri turns it into a supreme triumph of her skills as a dancer. Once again, she is dancing with her troupe of students but this time takes centre stage as the song trails off half way through for an extended instrumental to give the audience another chance to marvel at her skill. A heavy tabla and sitar as backing, this is not a song style that Madhuri has ever shied away from and in fact seems to grow every time cinemagoers watch. However, as a song it has no real substance, being more of a study piece for what early Bollywood's classical music sounded like.
Back to the fun though with 2 versions of Aira Gaira. Aditya Roy Kapoor and Varun dance around an actress brought in for an item number, with the first probably cementing a friendship between the pair in the story and the second Aira Gaira (Extended) providing an ending song for people to leave with. While both are classic item numbers, the main difference is in the extended version, listeners are treated to Javed Ali weeping for Varun with lyrics "Ek bar milne aa, tum leke kisi aur ki ijazat". It can only be heartbreak but every mistake must be wiped away.
What is actually the 5th song in this album will complete this roundup, Rajvaadi Odhni. Jonita Gandhi gives a bright and fun feel to what could be a backdrop to a wedding scene. Everything is very loud, is very bright, with someone very much looking forward to wearing the Rajvaadi saree. The music is traditional without being outwardly wedding based keeping a personal perspective on whatever the events on the screen.
As stated previously, budget would not have been a concern when Pritam was brought on to write this album. He has delivered a very long album, filled with dance numbers, thus giving all the stars their own chance to show off what they have. However, considering this length, not only in number but length of individual tracks, there are only a few singers employed across all the songs. Also, there is the padding of using reversions of the same song for a couple of the dazzling numbers here.
This makes it very hard going through the album, especially in the modern Bollywood style of getting in singers for the odd rap break. At the same time, Pritam has not concentrated his instrumentation choices on the time period but more so towards the story itself, picking violins where others would have avoided for instance. All in all, this makes the album very heavy, very sad overall but where it shines, it shines like a thousand suns.
4 stars with an extra 1/2 star for the glorious Ghar More Pardesiya