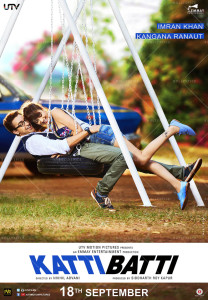 The worst feeling you could have after watching a film isn't the dejavu of been-there, seen-that. It isn't the WTF of lost logic. It's when you feel potential. It could have been but… it wasn't. Katti Batti is picturised as a refreshing take on role reversal and the importance of "this moment". A trend that's been going on for a few years now. Great to see and when done right makes hearts flutter in excitement, minds think in wonder and establish a reel-to-real life connection. Katti Batti tries so very, very hard to be one of those romance dramas that make your heart melt but falls flat as pancake.
Story wise it's a boy meets girl at college and falls in love but then delves into the relm of live in relationship, the ups and downs. Due to reasons you only find out in the end, the girl leaves the boy. From here, its his friends to his own sister that try everything to help the boy get over the girl. He however is hell bent on her. Add in some college comedy, a twist at the end, flashbacks to show the romance and a band called F.O.S.L.A. that takes on the challenge to help the boy… Voila! The works of a Nikhil Advani film and it looks pretty good on paper, at least.
When trying to decipher the film, I discovered that the romantic fool in me did like the film. I guess, I just I wished for more. More of Kangana Ranaut as the vibrant, beautiful and fantastic Payal. More of Imran Khan as a "true-love" fanatic Madhav "Maddy" Kabra speaking to his pet turtle. More of Tushar Kanti Ray and his gorgeous cinematography. More of Shankar-Ehsaan-Loy tunes to sing, sway, dance and cry to. Even with a "back-and-forth" screenplay (Nikhil Advani and Anshul Singhal), Maahir Zaveri's editing keeps it together with a flow. But the buck stops there. Nikhil and Anshul had the right starting point. It was at developing they get lost a fair bit. I mean, you can live with a clichéd story. You can live with innuendos. But whatever interest the actors themselves invoke gets washed away with the half baked screenplay.
Kangana is perfect for a role that is feisty, fun and epitome of self-assurance. Her determination to play vastly different role was always a commendable point. Payal is just another joy in the scrapbook. Imran returns after a break and seems refreshed. His sincerity is obvious and worthy a positive mention. The two work amazingly well on screen and are completely natural. The friends group played by Suhas Ahuja, Nikkitasha Mehta, Adaar Malin, Jimesh Patel and Shilpi Tiwari are honest with their performance and back the lead pair very well.
Katti Batti could have been the latest love story to take on life and the box office. But sadly it is simply added onto the list of so-close-yet-so-far film for our director saab.