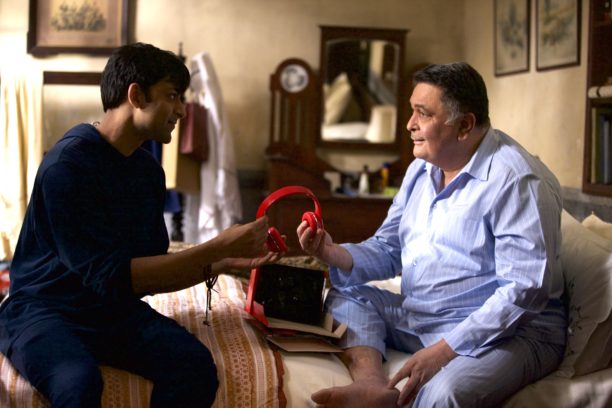 Here's some movie release news! Rajma Chawal, a quirky father-son and "social media" relationship, directed by Leena Yadav, starring Rishi Kapoor, debutant Anirudh Tanwar and Amyra Dastur is set for August 31st.
Giving more insight into the film Leena said, "The idea behind the film is to illustrate how everything happens over the mobile phone today. People would rather catch up over a chat than have a proper conversation and this affects parent-children relationships. Parents are struggling to cope with technological advancements and Rishi Kapoor portrays the many shades of a father, from funny to intense."
Anouncing the release date the director tweeted, "Funny, we live in the space age generation yet fail to communicate with people that matter the most? Experience the social journey of a father and son with Rajma Chawal, this 31st August!"
Going more into the subject Leena said in a recent interview, "We're facing this with all our parents — they have either become overactive on the social media or want to be as they have now realised that communication has shifted in this direction and that's the only way to bridge the generation gap. When Rishiji heard the story of a father and son who don't talk much, he said, 'I was a similar father, who finds it difficult to share his thoughts with his son.'"
Adding about the characters in the film, "They look like they're always on the brink of a war, but all the son wants is his father's approval. In this film, the father learns to get on the internet and ways to communicate with his son who is always looking into his mobile."
Rishi Kapoor showcased what the film is about when he tweeted, "From the big things a father does for his child to the little things a child does for their father, Rajma Chawal is set to bring out all your emotions, this August 31st!"
Mr. Kapoor earlier revealed that one of the reasons he signed the film was to work with Leena. Adding, "I liked the ambience and where the story was being told — the whole beauty of Chandni Chowk. The triumph of this project is that we are shooting the whole film in Chandni Chowk."
Talking about shooting there, Leena has said, "We had lots of fun shooting at Chandni Chowk; food became a big part of our lives. Rishi ji had informed us on the first day itself that he instead of riding a bike through the narrow lanes he'd prefer walking. He would stop at every shop and inquire what they were cooking. By the second day it had become normal for the locals to watch Rishi Kapoor walk by."
With Mr. Kapoor adding, "The arrangements are terrific and the people of Chandni Chowk have been really cooperative. They have been very nice and lovely. They are also helping us in shooting and are even working as extras. We have shot a lot outside too on streets."
About the title Leena has said, "Whenever I talk about rajma-chawal, it evokes a smile as people are reminded of home. There couldn't have been a more perfect title for a father-son relationship."
Stay tuned for more!
Presented by SaarthiE and Produced by Capt Gulab Singh Tanwar, Leena Yadav and Aseem Bajaj.