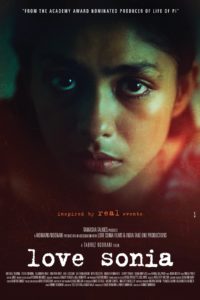 The London Indian Film Festival began its 2018 run with the world premier of Love Sonia, a challenging movie directed by Tabrez Noorani and centred around the menace which illegal sex trafficking causes around the globe. It's a topic which many might like to sweep under the carpet and pretend doesn't happen in their neighbourhood, but that is a complacency which this film dispels.
The story follows Sonia and her sister Preeti as they go from humble beginnings hundreds of kilometres north of Mumbai, living on a farm with their parents, to being dragged into a dark world where they are nothing but a commodity for those who would use and abuse them. Preeti is older and, according to her father, prettier whilst poor Sonia is called a "bull" and chastised for buying lightening cream. However, the girls dream of getting married and going to Mumbai when they grow older.
Like many who end up being sex slaves, their life is innocent and it only takes a drought which leaves their father's land barren, so unable to pay his debts, looking to find desperate measures to survive. His drastic solution is to sell his eldest daughter, Preeti, to an unscrupulous man who traffics girls to Mumbai. Sonia catches her father as he's making the deal and is distraught to see her sister dragged off.
It is this bond of sisterhood which drives the movie. The powerful love that Sonia has for her sister will drive her and sustain her through some heart-wrenching and disturbing moments. Make no mistake, this is not a 'fun' movie. I was asked several times afterwards whether I "enjoyed" the film and I had to reply that it was good but I couldn't say it was enjoyable. It's uncomfortable viewing in parts but Sonia, powerfully played by Mrunal Thakur, is always a likeable and strong character. You desperately care for her and want to see her succeed in her mission to rescue her sister, portrayed by Riya Sisodia.
Sonia bravely runs away and volunteers to be taken to wherever her sister is and work there, little knowing what she might be in for. There she is sold to a brothel owner, believably brought to life by Manoj Bajpayee, and has to fight to keep her spirits up in a world which she can't escape. Even the police can't be trusted. Help comes in the form of Manish, who attempts to find and rescue girls abducted into this evil business. Rajkummar Rao, who plays Manish, manages to portray the strength and frustration when fighting seemingly unassailable odds.
"Love Sonia" also makes time for other characters to be fleshed out. We meet Madhuri (Richa Chadda), a complex character who herself was raped and discarded but now rules the roost in the brothel. Chadda manages to balance Madhuri's past as a victim and her current guise as an oppressor in a believable way, making us hate or like her character as the story unfolds.
From there, the story still has much further to go (all around the world, in fact) but, like the director said before the premier began, I don't want to give too much away. You should go and see this film for yourself. It's not an easy watch but its heart is definitely in the right place and it earnestly wants to make you think about how this abuse of girls and women could be happening, maybe closer than you think. One character laments at how everything these days can be bought at the click of a button, ironic given he's an abuser who has 'ordered' Sonia in just such a way.
LIFF has definitely kicked-off in style with a powerful film which is at pains to maintain authenticity without becoming exploitative itself and will hopefully will make an important contribution to the fight against sex trafficking by raising awareness. Make the time to find out what happens to Sonia in the quest to save her sister. You won't regret it.