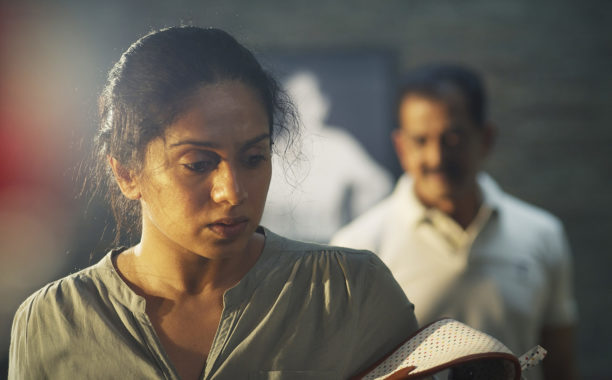 Director Arvind Kamath's latest film takes its title from the Arishadvargas, or the six enemies of the mind according to Hindu belief. Lust, anger, greed, pride, jealousy and attachment are all believed to prevent a person from achieving salvation, though the first three of these – lust, anger, and greed – are also supposed to pave the way towards hell, and all of them can only be overcome by setting out on a personal devotional path. Kamath uses these concepts as the basis for his latest film, a Kannada-language neo-noir thriller that is as complex as the concepts it derives its title from.
Anish (Mahesh Bung), an aspiring actor, stumbles across the body of a film producer when he arrives at a meeting arranged with a woman (Maanasa) who has set up him to take the fall for the murder, telling him she felt like "gifting" someone a murder, and today was Anish's lucky day. But, she continues – a gift without a wrapper, and a murder without a witness just seem wrong, so she announces that she'll provide that too, as well as the murder weapon (a gun in a safe). As if on cue, enter aspiring actress Saakshi (Samyukta Hornad) who arrives to audition for Majunath Bhat, the film producer. Thus begins Anish's attempts to extricate himself from the situation – though everything he does only seems to mire him further and further into the mess. And when Saakshi wonders why they can't just go to the police, Anish shows her the CCTV footage he's been sent, which clearly looks incriminating, no matter what the truth of the situation is. The arrival of the police investigation team is followed by that of Majunath Bath's wife Kruthi (Anju Alva Naik), and although she is hospitalized from the shock of finding her husband dead, it's through her testimony to police that the first layers of this complicated story begin to be revealed.
Or do they? As the film progresses, we see the stories of the various protagonists through flashbacks, and we come to understand that they are connected in ways that aren't immediately obvious from the situation, that this situation is more complicated than it originally seems, and that personal issues related to the ideas of lust, anger and greed fuel much of what takes place. Add to this the investigation conducted by the detective, Ashok Kalburgi (Nandagopal), a man who is largely silent, speaking only when he needs to (or when he's brought a sub-standard take-away dosa while working), for whom the case revolves in his mind framed like scenes from a film.
The story is, definitely, a slow burner, and the script has so many details and characters to keep track of, and the stories we hear about these characters often have at least two sides.
However, the film is also often clever and funny – some of the film's best moments happen between the taciturn detective and his stolid and efficient assistant Raajaana (Shripathi Manjanbyalu), a man just days away from retirement. To writer/director Arvind Kamath's credit, just when you think you have it all figured out, he throws in yet another twist, forcing the viewer to reframe and rethink what they've already seen. Neo-noir thrillers have made a mark on Kannada cinema in recent years, and Arishadvarga is a welcome addition to that trend.
The Bagri Foundation London Film Festival celebrates a decade of bringing the best new South Asian films to the UK, with 5 cities, 25 venues and 25 specially curated films. It started on 20th June 2019 in London continues until 8th July 2019, at cinemas across the UK.