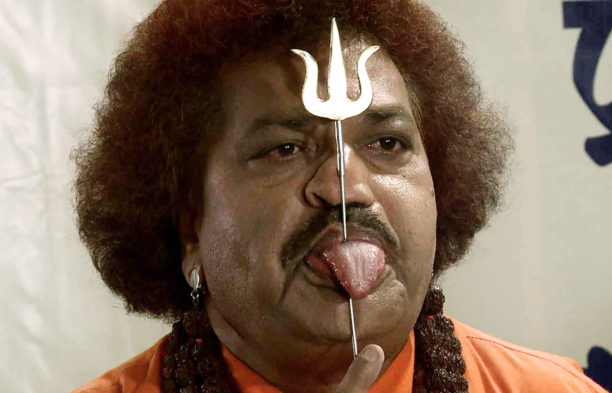 Anand Patwardhan's latest documentary, Vivek, screened in this year's London Indian Film Festival – at the same time as the Kerala High Court overturned a decision of the Ministry of Information and Broadcasting to ban the film from a documentary film festival currently taking place in Thiruvananthapuram.
The Ministry's reasoning was that Patwardhan's film could create an issue of law and order – and although the screening will now be permitted, Patwardhan's film will not be allowed to be viewed anywhere in India but at this particular festival.
This speaks volumes about the nature of Vivek – with a run-time of 261 minutes (split into two parts), the film is an examination of the move within India away from a more secular social and political system, to one fueled by fundamentalist readings of Indian history, in which divisions within Indian society – particularly those of caste and religion – are viewed along an increasingly hard line, that, more and more, spills into violence. The film is divided further into chapters, each exploring the work of different individuals, such as Narendra Dabholkar (a doctor and social activist who emphasized the importance of rational thought over superstition and blind faith) and Govind Pansare (a member of the Communist Party of India who primarily fought the caste system and encouraged inter-caste marriages) – both of whom were eventually assassinated for their views; as well, the film examines the caste system through Dalit protests and activism in the face of oppression, and the expanding influence of religious belief and expression on political life.
Patwardhan's film is an incredibly challenging film to watch, by turns moving and distressing and thought-provoking, feelings made more intense with the realization that the movements and issues he explores – the dumbing down of society, the propagation of fake news, the trend towards the rewriting of history to suit certain ideologies amongst others – are not limited to India alone, but are part of a greater worldwide trend, one in which reasoned discourse is increasingly supplanted by extreme positions frequently leading to, if not outright violence, at least an environment in which violence is an ever-present threat used to control the disenfranchised, the marginalized, the weak or the powerless. It is easy to become discouraged in the face of what seems like overwhelming odds for the supporters of reason, but Patwardhan leaves us with the tiniest drop of hope: people continue to fight despite the threats, despite seeing their leaders and colleagues cut down.
People will always, we are told in the film's conclusion, rise up to fight oppression.
The Bagri Foundation London Film Festival celebrates a decade of bringing the best new South Asian films to the UK, with 5 cities, 25 venues and 25 specially curated films. It starts on 20th June 2019 in London continues until 8th July 2019, at cinemas across the UK. For more on the festival, please visit: http://londonindianfilmfestival.co.uk/