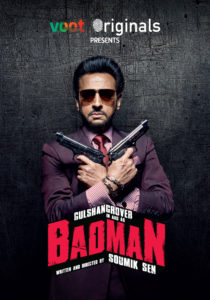 In a career spanning three decades, Gulshan Grover has played the villain many times – but the film that earned him his nickname of "Badman", and which set the tone for much of his Bollywood career, was that of villain Kesariya Vilayati in Subhash Ghai's 1989 film Ram Lakhan. As traditional villain roles have become rarer in Bollywood (with heroes taking on roles with more shades of grey), Grover has found his way to working in other industries (in the U.S. and Canada), as well as appearing in films that find their way to the festival circuit, such as Soumik Sen's Badman.
Director Sen (Gulaab Gang) allows the talented actor to step into a fictionalized version of himself – Gulshan Grover the Badman who longs to make a change in his career, to relaunch himself as a hero. The film is, quite frankly, a hoot, sending up a number of Bollywood tropes. This fictional Gulshan Grover has two hapless sons, Suresh (working as an assistant to director/choreographer Farah Khan and writing his own screenplay) and Gaurav (radio show host always looking for money to invest in questionable business schemes).
The film opens with the fictional Gulshan Grover celebrating his birthday – one of his birthday gifts is to be handed the reins of the Bollywood Villains Association by his friend and fellow villain Ranjeeth.
After suffering a sudden heart attack at his birthday party, and faced with his own mortality as well as the incompetence of his sons, Grover decides to liquidate his assets and set up a film fund which he will put at the disposal of his sons if – and only if – they work with him on a film launching a new hero: Gulshan Grover – "GG" — himself, in a venture entitled, appropriately "Goodman".
The film sends up contemporary Bollywood film and social media culture, from a nurse who asks to take a selfie with the star in his hospital bed, to the doctor treating him who brings his son to see his patient, to director/choreographer Farah Khan announcing Grover's death on Twitter. It's also a biting satire on the current state of filmmaking in Bollywood, where star kids are launched and where heroes in their forties play college students and woo women young enough to be their daughters, where women in their thirties are resigned to playing mothers to men hardly older than themselves, a world in which social media experts are hired in order to make films trend, where images are "refurbished" and hashtags rule.
The film follows GG's quest to put together the film that will launch this new, updated, 21st century version of himself, from the search for a director, a heroine, and, most importantly, for the actor who will agree to become the villain. The endless string of cameos are worth the price of admission alone; the turn by Chunkey Pandey, who agrees to become the film's villain – hysterically, his costumes always match the furniture on which he's sitting — is delicious.
But at the centre of it all is Gulshan Grover himself, anchoring everything that happens around him, by turns frustrated at the roadblocks he runs up against (veteran actor Rishi Kapoor advises him to forget about becoming a hero and focus on the underserved 90 to 100 year old man slot), frustrated at the stupidity and incompetence of his sons, accused of "corruption" by those in the Villains' Assocation (who see both his desire to become a hero, and his willingness to cast Chunkey Pandey as his villain as a sell-out) and occasionally baffled by the events that go on around him as he works to create something new out of his life and career. "Badman" defined much of Gulshan Grover's career, but Badman allows us to remember that he's a fine actor with a gift for comedy, in a film that guarantees you will "LOL".