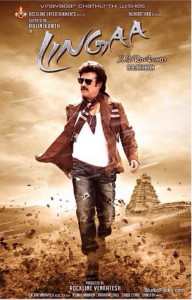 Lingaa is a highly anticipated Tamil thriller starring South Indian legend Rajinikanth in a double role. Also starring Sonakshi Sinha, Jagpati Babu and Anushka Shetty, the film has been directed by K.S. Ravikumar and is in cinemas now. The Hindi version of the music has been composed by renowned musician A. R. Rahman, with lyrics by legendary writer Gulzar. So does the music to Lingaa has anything interesting to offer? Read on to see what we thought of it.
To kick start the album we have 'Ranga Ranga,' sung by the legendary S.P. Balasubrahmanyam and Jaspreet Jasz. The song is upbeat throughout and has a blend of instruments such as the trumpet, drums and the guitar; with a chorus to accompany the composition also. This one is not a bad attempt by Rahman, but I think for me personally it just does not have any catch to it. It was quite tough for me to engage with the song and for that I would classify it as an average number.
Next is 'Chalke Re' by Aditi Paul and Srinivas. I very much enjoyed the vocals, as well as elements of the composition which has a strong South Indian feel to it. Instruments such as the sitar and the tabla have been used differently here compared to how I normally hear them in other songs. However, for me this one was not what I would expect from a slow number. As much as I respect Rahman, it felt like it could have benefited from a few more tweaks in order to spice it up. Like the former song, I would again consider this to be an average song which required more work to it.
'India Re' is next and has been sung by the talented Javed Ali. I did not enjoy this song at all despite the patriotic theme to it. I found myself drifting away from it and felt like pressing the skip button. Plus at six minutes long, I felt it could have been condensed slightly as I found that it was dragging on for quite a bit. In my opinion, give this one a miss as it has nothing unique to offer.
Following this is 'Mona Gasolina,' which has been sung by Mano and Neeti Mohan. The song has an unusual start to it with what sounds like a violin being played in the most unconventional manner. This song was quite silly overall and it just does not have any oomph to it. It requires a lot of honing in order to make it an upbeat number which will be liked by everyone and anyone. Sorry to say but this song just fails on many parts and I was disappointed as it had the potential to be so much more.
Finally we have 'Din Dooba Hai' by Haricharan. This is quite decent and Haricharan's vocals really give it the punch which this song needs. I also liked parts of the composition with instruments such as the violin and drums giving it an overall melancholic feel. This is probably the big highlight of the album and I recommend that you check this one out as it has a likable factor to it.
To sum up, I was quite disappointed by the music to Lingaa. Given that A R Rahman is behind this one, I expected so much more from it. The music was not as strong as what we normally hear from him and I was hoping for some of his more signature style which has that deep Indian connection to it. Overall, this is an album which had the potential to be so much better.