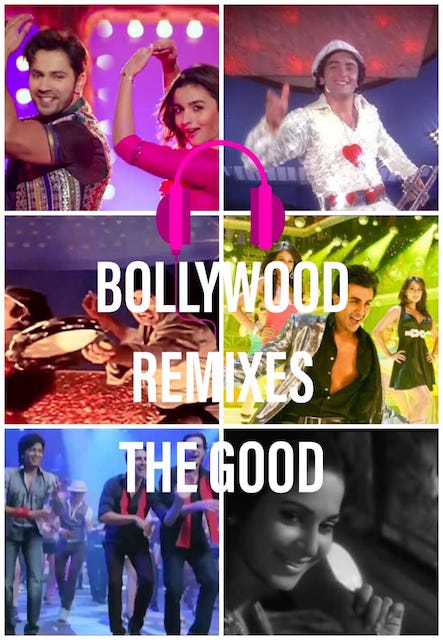 Song remakes are a way of Bollywood life in 2019. Certainly over the last few years every film has had at least 1 remake within its album, whether that be a re-do of an old great song, a re-interpretation of a pop song or song originally written for another language, or even just a mashup tune that reminds us of a bunch of songs. Each in their own way can be good as at the very least they remind those who know of the original song and those who didn't weren't given a chance to explore the reason why they warranted a remake. Below is a list of those remakes – the ones that work as their own songs, ones that joined our playlists even knowing the originals that they came from because they in themselves were good.
Bachna Ae Haseeno – Bachna Ae Haseeno
Hum Kisise Kum Nahin from 1977 had this as the intro song for the singing dancing star Rishi Kapoor in sparkly white. RD Burman's composition at some of its finest (with Kishore Kumar in full voice), Vishal-Shekhar with the added touches, and a combination of trumpets, 70's light rock and big band jazz, got an extra beat and some additional lyrics. This served as the intro for Ranbir Kapoor in 2008 after his successful beginning in 2007's Saawariya and so was both modern but also a look back.
Aapka Kya Hoga Janabe Ali (Dhanno) – Housefull
2010's Housefull took its remake from 1981's Lawaris. Many of the best remakes are visual remakes… this one included. The song from Amitabh Bachchan's time has a beat added for the club feel and there is a female part added (thus the Dhanno in brackets) but otherwise there is nothing to differentiate. Visually, however, Lumbu is replaced by Akshay, Arjun and Riteish and plenty of drinking keeps it all just a bit more fun. Jacqueline is the titular Dhanno and the drinking is in joy rather than to wipe away sadness.
Cheez Badi – Machine
The original is one of the greatest songs of 90s Bollywood music, so a remake is going to have to be something special. What this remake does have going for it though is its brevity. Where 90s films had 6 songs x 6 minutes each which meant a lot of extra bits, these prove unnecessary in the remake, allowing them to hold onto the bits that made the most impact. Extra lyrics bring this song into a modern feel, rounding off the mix of old and new by maintaining Udit Narayan and adding Neha Kakkar.
Haseeno Ka Deewana – Kaabil
Yaarana from 1981 was one of the lesser lights in an illustrious period for Amitabh Bachchan, but nothing to be sniffed at with Rajesh Roshan writing for Kishore Kumar. Just like the modern version, this is an open stage item number with some of the best dancers of the time. Undoubtedly, the new version for 2017's Kaabil sung by Payal Dev, with a rap break from Raftaar, gives the story from the ladies side showing that without changing the lyrics much the ideas work for both genders.
Badri Ki Dulhania – Badri Ki Dulhania
As is visible, most remakes come from an original song which is simply enhanced and re-visualised. However, in this song's case that would mean the title of the song would be 'Chalat Musafir Moh Leya Re', which wouldn't be in keeping with the title song of Badri Ki Dulhania. Taniskh and Amaal worked on this album together with the godfather of Bollywood club/dance music Bappi Lahiri in tow to make a fun reworking of a tongue-in-cheek song from the 60s
Gulabi 2.0 – Noor
Rajesh Khanna sang this song for Nanda's 'Gulabi Aankhen' on Mohammad Rafi's voice under whose spell he felt drunk and needed help from his friends. The remake goes in the opposite direction and hard!! Sonakshi is voiced by Neha Kakkar, who brings the flair of a confident, powerful woman, who is ok to just drink and dance at ladies' night in the club. Only the chorus has been brought across lyrically as these 'Gulabi Aankhen' come from the drink, while the rest is Amaal Malik's magic with synth and Sonakshi's amazing dance skills.
Socha Hai – Badshaho
"Bina rap wala remix" – by 2017 even remixes needed something different, so we got this cool jazz lite version of 'Keh Du Tumhe' from Deewar (1975). Another masterwork by RD Burman and Kishore Kumar, taken over by Tanishk Bagchi who takes the opportunity to show off his skills by both recreating the song completely but also not losing everything the original had going for it. The visuals go from jeep to bullock cart, but otherwise all is untouched.
Mundiyan – Baaghi 2
When Pretee Kaur was spotted by Angry Sikh through the one-way glass at his local barbers in the original, no one could have guessed that this would be the perfect song for Tiger and girlfriend Disha to perform at a celebration event. But that's exactly what happened in Baaghi 2, with Tiger showing off some moves that Angry Sikh wouldn't have even thought of. Disha being the main part of the new picture allows for the only difference musically and that is that the choruses are sung by a female. Since this works with only a minor tweak to the lyrics, it all works out well.
Nit Khair Manga – Raid
Nusrat Fateh Ali Khan has given Bollywood not only a singer in Rahat, but left Bollywood with a treasure trove of songs to use. And Bollywood has not failed to make full use, with many of these are sung by Rahat himself. Since he doesn't match his uncle's voice, it allows Bollywood music directors the chance to play around with the tunes a bit. This started out as a pure qawwali at 15 mins long and finished up with Rahat singing for a very spritely 3:40 backed by a lovely soundtrack.
Chin Chin Chu – Happy Phir Bhaag Jayegi
Sometimes to get out of a tough situation it's best to fall back on the classics. Thus, we have this song from Happy Phir Bhaag Jayegi (2018), a follow up to Happy Bhag Jayegi (2016), which falls back on Helen's classic from Howrah Bridge (1958). While neither is meant to be culturally sensitive, neither steps over the line at any point, managing to find slightly different voices; the original a more Indian-jazz fusion, while the remake focuses on a little sprinkling of Amit Trivedi magic.
Ek Ladki Ko Dekha To Aisa Laga – Ek Ladki Ko Dekha To Aisa Laga
"Tere khyalon bete yeh raatein" – in 1 line a new song explains the entire emotions of an old song. And yes, the old song was perfect for its time, perfect for its setting, perfect for its character, but it wasn't perfect for the modern drama it was needed for. As with 'Gulabi 2.0', this only needed the idea of the chorus, the main motif to do its own work and then went very much in a different direction. Rochak Kohli seems to have understood the brief very well here and got the balance exactly right.
Gali Gali – KGF Chapter 1
When you have good lyrics and the same reason for the song, there's no need for change. The original from 1981's Tridev was to entice one of our heroes in Jackie Shroff and the new one puts Yash in the same position. Possibly due to Mouni Roy's stronger dance skills, the music has been suitably powered up but at its heart it remains the same, so it performs both as a new song but also as an old one.
While it seems in the last 5 years that Bollywood has become a space only for remakes, redos and reversions of some great older songs and a lot of Punjabi pop, there are some standout pieces that bring credit to the new music directors as much or even more so then the original ones. In some cases, even though they are remakes, they have certainly left the legacy of where they came from well behind. The 10 remakes we have looked at above are all examples where even knowing that they were not original pieces, they make for compelling listening.