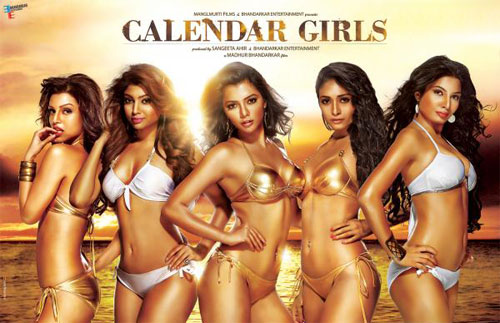 Releasing on September 25th, noted filmmaker Madhur Bhandarkar's Calendar Girls like all of his films is a look into a world and exposing that world through the eyes of the characters.
Starring five newcomers, Akanksha Puri, Avani Modi, Kyra Dutt, Ruhi Singh and Satarupa Pyne, it is the story of five models – Paroma Ghosh, Nazneen Malik, Nandita Menon, Sharon Pinto and Mayuri Chauhan, who go through various phases from fame to anonymity and highlights the experiences of the young models who achieve success after featuring on a popular calendar.
Mr. Bhandarkar recently took to his blog to reveal his inspiration and why he chose to tell this story in a post titled "Why Calendar Girls". With permission from Mr Bhandarkar, BollySpice has the full story here!
"I've made films like Page 3, Fashion & Heroine in the past and I have been repeatedly questioned about my obsession with stories from the glamour world.
It was in early 2014, when I was debating with myself on what my next film should be, when, one day, my office boy who was cleaning the room, picked up some old calendars and asked me what he should do with them. I asked him to take them away, since they served no purpose anymore. But instead, he ended up keeping them in some corner of the same room. The following day, I noticed the calendars and I found myself picking them up and started going through them. From the time I have known Mr. Vijay Mallya, he has always been kind enough to send across his prestigious calendar every single year. All the calendars had gorgeously photographed models at exotic locations. Their names appeared at the bottom corners of the pages. Despite that, these girls were on their way out from our offices and homes. Their stardom had expired! I sat back and began wondering: I must have met some of these girls at parties or social functions, but except for very few names who have become successful, and who are clearly in a microscopic minority, I never heard of anyone becoming a star. Forget films, 99 percent of them didn't even make news in any other field of life. The big question then was: where do the majority of these girls go? What happens to them once their stardom, which is strictly for a year, expires? The seed for a film was well and truly, sowed.
As the research began, I started meeting several girls who had posed for calendars in the past, and also lots and lots of people from the High Society of Mumbai and Delhi. In the course of my interactions, I realised that while some were forthcoming, there were many others who were hesitant to share any information. I'm not one to give up, I probed further and what came my way were some shocking truths! My resolve to make Calendar Girls was only getting stronger. What was also becoming increasingly clear, was that I would do justice to the world of Calendar Girls, only if I showed all three aspects of their lives – the past, the present and the future. I was convinced that it had to be an all-encompassing story. Finally, I announced Calendar Girls as my next film. A moderately budgeted film with five new faces, which was shot in a span of 40 days.
Over the course of the filming, I continued meeting more and more people associated with the world of the calendar, and from the High Society, and incorporated as many authentic elements as possible in the narrative. The process has been fulfilling, and I am thrilled with the way the final film has shaped up. As for my alleged obsession with the glamour world and High Society, I have only this to say: The world of glamour and High Society, like any other world, is humongous. It is not a river, or a sea, but an ocean. There are at least a thousand powerful stories waiting to be told. Take for example, the current sensational story that has emerged from the family of a media baron and has the entire nation's attention captivated. It belongs to the same world of glamour and High Society, but is different from anything we have seen or heard before. Which is why, I always believe and maintain that just because a story emanates from a world where one has already ventured into, does not mean it has been told before. As somebody who has been a film buff and an avid observer all my life, I genuinely believe that the world may be the same, but no two stories can be the same. Hence, Calendar Girls."