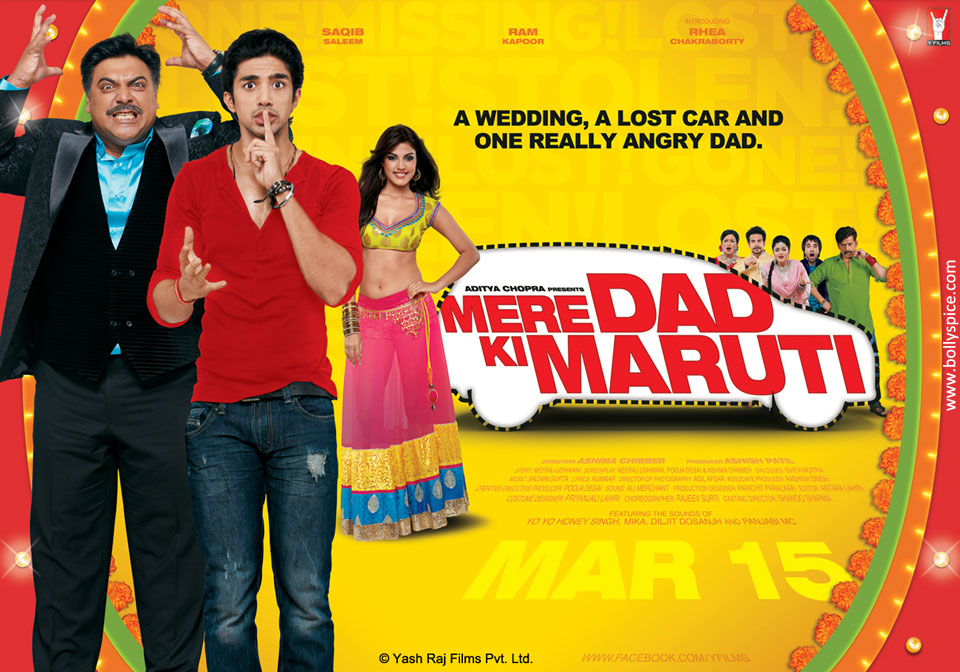 What's a YRF movie without a big fat Punjabi wedding. The over excited families, the meddling relatives, the loud Punjabi and the Dhols. Thankfully, there are no sarson ke kheth but Mere Dad Ki Maruti gives a ride as enjoyable as the car advertisements on TV promise to you.
The Khullar family is very excited not only because it's their daughter's wedding but also because Papa Tej (Ram Kapoor) has bought a brand new "fully loaded" Maruti Ertiga as a wedding gift. The good for nothing son Sameer (Saqib Samil from Mujhse Fraandship Karoge) is pissed off with not being able to drive the car but manages to sneak it out to impress the girl of his dreams Jasleen (Rhea Chakraborty). And when the car accidently goes missing, Sameer knows that he must find the car at any cost or face his father's dreaded wrath!
Shreyansh Agrawal's storyline is wafer thin but Neeraj, Pooja and Ashima fill the screenplay with fun and rib tickling scenes. The lack of a strong story may nag you but it's the characters and the actors which make this movie a continuous entertainment – plus the decent length of the movie ensures that it never overstays its welcome. The dialogues are a mix of 'Panjabi', sms/twitter talk and desi English which makes for some really comic lines although those who are ignorant of the jargon may find it hard to follow the lines.
The actors share amazing chemistry which makes sure that whenever the movie is in danger to dragging, they pump it up with their performances. Prabal Punjabi as the friend Gattu is simply adorable and manages to garner the most laughs in the movie. Is it just me or does he remind you of Vir Das as well? Saqib does a good job as the mess creating son but he lacks a certain amount of screen presence. Same goes for Rhea. Ram Kapoor as the Punjabi father is a delight to watch and I think the YRF may finally have found a substitute for the DDLJish Amrish Puri. In fact, each and every character – from the groom to the policemen to the Ravi Kissen's character to even the valet – fit their part to the T and nothing or rather nobody seems added just for the heck of it.
If you get around the sometimes too loud background music, Mere Dad Ki Marutiis filled with moments which bring out genuine laughter. In the era of no-brainer star studded "comedies" which Bollywood churns out by the dozen, MDKM is a real fresh breather. My favorite scene is the one where the bride dedicates a song to her fiancé – simply amazing! This one's a decent, clean fulfilled ride. Don't miss it.