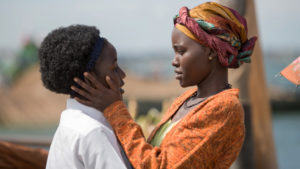 Twenty-eight years ago, we discovered the world of street children within the harsh, raw, underbelly of Delhi. Yet, it was a life these children had chosen in preference to home and family – which had obviously become entirely intolerable.
There is so much missing from the lives of these children – food, security, health, education and love. All these, we urged ourselves that they needed and had a right to – a secure space to sleep, to play, and to dream. This realization paved the way for creation of Salaam Baalak Trust (SBT). The Trust was established in December 1988, with the proceeds from the film Salaam Bombay – directed by Mira Nair.
SBT has over the years successfully worked with over 73000 (till 2016) children restoring a significant portion back to their own families.
As part of the ongoing fund raising efforts Salaam Baalak Trust is proud to associate with Disney's Queen of Katwe; releasing in Indian theatres on October 7 2016.
It is a screening for friends and associates plus a donor screening to raise funds for the trust in Delhi.
Confirms Mira Nair, "Disney and I are delighted to have the special screening of Queen of Katwe, which in many ways is similar to the film 'Salaam Bombay', my first feature film that was the birth of Salaam Balak Trust. Salaam Balak Trust and Salaam Bombay honored the kids from the street to have a childhood and we were determined at that time to give a childhood, to bring childhood to many other kids like themselves over the years, that is 27years that Salaam Balak Trust has been flourishing. It is a really moving moment for me to bring a similar story; an inspiring story from my adopted home of Uganda – Queen of Katwe, a remarkably true story of Phiona Mutesi. The core of the story of Queen of Katwe is that there is genius everywhere, but it takes a village; it takes a teacher; it takes a person; it takes a mother; it takes a whole street, a whole community to harness that genius and make it achieve its fullest potential and that is the story of Phiona; that is the story of her teacher Robert Katende and that is also the remarkable story of her mother Harriet."
Queen of Katwe is based on the inspiring true story about 9-year-old Phiona Mutesi (Madina Nalwanga), whose life is a constant struggle. She spends her days selling vegetables on the streets of Katwe, one of the most poverty-stricken slums in Kampala, so school is not an option. Her mother, Harriet (Lupita Nyong'o), a proud and strong-willed woman, works hard to support her family, and while she loves and protects her children with a fierce compassion, she is consumed by the daily grind and worries that she can never offer them the promise of a better life.
Based on a remarkable true story, Queen of Katwe is directed by Mira Nair from a screenplay by William Wheeler.