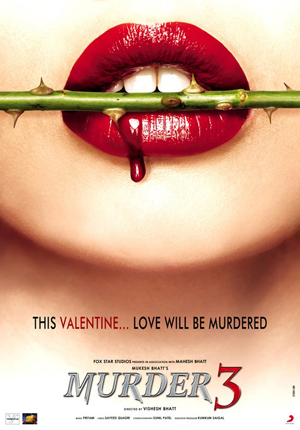 Murder 3 sees Randeep Hooda headlining the film, which is directed by Vishesh Bhatt. It is the third installment of the Murder series and also stars Aditi Rao Hydari and Sara Loren. According to its synopsis, the film is about a photographer named Vikram (Randeep Hooda) who embarks on an intimate relationship with a waitress called Nisha (Sara Loren). After moving in with him, Nisha begins to discover various secrets about Vikram, which include the mysterious disappearance of his former lover Roshni (Aditi Rao Hydari). The music is composed by the brilliant Pritam, which has recently given us albums like Barfi (2012) and Race 2 (2013). The lyrics have been written by Sayeed Quadri, who has written many songs for Pritam's music such as Rush (2012) and Billu (2009). So is there anything to look forward to in Murder 3? Read on to find out!
The first track is Jaata Hai Tujh Tak, which is sung by Nikhil D'souza. The composition contains a flavoursome club mix which works quite well and definitely complements the vocals. There is also a second version with slightly different lyrics, but the composition remains intact. I think this song will grow in popularity and will be on many people's playlists without a doubt. Overall, a job well done to Pritam on this one!
There is also Hum Jee Lenge, performed by Roxen Band featuring Mustafa Zahid. The guitar is the dominant instrument in this song, which in my view does not really grow on you. It is one of those songs which everyone will forget after the promotions for the film are done and dusted. Yet it is not a horrific composition, so try it out and perhaps you might like it more than me. There is also a Rock Version, which contains more intense rock elements. This version was a little mind-numbing for me to listen to and there is no real appeal to it. Hence, skip this one in my opinion.
Next up we have Teri Jhuki Nazar, which is sung by Shafqat Amanat Ali. There is also another version of this song in the album which is on par with the first version. Like with 'Hum Jee Lenge,' there is no major appeal with this one. It has a run-of-the-mill composition which Pritam could have made better. However, Shafqat does perform well in this song and I would say give it a chance so you can hear his tuneful vocals.
Finally there is Mat Aazma Re, which is performed by KK. The music has strong beats, with some techno elements to it also. Yet I found this one very tedious to listen to. KK has done some good work recently, but this song is definitely not one of them. It unimpressed me and was boring in general. Therefore, don't waste your time listening to this one as you will only be left disappointed.
On the whole, Murder 3 is a disappointing album, which has little for you to look forward to. The only highlight of this album is the song 'Jaata Hai Tujh Tak,' with the rest being unfulfilling overall. Sorry to say, but this is not one of Pritam's masterworks. It is plain tiresome to listen to and contains nothing that will make you go 'wow!'