Sold, a hard-hitting film about child sex trafficking based on the book by Patricia McCormick, has been garnering rave reviews at film festivals all over the world. This award winning film, directed by Jeffrey D Brown tells the unforgettable story of a girl who risks everything for freedom after being trafficked from her mountain village in Nepal to a brothel in India.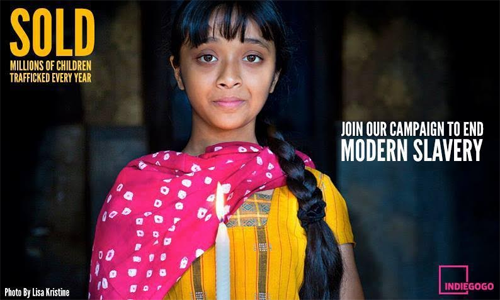 One of the coolest things is that the film is being used as a conduit for change and to raise awareness and money to help eradicate this human rights tragedy. One of the main campaigns they have going on now is at Indiegogo (https://www.indiegogo.com/projects/sold-a-film-about-child-trafficking#/). With the money they raise there, the makers are not only going to get the film released in as many theaters as possible in March of 2016, but also to support the effort to rescue and rehabilitate children that were trafficked.
One of the perks of the campaign is that you can win a copy of the brilliant soundtrack. Earlier this week we spoke to composer John McDowell. We now turn the focus on the music supervisor and composer Sammy Chand to get even more insight into the sound and songs of the film. Chand, a record producer, soundtrack composer, and musician is also the founder of Rukus Avenue, a South Asian record label based in Los Angeles, CA. In this special exclusive interview, Chand also revealed how being a part of this amazing film has changed him and his hopes of how the film will change the world.
 How did you become a part of the soundtrack for Sold?
I met Jeffrey Brown (director) at a film festival and we really connected on our musical tastes and I learned about the film. He went back and wrote parts of the film while listening to some music I gave him, from there my role grew to Music Supervisor and a Composer.
What made this a film that you wanted to contribute to?
Well, the gravity of the issue the film tackles was front and center for me. I have a young daughter and this really hit home, this film became a way for me to make a difference.
What did you take and use from your experiences in playing, creating and producing South Asian music to put into making the music of Sold?
For me, it was an advantage because it spread the musical palette. It gave me more to play with. Just the depth of the scenes was what we had to really meet, the intensity, which was difficult given the types of scenes you're scoring. I think we did well with that.
What sort of brief did they give you?
For me personally, I saw the script grow and change, so I was very well connected to the film from the beginning. Jeffrey Brown and Jane Charles were absolutely incredible to work with and I think that made all the difference.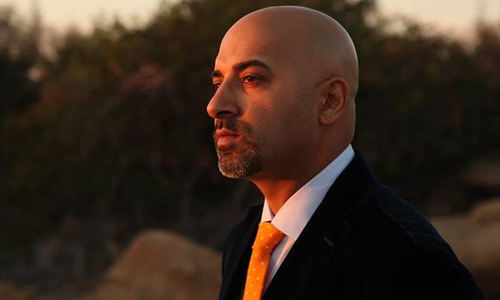 How was it to work with director Jeffrey D Brown?
Working with Jeffrey was an experience I won't forget. He was my mentor and really took me under his wing to help me expand into all he wanted from me in this film. I got to learn from him, so he was a teacher. I learned so much about human trafficking through him. He made such an impact in my life to help me to target my music to make a change, for that I'm grateful.
How do you approach creating songs for a film like this – what goes into your process?
I feel there is so much to be learned by what the director and producer envision, and what they're going for. I think for me really connecting myself to the characters makes me find the right music for each scene. It will just feel right when you see it works right.
What guided you during the creating of the music?
I had the great pleasure of working alongside John McDowell, who I consider a mentor, and just absorbing his guidance was a huge for me on this film. I think we talked at great length about Laxmi and her character, this film centers on her. Her spirit her energy guided us through this.
Since it is a Hollywood film, but set in India was it your intent to keep it deeply rooted in the sounds and music of India?
Yes, we spoke at lengths about finding the sound that would take our audience member into the actual environments. We wanted to really take the viewer there.
Naturally bridging that sound for the audience was the exciting part for John and I.
You have done 12 songs in the film, can you tell us a bit about what they are and the mood they had to set.
The range of Laxmi's tale was quite a wide emotional spectrum. Her story is so real. I can tell you that my music described some of the darkest of places any human could ever be in, let alone a very young girl. There were also upbeat moments, warm moments that really allowed you to remain hopeful.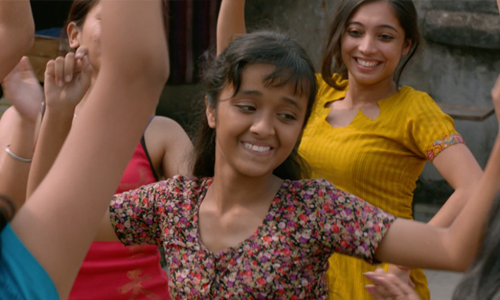 Tell us about the instruments, singers and sounds you brought in to make the music come alive.
I love the live sound; I love blending it with the synth sound. I used instruments I had never heard of before in order to push the limits and capture the accurate vibe we wanted. I reached into the deepest of my synths to the most classical of musicians from remote parts of the world; it was quite a diverse experience.
How challenging was it to create the music for this film?
It was challenging in that Laxmi's plight demanded the best out of us. It made us rise to the occasion and meet the emotional bar she'd set. John was fabulous, and I tried my best to fill in the blanks around what he was doing.
Did you go to India with them during the shoot and their visits to the NGOS?
I didn't get a chance to travel with them, but I remember when Jeffrey and Jane were there. I stayed in touch with them throughout the process. I really admire their ability to make a film like this happen in what can be a difficult environment. I think we all have to learn from that spirit to change adverse human conditions.
From the director, to the producer, to the actors so many people have been changed by the experience of being a part of this film. Did that happen to you?
It absolutely did. I didn't really comprehend the enormity of the issue until I met Jeffrey. He was kind of my teacher as went through this. When he'd meet people and learn about different organizations, he'd often pass on their missions with me, and I'd learn so much. You can imagine that I really felt an impact in my personal life, to actually go through the awareness this film brought to me.
What is it like to see your music within the film once it is all done?
Ha! I think you see everything in its context, and you see how things fit together, and at the end of it all it feels surreal. I almost take myself away from the fact that I did the music for what I'm watching, it allows me to enjoy the film. Or I'm stuck critiquing my own work!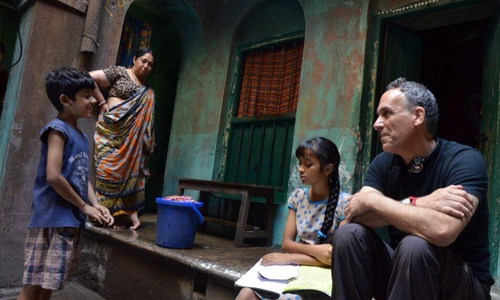 Do you have a favorite song?
Of the pieces I did, my favorite one was called "Passing out Gifts." It's when the girls in the brothels are throwing water balloons at passers by. It's so hopeful and for me it was one of the brief moments when something horrible wasn't happening to Laxmi, it was a moment for her to escape her reality.
What do you think music can do for a film?
Music is amazing for setting the tone of a scene but we forget it also works wonders on taking you out of a scene. Transitioning becomes a burden music must sometimes bear. We had some dark scenes, so bring them out to introduce the viewer to the next scene became something to consider.
What are your thoughts on the film?
I hope people go and see this film. You have to experience the condition that so many human beings are subjected to, and what better way than to really connect to the characters that are portrayed in this film. The magic is here is the entertainment value such a valuable education tool possesses.
What do you hope this film will do for this human rights tragedy?
I'm very proud of how it turned out. I'm absolute in belief that it will make an impact in the human trafficking awareness arena for years to come. I think what the cast and crew has done will be a focal point in the education to eradicate human trafficking and even help combat sexual violence. This film will connect to a younger demographic as well and I think thats where we can really make an impact.
They are using Sold as platform to make a change in the world. Your thoughts on that?
I think it will. The staggering numbers of people involved are owed that much. The rest of us have to arm ourselves with knowledge of their social condition, fortunately we can see things like that in this film. Often we overlook the entire spectrum of damage caused by human trafficking. Its huge, and my hope is that this film makes a difference.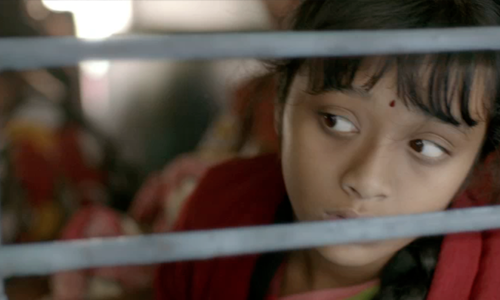 How important do you feel are films like this?
The plot and storyline within this film is reason enough to go watch this film, but I think how this film differs is that you're left to contemplate beyond the movie experience. Its a humanitarian crisis that you begin to want to do your part in to stop. It can be tackled on so many levels.
 What do you think music can do in the world? What do you hope it can do?
It's a universal language that unites. We all understand it. It can only make the distance between us smaller.
 What do you hope audiences will take away with them after seeing Sold?
I hope the audience acts on their instinct to make a change after they see this film. Whether it is in human trafficking or its in another cause that it making a difference out there, I hope this film puts that much more fuel in the tank to make a positive difference for our human condition.