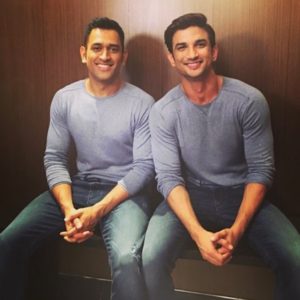 During one of the recent promotional events for the upcoming biopic M.S. Dhoni: The Untold Story, MS Dhoni admitted he had never talked to his parents about his love for cricket while growing up.
Based on the back-story and struggles of the cricketer, the Indian captain confessed he had a lot of difficulties narrating his story to the director of the film,Neeraj Pandey, "All those things that had happened became fresh in my memory – from where I lived, how my school was, where we played. I went blank. It was nice to be in the past for a moment and you get a view of what others think about me. I have never talked to my parents about cricket and it was nice to get a glimpse of what they really thought about me."
Starring Sushant Singh Rajput as Dhoni, the cricketer further added that he spoke with the director to not glorify him too much in the film. "One thing I shared with Pandey is that this movie should not be to glorify me. It's about the journey of a professional sportsperson and that's what it should depict, he said.
Further adding "I was a little worried when initially the concept of the movie came but once we were in, I was not worried about it as I was just narrating my side of the story."
M.S. Dhoni The Untold Story releases in cinemas on 30th September.