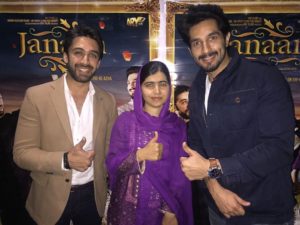 The world's youngest Nobel Peace Prize Laureate, Malala Yousafzai, was full of praise for Pakistani film, Janaan, after seeing it at a special screening in Birmingham attended by the film's lead actors, Bilal Ashraf and Ali Rehman Khan.
Speaking after the screening, Malala said, "I'm really excited that I saw this beautiful film, Janaan, and I ask all of you to see this film; it has a huge message about girls education, about women's rights, about our Pashtun culture and I'm really proud of it, and it is amazing."
Honouring Pakistan's rich heritage in film, the arts and storytelling, Janaan ('Beloved' in Pashto) presents a colourful and emotional observation of contemporary Pakistan. Filmed in the breathtaking Swat region among other locations, the film is helmed by a team of young creatives, directed by Azfar Jafri and written by Osman Khalid Butt. Rising stars of Pakistani cinema, Bilal Ashraf, Armeena Rana Khan and Ali Rehman Khan, feature in the lead roles in a film that is emblematic of a burgeoning Pakistani film industry, consistently making waves internationally. The soundtrack by Ahmed Ali, Taha Malik and Bollywood composers, Salim Sulaiman has been dominating the airwaves since release, most notably the title track rendered by Bollywood singing sensation, Armaan Malik, with an unplugged version performed by popular female vocalist, Shreya Ghosal.
Janaan has also set a new precedent for Pakistani cinema in the UK and overseas, breaking previous Box Office records. The film reached number 8 in the UK Box Office Top 10 after its opening weekend – the first time ever that a Pakistani film has reached the UK Box Office Top 10.
In cinemas now, Janaan is presented by IRK Films, Munir Hussain Films – UK (Pepe's Piri Piri Group) and ARY Films, distributed by B4U Motion Pictures.