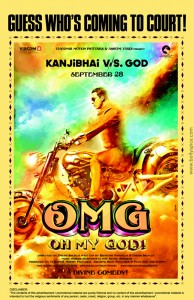 They teased us last week with a little look into OMG Oh My God, but now we have the full version of the theatrical trailer for the film that sees two of the best and funniest Paresh Rawal and Akshay Kumar coming together again! OMG Oh My God is a joint production and hits theaters on September 28th!
The film is a movie adaption of the play Krishan vs Kanhaiya, which was a favorite of star Paresh Rawal's. About turning a play into a film Rawal said in a recent interview, "I can say that it is a sharper version of it. The play takes a look at beliefs, rituals and traditions in a humorous way. Its director Umesh Shukla has also called the shots for the big screen as well, so the thought process remains the same. As you have a screenplay for the big screen there are more elements included like music, songs, action. All this is needed for a film. Remember cinema is a medium of images while drama is a medium of words. So you have to make a film visually appealing as well."
About working with Akshay he said, "I've known Akshay for years. I have implicit trust in him. When you embark on a new project especially a joint production, you need to have mutual trust — how well your ideas are received and how the dealings are done. Akshay had seen the play and then we got talking about making it into a film. Even though he has been a producer earlier, this is his first venture under a new banner with Ashwini. So we had to be on the same wavelength."
We all are GOD believers, Kanjibhai is GOD challenger! See what happens when Kanji sues God and God comes to pay a visit!