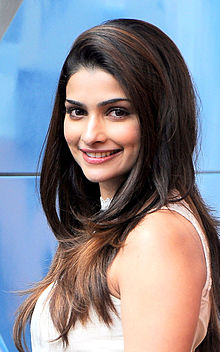 OUATIM star, Prachi Desai has openly spoken out about the biased that occurs in the Indian film industry. The star, whose career took off with the hit Indian T.V. soap, Kasamh Se, has recently stated that children of successful Bollywood stars (AKA star kids) are, according to her, 'offered films on a platter'.
To further elaborate Desai further stated, "But I still think that I will always have to struggle, since I am not an industry kid. I think outsiders don't fit in as well as star kids do. We outsiders are not given as many chances; it's very rare to bag a great film. But star kids are offered films on a platter, even though most of the time their films flop! With all due respect, I think I am honest when I say it's always going to be difficult for outsiders."
About her successful start in Bollywood (Prachi started her film career with Farhan Akhtar's Rock On!!) Prachi says, "I will always be grateful to Ritesh Sidhwani, Farhan Akhtar and Abhishek Kapoor for giving me Rock On!! I don't think anybody took me seriously at that time because they must have thought I'm just a one-film wonder. Thankfully, after my fabulous debut, I bagged Once Upon A Time In Mumbaai, and now Bol Bachchan has happened."
So, what else does the Gujarati girl have lined up next in her career? "I have I, Me Aur Main with John Abraham that I am really looking forward to. I play a bohemian girl, who's free-spirited and has a mind of her own. This role will definitely change people's perception of me."
And where does Prachi see herself in a few years? "I've never really planned things for myself. However, I don't want a short-lived career and I don't just want to do roles which everybody does. I want to make my own story."
We wish Prachi well on her journey through Bollywood, and hope that Bollywood overcomes the 'star kids' biased very soon. Stay tuned to BollySpice for more hot info on your favourite stars!