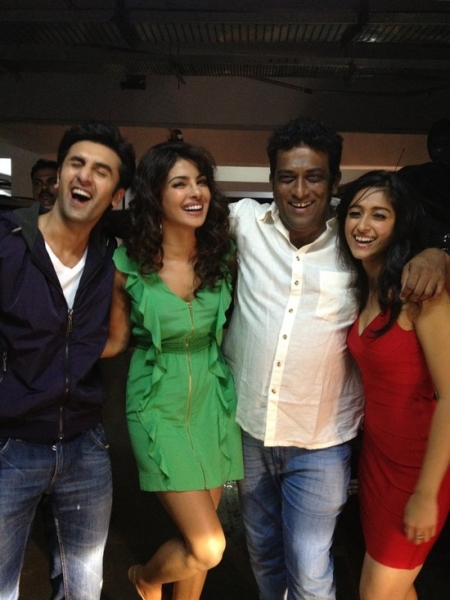 The 2nd of July was a special day for Bollywood lovers, Ranbir fans and PCmaniacs, because we finally got to see the trailer for Barfi! At a special launch event director Anurag Basu, along with stars Ranbir Kapoor, Priyanka Chopra and Ileana D'Cruz proudly presented the trailer for the highly anticipated film to the world. Before the trailer was launched, Anurag Basu talked about the story and experience of shooting the movie. "I fell in love with the story first and have had a great affair with it. It has been a year and a half. It was a great journey. Yesterday we had our last day of shooting and I can say for all the cast and crew, we will be missing shooting Barfi."
The trailer was then shown twice on the big screen and received a round of applause from the audience. After the launch, the actors talked about the experience, the film and their characters. We have some highlights from the event, which was also shown live on UTV Motion Pictures Youtube page.
Newcomer Ileana D'Cruz was full of praise for director Anurag Basu. "It's been surreal. It's been amazing. Amidst all the chaos and tons of hard work, it was emotional and loads of fun. Anurag is one of the best directors I have worked with. He got one of the most honest performances of me." She also thanked her co-stars. "I want to thank everyone associated with the film. Priyanka and Ranbir have been terrific co-stars. its been lovely working with them."
Barfi isn't a dark film
Anurag also talked about his aim with Barfi was to make a film for a wider audience. When the film was announced everybody talked about the characters and how Barfi supposedly would be a dark film. But when you watch the trailer, there is nothing grim about this film. "I wanted to make a film which is different and beautiful… and to spread happiness. When the characters are different, it doesn't mean the film is grim. It is a happy, commercial film." He adds: "Earlier on, yes, I made different films but now I am married and I have kids so I should make family films", he says with a smile.
Sound off
At this point the microphone stops working and Anurag reacts to it in true Barfi style: "When one makes a film like this then there is bound to be an audio problem." When the mic starts working he goes on to talk about the film. "It is not a silent film. The people who can speak in the film do talk. You have to understand that I have great actors who could convey a message without saying a word. What you saw in the trailer is what you can expect."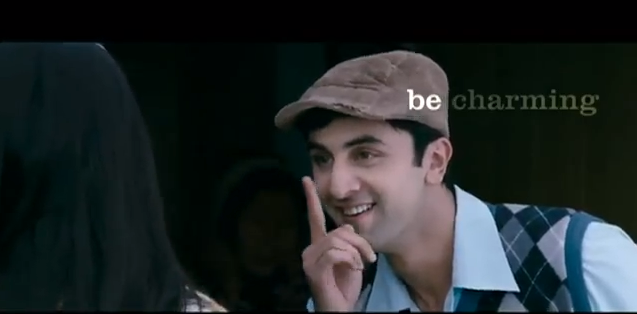 Ranbir as Barfi
Staying in character and the the audience's delight, Ranbir's first answer was given in sign language and he signed that his co-stars were gorgeous and he loved working on the film. Needless to say it was wonderful and too cute!
He then became Ranbir, the actor and he spoke about his character Murphy. But as Murphy is deaf and mute, he cannot pronounce his name right… so it becomes Barfi. "The film is about Murphy…But everyone calls him Barfi… because he can't say Murphy properly." He adds that the film isn't about disabilities. "These are characters who have disabilities but that is not what the film is about. You'll see different shades of life, happiness, sadness, it has comedy…. seeing happiness and giving happiness… that is what the film is about."
When Anurag narrated the film to Ranbir, he was quite nervous about it. But says this is not a film where you show off your acting abilities. "This movie is not about method acting or to show off your acting abilities. The characters should be relatable. I should relate to you in a way you can understand." He explains this with a simple example. "Imagine you can't speak, but you want to drink some water, how would you make that clear? It is as simple as that."
Disability equals success?
In recent times a lot of films, which had characters with a disability, have proven to be a success at the box office, but Ranbir says it's not a success formula. "If that would have been a success formula, then I would have added some kind of disability to all my characters. If an audience likes a film, they will go and see it."
Ask him if he feels he has grown with this film, he says: "I would like to believe one grows with each film one makes, but you only know that after the film has released and the audiences react. All you can do is give it your heart, sweat and tears."

Priyanka as a puppy?
He went on to talk about Priyanka's character in the film. "When you see Priyanka in the film, she will remind you of a cute puppy dog." Priyanka Chopra then turns around and says: "Excuse me?!" Well, after being called a 'jungli billi' and tamed rat (which he later changed into rabbit) by Shah Rukh Khan, she now also looks like a puppy dog.
Ranbir laughs and continues his monologue. "You know, when a puppy is just born it's cute. You'll fall in love with her."
'I was scared and nervous'
Priyanka Chopra hopes she has justified Anurag's vision of her character. "I am happy that directors can see me enacting different characters. I have done many different characters, as you have to find things, which excite you. The same goes for this character. I thought it would be difficult, but I love to work hard. And the atmosphere created by Anurag made it easier. I hope I have justified Anurag's vision. It is one of my most endearing characters."
She goes on to add that Barfi was a film filled with a billion emotions. "I am very scared and nervous about this one. This is a movie that will reside in my heart for a very long time."
Live life to it's fullest
The press conference ended on a great note with Priyanka saying the following. "The connection between the three characters in this film is something you have not seen before. This film is about the life of Barfi and you will see it from his point of view. When we meet people who are special or differently abled, our first thought is they must live this dark, sorrowful life. But that is not true. They also smile, have fun and fall in love. The feeling we want to convey is: Live life to its fullest."
We can't wait to see this film when it releases on September 14th! In case you missed it, here is the amazing trailer!
httpvh://youtu.be/yZxrao3zou4
With contributions by Stacey Yount