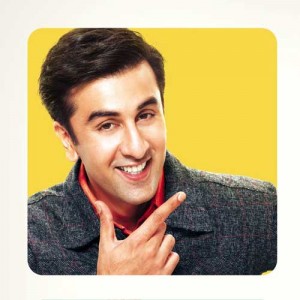 It has been a while now since the world was made aware of the fact that Anurag Basu's Barfi! has been selected as India's official submission for next year's Oscars under the Best Foreign Language Film category. Finally the male protagonist of the film, Ranbir Kapoor, has spoken out about the film receiving such a huge honour. Ranbir said the following to a leading Indian newspaper: "I think the entire credit goes to Anurag Basu for making such a superb film, and to the producers for supporting his vision. Priyanka (Chopra) and Ileana (D'Cruz) are fantastic and I'm thankful to dada (Anurag) for thinking of such a role for me." Ranbir also stated where he was and how he heard about the grand news: "On Saturday evening, as soon as the news was out, Sid (UTV boss Siddharth Roy Kapoor) was trying to reach me, but I missed his call. It was dad (Rishi Kapoor) who shared the big news with me."
Ranbir added to the media that while shooting for the film he did not expect it to be associated with such a prestigious brand like the Oscars: "We knew that we were making a good film. But the kind of love that Barfi! has already got is amazing." Now that the film is a major commercial and critical success, only one question remains in people's minds: Will Barfi! go onto win India's first ever Oscar for Best Foreign Language Film?
India has reached the nominations stage of this particular Oscar category on three separate occasions, but lost out to films made by other countries. These include Mother India (1957), Salaam Bombay (1988) and Lagaan (2001). Reportedly Mother India was the closest of the three to winning the most sought after trophy. It lost by only one vote to Italy's The Nights of Cabiria (1957).
Barfi! is based on a story of a deaf-mute boy and an autistic girl and the drama, as well as the comedy which unfolds. It is still in cinemas so check it out and decide for yourself if you think it is an Oscar worthy film!