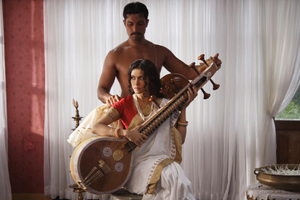 Post the screening of the film Rang Rasiya, the Royal family of the illustrious Maharaja Sayajirao Gaekwad III of Baroda, were the most impressed audience.
Given it was Sayajirao Gaekwad III who had built the studio for the artist in the palace grounds, their opinion brought smiles all over. Rajmata Shubhanginiraje who played host to the grand premiere for the film in Baroda, admitted the film left her feeling very emotional, "I remember six years back when Ketan had come to meet my husband about the film. Today, while seeing the film, I thought of my husband a lot. He was an artist and I wondered what his take would have been and I am sure he would have had his own sensitive outlook on it. It's a very nice film."
Alongside Rajmata, were her son Maharaja Samarjitsinh Gaekwad and his wife Radhikaraje Gaekwad.
While Radhikaraje was left impressed by Nanada Sen's character, "I specially connected with Sugandha's character, the faith she had in the artist and that he could transform her into something ethereal and eternal. There were a lot of shades that as a woman, and some as a connoisseur of art, that one could connect to." Maharaja Samarjitsinh is convinced that the film will bring alive Raja Ravi Varma, "I had the fortune of my dad being a professional artist himself, so he understood art and was an admirer of Ravi Varma's work….
The film has been made keeping all the sensibilities in mind!"
Rang Rasiya, starring Randeep Hooda and Nandana Sen, directed by Ketan Mehta, produced by Deepa Sahi and Aanand Mehendroo, presented by Jayantilal Gada (PEN) and co-produced by Dhaval Jayantilal Gada, Kushal Kantilal Gada and Reshmaa Kadakia, is slated for November 7th 2014 release.