2012 turned out to be a year when a number of smaller or independent films made their way onto many Top Ten lists. But, as always, there are films that, for a number of reasons, risk being forgotten or overlooked, especially in a year where there are so many great films to choose from. Here are 13 films – 10 already released, 3 from the festival circuit – that you should have seen in 2012. It's still not too late!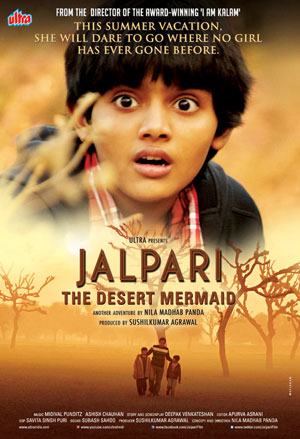 Jalpari: The Desert Mermaid (dir. Nila Madhab Panda)
It's a massive shame that Nila Madhab Panda's film didn't get as much attention as his I Am Kalam, and also a shame that the film was released to DVD without English subtitles.  Because Jalpari: The Desert Mermaid, like I Am Kalam, weaves an issue into a story about, and for, children and families, and the message it carries (about the value of women and girls in society) has never been more important given recent events in India.  Panda shot the film in Mahendragargh, which, as the closing credits inform us, "is one of the lowest sex ratio districts in India". Lehar Khan is delightful as the tomboyish Shriya, and it's heartbreaking when her father is informed by her school that he has to curb her creativity (part of her charm and intelligence).  The discovery she makes about the village she and her father and brother have moved to will also break your heart.
---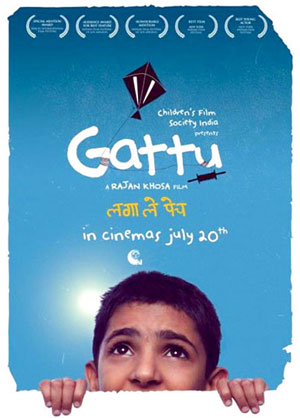 Gattu (dir. Rajan Khosa)
Another film from the festival circuit, Rajan Khosa's Gattu received a special mention at the 62nd Berlin Film Festival. Gattu (Mohammad Samad) works in his uncle's garbage recycling business, and his only interest in the local school is because the school's terrace is the highest around, best for flying kites, and for Gattu's ambition: to cut down the mysterious kite called Kali that has obsessed every kite-flyer in the neighbourhood.  Gattu may be illiterate, but he has street smarts, and a terrific performance by Mohammad Samad shows us that Gattu is curious, inventive and resourceful in his quest to best Kali.  The film is bittersweet – Gattu's life is, on some level, sad and often heartbreaking — but it's also charming, funny and uplifting, and invested with a great deal of heart.
---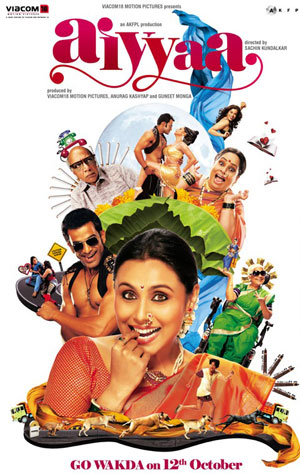 Aiyyaa (dir. Sachin Kundalkar)
Sachin Kundalkar took one segment of his award winning Marathi language film, Gandha, and created this incredibly witty and charming film.  Like works from filmmakers Wong Kar-wai (Chungking Express/Ashes of Time) and Jean-Pierre Jeunet (Amelie) who create unique visual and aural universes, Kundalkar takes a deconstructionist view of classic Bollywood and creates a fresh and inventive story that centres on female desire and feminine power. The cinematography (by Amalendu Chaudhary, who also lensed the award-winning Harishchandrachi Factory) with its use of yellows and blues is brilliant, as is Amit Trivedi's music and how it is used in the film.  Bonus points for a film about art that gives us interesting art to look at as well as beautiful visuals.  And Kundalkar and his lead actress Rani Mukherjee do something almost impossible:  make us smell what Meenaskhi smells, make us feel what she feels, every time she takes a breath.
---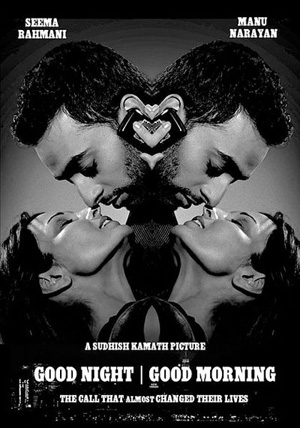 Good Night, Good Morning (dir. Sudhish Kamath)
Good Night, Good Morning trades in all sorts of pop culture references that are familiar, allow us to immediately identify with the two main characters, Turiya (Manu Narayan) and Moira (Seema Rahmani), who meet by chance on New Year's Eve in New York, and spend the night carrying on a long and far-reaching conversation by telephone, Turiya in a car with his three friends, on their way back to Philidelphia, and Moira, spending the night in a hotel on a stop-over on her way to Mumbai.   The dialogues (as befits an all night conversation), written by Kamath and Shilpa Rathnam, are sharp and crisp and pointedly wonderful.  Images of New York, shot in black and white, and set against a smooth, jazzy soundtrack, give this film a hip, contemporary, cosmopolitan feel, allowing Kamath to create an intense environment that allows us to focus on the discussion taking place.
---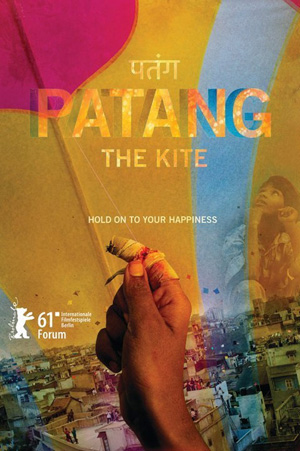 Patang (dir. Prashant Bhargava)
Laneways bustling with a wedding party, little boys running to and fro, kites being made and delivered, kite strings coated with glittering glass and chosen with care.  Rooftops where families and neighbours share delectable dishes, sing songs, remember the past.  Kites that dip and swirl and soar on the skyline.  This is Ahmedabad during the annual kite festival.  This is the world that director Prashant Bhargava draws us into, a place where modern and traditional world views collide, and where a family's emotions and conflicts mirror that of the kites in full flight and fight.  The film draws us into the lives and the laneways, the sounds envelop us, the music pulses, its rhythms taking us further and further into the streets and lanes of Ahmedabad, the camera view intimate (Shanker Raman's cinematography is beautiful), dipping and swirling like the kites themselves, taking us into the lives of these characters, showing us their thoughts, their secrets, their struggles, their anguish, their smiles.  Patang also features one of the many fine performances this year from Nawazuddin Siddiqui.
---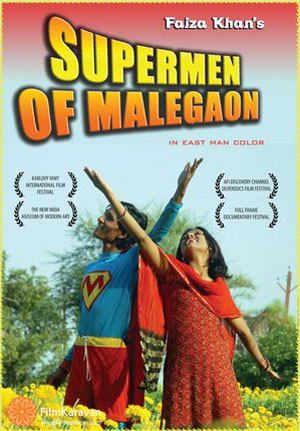 Supermen of Malegaon (dir. Faiza Ahmed Khan)
Faiza Ahmed Khan's documentary, Supermen of Malegaon, is a marvellous film within a film, tracing the making of Sheikh Nasir's creation of Malegaon ka Superman. Khan gives us a truly touching portrait of everything and everyone involved in making this film.  She shows us the difficulties of a community like Malegaon – poor, divided.  But her film also reflects the great spirit of the place, and is always respectful of everyone involved.  It would be altogether too easy to see Malegaon's filmmakers as a bunch of madmen with big dreams and no budgets.  But in Khan's hands, we see them for what they truly are:  mad, surely, but in the finest sense of that word, living out their passions and, for the most part, making their dreams reality.
---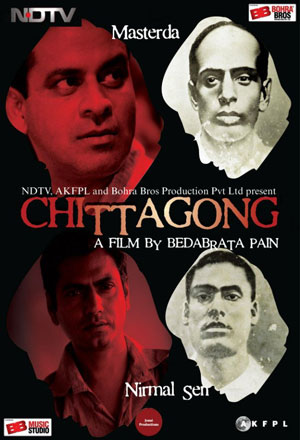 Chittagong (dir. Bedabrata Pain)
Bedabrata Pain takes a largely ignored event in Indian history, the Chittagong Uprising, and does for it what Tigmanshu Dhulia did for Paan Singh Tomar:  infuse it with dignity and patriotism.  It helps that Chittagong's cast is first rate, many of them actors who have found their way onto a number of "best of" lists this year:  Manoj Bajpai, Nawazuddin Siddiqui, Raj Kumar Yadav, Jaideep Ahlawat and Vega Tamotia.  But the film is anchored by another terrific performance by Delzad Hiwale, who also shone in last year's Bubble Gum.  Hiwale plays adolescent Jhunku, who becomes one of the players in the uprising, and it's through his eyes that we see events unfold.  Pain's film is well worth seeking out for the performances alone, and to ensure that these events in India's history do not remain forgotten.
---
Luv Shuv Tey Chicken Khurana (dir. Sameer Sharma)
The story of the black sheep of a Punjabi family who returns home only to steal his grandfather's famous recipe, Chicken Khurana, so he can sell it to pay off his debts, LSTCK is filled with warmth and charm.  The script is witty, the characters funny and engaging. Sameer Sharma gives us a film that celebrates family and community, as well as making us salivate at the thought of daarji's chicken and its top secret ingredient.
---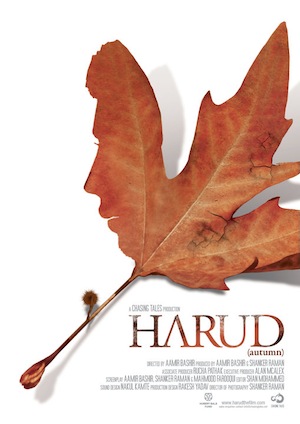 Harud (dir. Aamir Bashir)
Actor turned director Aamir Bashir gives us an insight into the everyday existence of those living in Kashmir in Harud ("Autumn"), a film which had its world premiere at the Toronto International Film Festival in 2010, but which finally saw its Indian release in 2012 (through the PVR Director's RARE banner). Autumn leaves fall and drift to the ground, the only spot of colour in an otherwise bleak landscape. Far from the image of Kashmir as a paradise in Bollywood films, this is a place where family members disappear and gunshots ring out. The younger generation, raised in this environment of fear and despair, try to find a way to escape, or survive. Bashir's whole film is an exercise in restraint, but the performance by Shahnawaz Bhat as Rafiq, an adolescent brimming with anger that is only expressed in his eyes, is heartbreaking.
---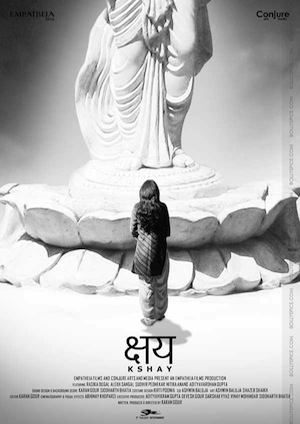 Kshay (dir. Karan Gour)
Another independent festival film that was released in India through PVR Director's RARE, Kshay is an absolute gem. Shot exquisitely in black and white, with a beautiful and meticulously used score and an inventive use of sound, the film is mesmerizing from beginning to end; but the standout of the film is the breathtaking performance of Rasika Dugal as Chayya, the young woman whose grief over a miscarriage descends into obsession with the unfinished statue of the goddess Lakshmi that she believes is the solution to her sorrow. Karan Gour has given us one of the finest films to be released in India this year.
---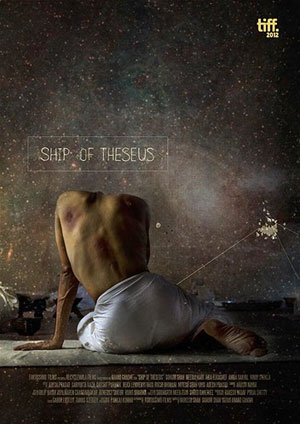 Ship of Theseus (dir. Anand Gandhi)
Anand Gandhi's first feature film created a sensation on the 2012 festival circuit, though it's hardly surprising. Ship of Theseus is one of those rare things: an elegant film that demands that its audience be engaged at every moment.  The film explores the concept of the paradox of Theseus: if an object has any or all of its parts replaced, does it remain the same?  Deft writing is matched by brilliant performances, lush sound, and cinematography that is breathtaking and beautiful.  Cameron Bailey, Artistic Director of the Toronto International Film Festival, called the film one of this year's hidden gems, though, thankfully, its success has meant it is hidden no more.
---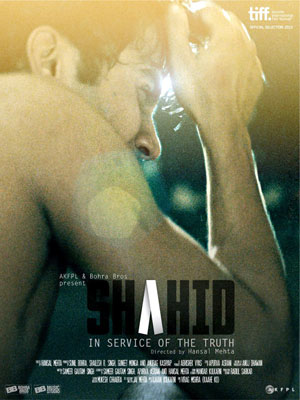 Shahid (dir. Hansal Mehta)
Lawyer and human rights activist Shahid Azmi spent his career defending clients who had been wrongly accused for terrorist activities, and was gunned down in his office in February of 2010.  Hansal Mehta decided to make a film about him in order to stand up for him in the face of accusations of criminal activities that were being made after his death.  The result is the film Shahid, another film that riveted audiences at the Toronto International Film Festival as well as at other festivals in 2012.  The film is passionate and incredibly moving, as well as being a fascinating character study, brought to life through a wonderful performance by Raj Kumar Yadav as Shahid Azmi.
---
Miss Lovely (dir. Ashim Ashluwalia)
Documentary filmmaker Ashim Ashluwalia makes his transition to feature films with this story of two brothers, Sonu (Nawazuddin Sidiqqui) and Vicky (Anil George) who work making lurid and sleazy (and highly illegal, given the censorship and repression of the times) schlock horror and porn films in 1980s Bombay.  The film's strength lies in its aesthetics, capturing this period perfectly, and in yet another powerhouse performance by Nawazuddin Siddiqui.