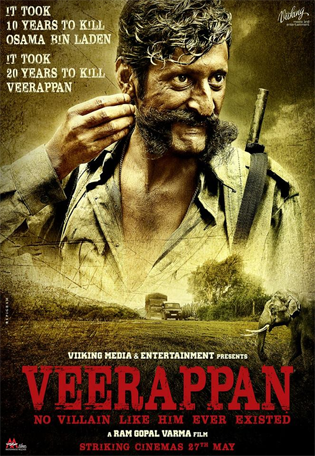 Starring Sachiin Joshi,Sandeep Bhardwaj, Usha Jadhav, Lisa Ray
Directed by Ram Gopal Varma
There is something about Ram Gopal Varma's tireless spirit that gets to you. His new Hindi film, his first in three years, is a frenetic frenzied near-hysterical take on the brutal life of the jungle outlaw Veerappan who, apparently, could kill with an impunity that made mass murder a political issue.
To his credit RGV has done his homework well. There is enough evidence here to convince us that Veerappan was a dangerous psychotic socio-political outcast who deserved to get the death that he finally did. The dark brooding earthy atmosphere created in the film adds to the feeling of dread.
This is no country for the sensitive. And if you are the kind who visits the cinema for emotional release Veerappan is not your thing.
While the first-half of the film shows a government spy Lisa Ray befriending and winning over the confidence of Veerappan's wife (played with excellent tonal correctness by Usha Yadav) to get her to squeal on the outlaw, the second-half is devoted almost entirely to efforts of the Special Tasks Force to nab Veerappan. Here's where Varma's narrative wizardry flies high. One shootout in the dusty reddish marshland captures attention.
The action is relentless and brutal. Varma shoots the chase sequences with brutal velocity. He empowers his characters, both men and women, with a brute force that is disquieting and unnerving. The cinematography by Aniket Khandagale bludgeons through the craggy landscape and sullen bylanes filled with teeming marauders in pursuit of a man whom the Government wants dead at any cost.
In spite of the chaotic, kinetic universe the narrative is surprisingly coherent and consistent. But the background score and songs are unnecessarily clamorous. Varma is insistent on looking at Veerappan's unstoppable brutality through a camera that records everything without wincing. There are scenes showing Veerappan perpetrating unmentionable violence on his victims.
Luckily there is not that much of Veerappan on screen. Shrewdly Varma holds his villain up for scrutiny more as an idea of evil than its physical embodiment. Actor Sandeep Bhardwaj's uncanny resemblance to the real Veerappan certain adds a chill to the narrative. Sachiin Joshi turns in a restrained performance as the cop who will get Veerappan, come what may.
This film is certainly not for the squeamish or the weak at heart. But for those who are familiar with Ram Gopal Varma's appetite for the abominable, Veerappan is just the beast to grab at your nearest theatre.