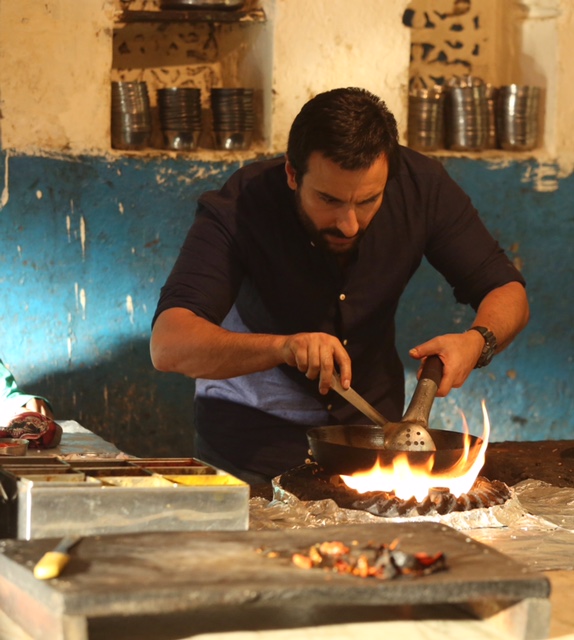 Saif Ali Khan is gearing up for the release of his upcoming film, Chef — an official remake of American film Chef released in 2014. Playing the character of a New York based chef, Saif shares how he trained under a professional chef at a five star hotel for the role.
"I enjoyed it. My director wanted me to be comfortable in the kitchen. People usually cheat in movies with scenes of cutting and chopping, but we have done that well. But I found frying relatively easy, I am now an expert at it," laughs Saif.
What attracted him to Chef was its modern take on relationships and its complexities. "It shows the relevant issue among urban middle classes and the upwardly mobile people who have work pressures and have trouble balancing family with work. The situation that the character is in, I found to be funny, touching, amusing, interesting. We have tried to keep the performance natural. It's one of my best works. There is effortless acting. There is drama but we haven't gone overboard. I like how I have done it," says Saif.
Chef is the story of Roshan Kalra (Saif Ali Khan), a celebrated Michelin star Chef at an Indian restaurant, called Galli, in New York. In his desperate attempt to continuously please his customers and live up to his fame, Roshan loses his mojo and with that, both his personal and professional life fall apart.
The film opens when circumstances lead Roshan to India, to meet his 11-year-old son, Armaan and wife, Radha Menon. Things take a dramatic turn when Roshan is forced to rethink his life, consequently leading to him launching a food truck by the name of "Raasta Cafe". Taking to the road, Roshan goes back to his roots to reignite his passion for the kitchen and his zest for life, family and love.
Chef encapsulates a journey of exploration of Indian cities, a variety of food and different cultures, as Roshan and Armaan travel across the country in the food truck. As the two relive old memories on their journey from Kochi to Goa and then Delhi, they create many new ones, strengthening their bond. In a second coming-of-age, Roshan grows to realize that re-prioritizing the things that are important in his life, is the key to finding happiness again!
Directed by Raja Krishna Menon, Chef is out in cinemas now.