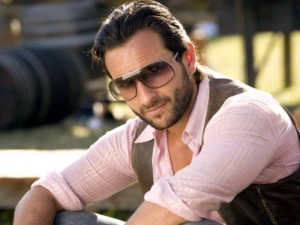 From comedy, drama, to action, to the hero romancing the girl, or full on characters and everything in between, Saif Ali Khan has played them all in his 25 years in the Hindi film industry. He is considered one of the best and with each new performance he brings something special and unique to the big screen. For his latest film, Happy Ending, Saif is starring in what he calls a rom-com for guys. Happy Ending was directed by the cool duo of Krishna DK and Raj Nidimoru (Go Goa Gone), who bring a new sensibility to the movies with their unique stories and take on what a Hindi film can be. The off-the-wall comedy film, which hits theaters on the 21st, also stars Govinda, Ranvir Shorey, Kalki Koechlin and Ileana D'Cruz.
First check out the trailer to see what Happy Ending has in store!
http://youtu.be/Qo7ndpIT-Qg
I was lucky enough to get the chance to talk with Saif Ali Khan about
Happy Ending
and it was a laughter-filled, fun and totally cool conversation. I really enjoyed talking with him and I know you will love reading what Saif had to say about all things
Happy Ending
and more!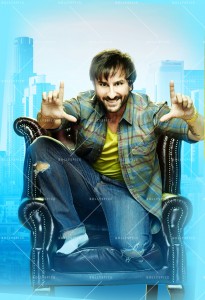 What was it about Happy Ending that made you say I want to do this film?
It was really working with Raj and DK. I just wanted to work with them again. I thought it was very fun working with them during Go Goa Gone. Their sense of humor and some of the situations in that film were just hysterical. I thought this would work if we would do it on a larger scale.
They make such interesting films, different in a good way…
Yes! It is nice to be known for that, I think and I want to associate with them.
How would you describe your characters?
The first character I play is a guy called Yudi. He is a writer and he is a lazy bum. His claim to fame was a single book written by him years ago which was an instant hit. Now he just wants to have money and drive his lovely BMW around Malibu, not do a lot else apart from date girls and party a little bit. Sounds great, right! (Laughs) Obviously life catches up with him and he runs out of cash so he needs to write something else.
He has no money and so his agent gets him a dodgy job writing a Bollywood screenplay for an aging superstar. So it is about how he gets hooked into that. It is also about how he realizes that his life is also running like a romantic comedy at the same time. While he is writing a chapter called Girl Meets Boy he actually meets the girl. It is a nice film. Even more I think it is a nuanced film. I don't think I have ever said that. It is not something you say everyday, which is nice. Let's see how it goes down with the audience and whether they appreciate the space in the film. I think there is a lot of interesting space in the movie. There is a lot of reality in a nice way. I also play his alter ego.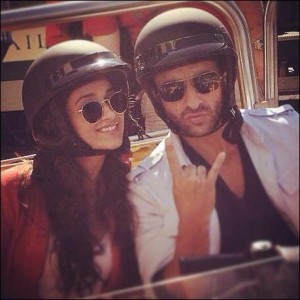 The girl is being played by Ileana D'Cruz, what was it like to work with her?
It was very nice to work with her. There was a link with how comfortable she was and how good she was in the film. So I am happy we made her very comfortable. (Laughs) The more comfortable she got the better she became. She was uncomfortable and defensive at first. Kareena was around and we would take her out to dinner. Then the next day it would be the same and I finally said to her, 'This is going on now. Why are you doing this? You have to stop, no?' And she said something to the effect that 'I just want to be taken seriously'. But then the next day she was fine, she was smiling and then continued to be in a happy mood from then on. So it did get better and that really helped her performance. In the end, I think we became friends. Perhaps we are slightly similar in that sense, I think. Quite often I am yelling at somebody for making noise on set and I would see her laughing and I know am probably echoing what she is thinking. Some people you meet you are totally different from. I think her and I are similar.
Then, of course, working with the great Govinda, what was that like, especially in the scenes where he is standing there with all the tape on his face from, I think, the plastic surgery?
It was really brave of him to do all that and act like that. I think we were really lucky to have gotten him at a time when he was really receptive to new things. That is great. You have got to have the instinct to know who to trust and which story you want to be a part of. We were really lucky to have had him in this film.
As far as getting along…I think we are just from different walks of life and we have had different life experiences that make us very different people but it is fun to be a part of the same movie. We both love acting. We both love what we do so when you come together to do a film it is very interesting to share that time and space. I have a lot of respect for him. We haven't really spent that much time but the time we have spent together I am just telling him how amazing I think he is! (Laughs)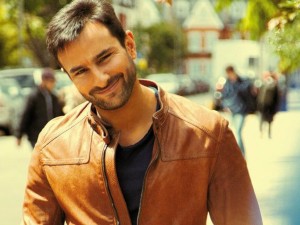 Then of course to do that dance scene with him…
Yes! Watching him dance! It is so much fun to watch him dance. You can't help smiling him when you are watching him. He really makes it look easy.
There is also Kalki Koechlin…(I got a lesson in how to pronounce her name, which was really fun! -ed)
She is a very good actress. She plays my girlfriend who is quite normal, she is brilliant, but she has got this obsessive streak and this guy wants to break up with her. The funny thing is that he is the problem…he is the one that can't break up with her clearly. He doesn't have the heart to, you see? So he never does it clearly. It is a very typical male thing happening. He doesn't understand why she doesn't realize they have broken up when in actuality he hasn't told her. (Laughs)
As we talked about, you are playing two characters, so how do you film the scenes where it is you and, well, you?
Modern technology has become much easier; we no longer have to tape up half of the camera lens. Now it has become very easy with computer technology. Your timing though is very difficult. You know you have to say the line and then respond to it. Once you understand that rhythm, then it works. It is actually one of the highlights of the movie, I thought, acting with myself! They are great scenes that I really quite enjoyed. I am looking forward to seeing them!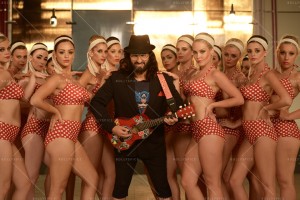 The music is really cool, what was the brief that you guys gave to Sachin and Jigar?
I was shooting the film while Dinesh was doing the music. He has done the music and he has started really fancying himself as… what's the word…the maestro of music. (Laughs) He is still very sweet about it but he is about to become a monster if he has one more hit album. (Laughs)
They have done really well. The 'Paaji' song is quite innovative; it is a new song.
'Haseena Tu Kameena Main' is a lovely song. It started off really well but I think someone forgot to write more lyrics to it. They just keep saying Haseena Tu Kameena Main… (Laughs) but it is a title sequence so you can live with that.
The 'Mileya' song is lovely; it has a nice saxophone through it. It is beautiful.
'G Phaad Ke' is a good dance track. I think it has a nice jive to it.
So it really is a good album.
What will audiences see when they come to see Happy Ending?
They will see this slice of life movie about this isolated Indian guy, who is a funny guy, who lives in LA, who is a writer who has now run out of money and has to write this screenplay for Govinda's character. But it is the connection of the relationships that he has. It is proper relationship movie. Ranvir Shorey plays the henpecked best friend who thinks drinking alcohol is the only way to get through marriage and life. He has got Kalki who is his obsessive girlfriend who is a little crazy. You have Preity Zinta who is his proper ex-girlfriend who has three kids who just comes to stay with him when she fights with her husband.
It is also quite romantic and interesting because he falls in love with his sort of rival at work who is exactly like him. She doesn't like commitment or relationships and she doesn't believe in love so it is going to be simple. It is quite romantic. So there are all these characters, and then you have this relationship with his alter ego going on. I really think all these interactions are quite fresh. I don't normally see them in films. I am really excited. I don't know; let's see what people think of it.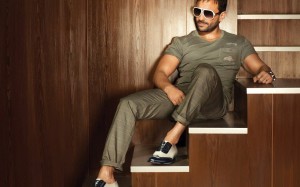 What do you love about being an actor?
I love everything about being an actor. I love the fact that I am my own boss most of the time and that I get to choose who I want to work for and when I want to work. I get a lot of time to enjoy my life – to introspect on things and to know where I am. Then I get to work hard on my job. It requires me to be fit so then I can look better and feel better than other people my age in other professions.
Then, of course, actually doing the work itself and working with different people and different set-ups in different stories and making that come alive. So everything from the selection of the story to chatting about it, to actually shooting for it, to then seeing it and releasing. Even doing this interview with you. Then the nerves the night before the movie releases, then the publicity and then when it finally does release then the tension of making the calls to find out how badly or good we are doing. (Smile) So that whole process of beginning to end, every little aspect of that is something that I not only have enjoyed but have become very accustomed to living for the last 25 years of my life.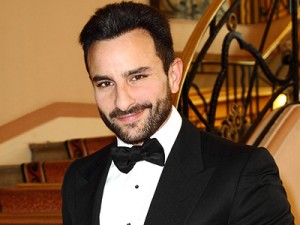 What do you think of Hindi films today?
I think Hindi films today should soon lose this tag of Bollywood and should become and known as the Indian Film Industry again where they are making films like The Lunchbox, and Filmistaan as well as the big entertainers and action films. It is a proper industry. There is Hollywood and then there is us. And despite films like Gone Girl releasing in India, we still encourage and love our own stars and our own industry, which is a great sign of individuality.
We have survived Hollywood and they haven't been able to convert us all and that is nice! That is where I see us. And I see us making various kinds of films, small films, big films, medium films with lots of good acting happening. All we now need is some perfect writing. We need that and more people to do that. I still see it that not just anyone can do this profession. We don't get the best of India in terms of writing. We get the best when it comes to acting and music, sets and cameramen and technicians and everything but I think the writers are still not, I don't know, on the best level they can be.
You have Phantom with Katrina Kaif coming up and what other is on the list?
Yes, I have Phantom, then I am doing Reema Kagti's movie for Excel, then Sujoy Ghosh's for Balaji. I am about to sign a film for Salman Khan's Production house. I think so. There are all nice things!
I want to do a sequel to Go Goa Gone. I would really like to do Race 3 if somebody writes a good script. It has to be a better script than Race 2 or there is no project. (Laughs)
For Illuminati, we are talking to this chap; he is the guy who wrote Shaadi Ke Side Effects, Saket Chaudhary. He has a very nice story. Let's see if that works out. It could be lovely.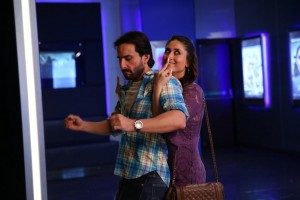 Any plans for you and Kareena to do a film together?
Not at the moment. She is sitting there watching TV right now and we have lots of time together. I think we quite enjoy watching other people. If there is a lovely script I would love to work with her, she is fantastic. But as far as that I think the films we have done together haven't been the best we could have done.
A message to your fans?
My message would be thank you for all your support. I think you will like this movie! I am proud to offer to it you on the 21st of November. It is a film I am proud of and I can't wait for you all to see it.
I would like to thank Saif Ali Khan for taking the time to speak with me and making it so full of laughter and giving such great answers! It truly was one of my favorite interviews I have done!
Be sure to check out Happy Ending this Friday!